by Ann H. Carlson
With a surgical background and a degree in medicine, John W. Graham, DDS, MD, brings a multifaceted perspective to patient care
Before John W. Graham DDS, MD, ever considered becoming an orthodontist, he received the advice that shaped his career. Torn between going to medical school or dental school during his undergraduate years at Brigham Young University, Provo, Utah, Graham turned to an English professor and mentor, who told him that it didn't matter which career he chose as long as he became active in his profession.
"He said you owe it to that field to be an active contributor and not just to be a recipient of the benefits of that chosen career," says Graham, who ultimately earned degrees in both medicine and dentistry. "That really left an impact on me." Today, in addition to running the thriving practice of Churosh and Graham Orthodontics in Litchfield Park, Ariz, Graham lectures nationally on the benefits of miniscrew anchorage therapy, is serving as the 2007 president of the Arizona Orthodontic Association, is a Diplomate of the American Board of Orthodontics, and holds memberships in several dental and medical associations. As a licensed physician with a surgical background, Graham's unique perspective on orthodontic treatment, combined with his strong involvement in the specialty, has given him the tools for a successful orthodontic career.
A "Long and Circuitous" Path
PRACTICE PROFILE

Name:
Churosh and Graham Orthodontics
Location:
Litchfield Park, Ariz
Owner:
John W. Graham, DDS, MD
Specialty:
Orthodontics
Staff:
10
Years in practice:
3
Patients per day:
75–80
Days worked per week:
3.5
Square feet:
3,100
Before pursuing orthodontics, Graham's ambition to become a physician and his admiration for his father's successful dental career led him to study oral and maxillofacial surgery, which he found to be a perfect merger of his passions.
Graham received his medical degree from the University of Texas Southwestern Medical School in Dallas, and he was 5 years into a 6-year surgical residency at Parkland Memorial Hospital in Dallas when he left to pursue his certificate in orthodontics at the University of Rochester/Eastman Dental Center in Rochester, NY. Why? "I loved the operative aspect of oral and maxillofacial surgery and the dramatic positive outcomes that you would see as a surgeon," Graham explains. "Orthodontics has given me the opportunity to provide very similar positive changes in patients' lives, but, more importantly, it has provided the priceless gift of more time to spend with my family." Now a private practitioner, Graham enjoys spending more time with his wife, Debbie, who is a pediatric dentist, and their three children: Emma (6), Will (4), and Megan (2).
Graham describes the road to his orthodontic career as "long and circuitous," but he is very happy with his decision. Aside from placing miniscrews and using diode laser therapy, Graham does not perform surgeries; however, his familiarity with procedures from sedation techniques to the placement of osteotomies during complex orthognathic procedures strengthens his relationships with the oral surgeons who treat his patients.
"The surgeons that I work with appreciate the fact that I understand exactly what they're up against when they're getting ready to perform a surgical procedure on a patient of mine," Graham says.
Graham's surgical background also enriches his approach to orthodontic treatment. "My surgical training has provided the framework for me to approach each orthodontic case from a skeletal viewpoint first and a dental viewpoint second," Graham says. "The primary focus for me as a surgery resident was facial symmetry and profile balance, and my orthodontic training provided the dental and the occlusal complement to complete that whole patient picture."
A Medical History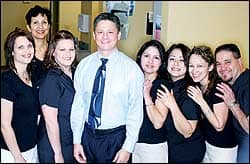 Graham and his team run a paperless practice that sees 75 to 80 patients each day—nearly half of whom are adults.
Three years ago, Graham purchased Churosh and Graham Orthodontics from Michael Churosh, DDS, MS, who continues to practice with him. The 3,100-square-foot facility is housed in a dental/medical complex about 16 miles outside of Phoenix. "It's not terribly ornate or fancy, but it's high-tech," Graham says, adding that the practice is paperless and features digital imaging.
Nearly half of Graham's patients are adults, a fact he attributes to a growing national consciousness about orthodontic treatment. "We have adults that come in of their own volition asking about the potential benefits that they could receive from orthodontic therapy," he says.
Although the treatment area includes a semiprivate room that was originally designed to accommodate adults, Graham finds that his adult patients prefer to be seated in one of the seven chairs in the open treatment bay. "In my experience, adults really don't want to be sequestered and stuck in a private room all by themselves," he says. "That's a lot like going to a general dental office."
Being a licensed physician gives Graham invaluable insight into orthodontic treatment, particularly for his adult patients. "A lot of adults carry with them a multiplicity of medical concerns, along with polypharmacy, and so that directly impacts how they ought to be treated," Graham says. "I think that my background has helped me in evaluating that and making rational and beneficial treatment decisions for my adult patients."
Recently, Graham's medical background led him to stop orthodontic treatment of a patient whose advanced breast cancer was being treated with bisphosphonate therapy, a common component of chemotherapy. Graham was aware that bisphosphonate therapy has been linked to bisphosphonate-associated osteonecrosis of the jaw (literally, the death of the jaw bone) in some patients. Although rare, this condition has no reliable, successful treatment options, according to Graham, and would negatively impact orthodontic treatment.
"I started thinking about the fact that most of my orthodontic colleagues were unaware of the potential negative impact that this class of drugs could have on their patients," Graham says. This inspired Graham to write an article on the subject, which was published in the Journal of Clinical Orthodontics last year.1
A Modern Technique
Having a large adult patient population gives Graham plenty of opportunities to pursue his interest in miniscrew-anchorage therapy, a technique that not only lessens the patient's compliance burden but also allows for previously unavailable treatment options, such as protracting molars into edentulous spaces that have been missing teeth for many years.
"My interest in miniscrews has really been aided by the fact that I have a lot of adult patients that also would benefit from miniscrew-assisted orthodontic treatments, so it's been an excellent environment for me to practice in," Graham says.
During his surgical residency under the direction of Edward Ellis, DDS, MS, at Parkland Memorial Hospital, Graham studied the role of miniscrews and miniplate fixation on mandibular fractures. This work inspired Graham to cocreate the Vector Temporary Anchorage System, an orthodontic miniscrew system, for Orange, Calif-based Ormco Corp.
"I appreciated the fact that miniscrew anchorage was coming of age in modern orthodontics as a resident, but was really frustrated with what was currently available on the market and what was provided to orthodontists," Graham says. He adds that, for the most part, miniscrew products consist of a "box of screws and a screwdriver," which he believes does not give orthodontists an easy point of entry into the procedure. To address these concerns, the Vector Temporary Anchorage System includes color-coded screws that correspond to specific anatomic regions of the jaws, and instructional materials designed to give orthodontists more confidence in using miniscrews.
In addition to lecturing across the country about miniscrew anchorage, Graham provides training sessions in his office for interested orthodontists. Designed to accommodate 12 to 15 participants, the daylong session combines lectures and case studies with live patient demonstrations and hands-on exercises.
"We place miniscrews in pig jaws just to allow the orthodontists to get a tactile sensation of what it's like to place miniscrews into the dense cortical bone," Graham says. "It also gives them a chance to sense just how stable these miniscrews are and that they're not as fragile as one might think."
Most orthodontists new to the procedure are concerned that placing the miniscrews will cause their patients pain, a fear Graham helps them overcome. "Once you have the technique down, it's very easy to assure patients that they're not going to feel anything other than just a little pressure as the screw goes in," Graham says, adding that he also teaches orthodontists how to provide anesthesia without using a needle. "I've never had a patient stop me because it hurt when I was placing a miniscrew."
Graham himself is so practiced with placing miniscrews that he has no qualms about performing these procedures in the open treatment area. "It's to the point now where a patient sitting right next to an individual having a miniscrew placed has no idea that anything other than conventional orthodontics is being done," he says.
To Graham, miniscrew anchorage is anything but orthodontics as usual. "Miniscrew technology and mechanics have opened up an entirely new world to clinical orthodontists, and for me, the excitement is in what is to come," Graham says. "I'm really confident that several years from now, young orthodontic residents will wonder how we were ever able to practice without skeletal anchorage."
A Call to Contribute
In the future, Graham imagines that his practice will move to a new building, but that is several years down the line. "My ultimate goal for my practice would be for one of my children to catch the vision and eventually partner with me," Graham says. "Of course, my oldest is only 6, so I have a lot of time to try to help that happen."
In the meantime, Graham plans to continue to find ways to give back to the orthodontic specialty. "We owe so much more than just showing up and going to work," Graham says. "I think we owe it to all members of our specialty to contribute to it, to be active participants in it, and to make it better than when we found it."
Ann H. Carlson is a contributing writer for Orthodontic Products. For more information, please contact
Reference
Graham JW. Bisphosphonates and orthodontics: Clinical impressions. J Clin Orthod. 2006;40:425–428.
Westward Bound
With a 3.5% population increase in 2005 alone,1 Arizona boasts one of the fastest-growing populations in the nation, a fact that John W. Graham, DDS, MD, has witnessed firsthand in the Phoenix suburb of Litchfield Park, where he practices orthodontics. Today, the complex that houses Churosh and Graham Orthodontics is surrounded by a burgeoning community, which wasn't the case when Graham came to town 3 years ago.
"There was nothing out here near our office; it was just tumbleweeds and cactus," Graham says. "As recently as 2 years ago, there was hardly a house in sight."
According to Graham, who is the 2007 president of the Arizona Orthodontic Association, the increased population includes a record number of orthodontists who are attracted to the Grand Canyon State. With the new Arizona School of Dentistry and Oral Health in Mesa admitting its first class of orthodontic residents in July and another dental school slated to be built this year, it seems likely that even more orthodontists will be practicing in Arizona in the near future.
"We're going to have a significant influx of orthodontists into the state, greater than we've ever seen before," Graham says.
The Arizona Orthodontic Association, a component of the Pacific Coast Society of Orthodontists, will be assessing how this rising number of practitioners will help improve access to care for the Arizona population, which was estimated at 5.9 million for 2005.2 Currently, the association boasts 80 active members, a number that represents most of the orthodontists in the state, according to Graham, but he expects the active membership to increase dramatically in the coming years.
"I think one of the top priorities of the association is going to be to involve all of these new, young orthodontists in the association for the betterment and the protection of the specialty, as well as making access to care a reality for more residents of Arizona," Graham says.
—AHC
References
Concors E. Arizona, Nevada likely to lead population growth. ASU Insight. Arizona State University. February 7, 2006. Available at: www.asu.edu Accessed December 4, 2006.
"Geographic Comparison Table." GCT-T1. Population Estimates. Data Set: 2005 Population Estimates. US Census Bureau. Available at: factfinder.census.gov Accessed December 4, 2006.