by Rich Smith
Mark G. Hans, DDS, MSD, downsized his practice so he could teach the next generation a mix of science, business, and art
When Mark G. Hans, DDS, MSD, decided in 1989 to sharply reduce the production at his successful Cleveland-area private practice to become chairman of the Department of Orthodontics at Case Western Reserve University's School of Dental Medicine, he knew he'd be taking a pay cut.
"My annual salary heading up the department that year was equal to what I earned in just one month in my own office," Hans says.
Obviously, then, the lure of money had zero bearing on the Berea, Ohio, orthodontist's choice to exchange the fiscal benefits of full-time private practice for the life of a full-time academician.
"I was interested really in improving the quality of my career, not the size of my bank account," says Hans, who already was involved in teaching as a part-time volunteer instructor at Case Western Reserve, his alma mater. "I accepted the university post because of the challenges it would present: training students, engaging in research, traveling the globe to share knowledge, being on the cutting edge."
Real-World Instruction
PRACTICE PROFILE

Name:

Mark G. Hans Inc

Location:

Berea, Ohio

Owner:

Mark G. Hans, DDS, MSD

Specialty:

Orthodontics, craniofacial anomalies

Years in practice:

26

Patients per day:

50

Starts per year:

100

Days worked per week:

2

Office square footage:

1,200
It was only 8 years earlier that Hans had entered private practice. He set up shop in Berea because he was born and raised there, but also because his general-dentist father ran a well-established office in that Cleveland suburb. "I opened in the same building that my dad was in," Hans says. "He was at one end, and I was at the other."
By 1988, Hans could claim the largest orthodontic practice on Cleveland's westside. "I was doing anywhere from 250 to 300 starts a year—an average amount today, but back then a very sizable number," he says. Despite the thrills of his thriving, high-energy practice, Hans was growing restless. He soon realized that career satisfaction for him would require a more meaningful role in academia than his half-day, once-per-week teaching assignment at Case Western. It so happened that at about this same time Case Western announced plans to fill the vacancy left by the departure of the former head of the orthodontic department. Hans threw his hat in the ring. The next thing he knew, he had a brand-new title and an entirely new set of responsibilities.
Job One for Hans after grasping the department reins was to revamp the orthodontic program. "I felt that the best way to train orthodontists was to show them what private-practice orthodontics is all about," he says. "To do that, we created a learning environment that closely matches a private-practice setting. Specifically, each new resident on his or her first day is assigned 50 new patients."
At Case Western, the orthodontic program accommodates five new students each year who are taught by six full-time instructors and 26 volunteer part-time faculty (which gives the school one of the highest faculty-to-student ratios in the country, according to Hans). Additionally, he says, "Our new students have the ongoing and readily available support of the more advanced students, the ones who have already completed a couple of semesters. We refer to them as Big Brothers and Big Sisters."
Instruction is spread among an assortment of daily clinics. The main one consumes most of the morning and mirrors the bread-and-butter of orthodontics: correcting the problems of typical teenage patients. In the afternoon, Hans explains, subspecialty clinics are conducted. Clinics are centered on orthognathic surgery, craniofacial anomalies, microscrews, Invisalign, and early and adult treatment.
Pleasant Dreams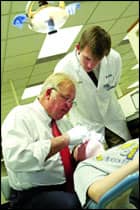 Hans treats a patient while a student looks on.
Rounding out the instruction offered to the orthodontists-in-training is education in the business aspects of running a practice.
"We have a volunteer who coordinates that part of the training: Lisa Alvetro [DDS, MSD], a very, very successful private practitioner from Sidney, Ohio," Hans says. "Her practice-management approaches are incredibly innovative, and those are being taught to our students."
Hans says that the teaching of business skills in conjunction with clinical technique makes the Case Western program somewhat novel. "The totality of our program," he says, "is designed to produce a competent practitioner who can open their own office right out of school and quickly achieve success, and do so without first having to go through any kind of internship or spend a year or two as an associate in an established office."
Hans says he wishes comprehensive training of this sort had been available when he was a student. (His college career began at Yale University, from which he graduated in 1975 with a degree in chemistry, and concluded at Case Western, which granted him a DDS degree in 1979 and an MSD in 1981.) Had he been up to speed on all aspects of practice right from the get-go, he might have found more time to devote to one of his greatest passions: research.
Hans' current research focus covers assessment of orthodontic outcomes and the demographics of orthodontic practice, digital storage of radiographic data, 3D imaging, and craniofacial growth. He recently landed in the national media spotlight for his articulation of the orthodontic contribution to the treatment of obstructive sleep apnea. "Sleep apnea in kids is difficult to diagnose, so I've been exploring whether the x-rays teens receive before getting braces can help determine who might be at risk for sleep apnea," he says. "My hypothesis is that a hyoid bone lower in relation to the position of the lower border of the mandible signals greater risk for developing sleep apnea. Careful review of cephalometric x-rays using this approach enabled us to correctly identify 70% of snoring adults with sleep apnea. We are hoping to use these results to help identify teenagers at risk for sleep apnea."
Saving Faces, Changing Lives
Among the most satisfying aspects of the academic lifestyle led by Mark G. Hans, DDS, MSD, is his participation with a craniofacial anomalies team that operates out of Case Western Reserve University's Rainbow Babies and Children's Hospital.
"We work mostly with cleft lip and palate patients, although we do have patients with Pierre Robin sequence and other serious craniofacial syndromes," Hans says.
The craniofacial team meets twice per month and sees up to 20 patients per session. The team is led by Arun K. Gosain, MD, a craniofacial surgeon. Other subspecialties represented include orthodontics, pediatric dentistry, oral and maxillofacial surgery, speech and hearing, and otolaryngology.
"Each patient comes in and once a year is evaluated by every member of the team," Hans explains. "That gives us the ability to look at each case from many different vantage points. That's important because these cases are all quite complex."
The team's major responsibility is to coordinate the care patients will receive. However, much of that care is provided by the members of the team in their own private offices. "Myself, for instance, I see these patients Wednesday afternoons in the orthodontic department's subspecialty clinic at the university but also in my private practice office in Berea," Hans says.
Cases often end happily, but few as sweetly as that of one young girl who was born with a bilateral cleft lip and palate. Says Hans: "We always have concerns about cleft lip and palate patients who are around 5 or 6 years old and have not by then developed speech, as was the situation for this particular child. And it did not help matters that both her mother and father were deaf and communicated only by sign language. Eventually, after undergoing palate expansion and bone grafting, the child picked up speech on her own from her interactions with other children at her school. She's 19 now, does not have any significant speech problems, and is quite a charming young lady. She will be married in a few short months."
—RS
In part because of his interest in that bedtime airway disorder, Hans sees to it that students in the Case Western Reserve orthodontic training program receive in-depth instruction in sleep apnea. This, he says, is helping further expand the scope of orthodontic practice, something that began in earnest more than a decade ago. "Our work as orthodontists is no longer only about malocclusion, but about quality-of-life health care," he says. "If you think about it, you realize that we orthodontists are really the first doctors most kids will ever deal with on their own, and that this will be the first time most of them have ever taken responsibility for their own health care. What that means is we're in a position to be able to shape our young patients' attitudes about health care—attitudes that potentially could stick with them for the rest of their lives."
Happy Face
Beyond his leadership role in the minting of new orthodontists, Hans also teaches undergraduates an elective course on the human visage. "It's titled 'Face First,' and it's part of a general education series that uses a seminar approach to learning about important societal issues," Hans clarifies. "The university was looking for instructors to volunteer as teachers of these courses; I was among those who stepped forward."
Hans says the idea for a course dealing with the face came to him after touring the Louvre during a visit to Paris. "I noticed that people were particularly fascinated by the museum's statue of the Venus de Milo," he recounts. "That's when it occurred to me that it's not only orthodontists who are interested in facial appearance. It's everybody."
Issues covered by "Face First" touch on facial beauty but also facial deformities (craniofacial anomalies are one of Hans' area of specialization) and how both impact lives and social interactions. The course has been such a success that the school has had to assign him a bigger classroom to accommodate all the students who've wanted to sign up for it.
To be able to teach "Face First," Hans first enrolled himself in a course on Renaissance art. It was perhaps fitting that Hans had gone in for a course along those lines since he is something of a Renaissance man himself: In addition to everything else, he is a talented jazz musician. Ten years ago, he formed a jazz band with a few of his university colleagues; they perform publicly every Thursday during the lunch hour in the atrium of Case Western's Rainbow Babies and Children's Hospital. "We play some jazz standards and some of our own original compositions," says Hans, the group's electric guitarist, noting that the band—known as The H&H Jazz Circle—recently released a CD of its greatest hits. (About 1,000 copies have sold thus far, with all proceeds being donated to the hospital.)
Orthodontics Across the Ocean
When he assumed the chairmanship of Case Western's orthodontic department, Hans needed to do something with his full-time private practice. "I didn't want to entirely exit private practice, so for the next 6 months I worked at shrinking my caseload to the point that it wouldn't interfere with my duties as department chair," he says.
At present, Hans customarily spends 1 full day and parts of 2 others in his Berea office seeing patients. "I'm busy, no doubt about it. But I'm very well-organized, and I have the support of a terrific staff, led by Laverne Vogel and Shirley Neumann, with my technicians Nancy Kinzy and Mona Naulty, plus my mom handling the front desk. That's how I'm able to fit everything into my schedule."
A goal Hans has set for himself is to become more deeply involved in propagating orthodontic education worldwide. "I'm convinced the future of orthodontics is abroad," he says. "The US is the leader of orthodontics, and I see our influence spreading all across the globe. For example, at Case Western Reserve, I and one of our international faculty members—Chi-Min 'Jimmy' Teng—initiated a joint educational program with Guang-yan Yu at Peking University and Zhiyuan Zhang at Shanghai Jiao Tong University in China. It's an exchange program where, for a number of weeks each fall, we receive students and faculty from Beijing and Shanghai, then, in the spring, I go to China for a few weeks to teach."
His trip to China this year will precede the release of a Chinese translation of his seminal textbook, Essentials of Facial Growth, which he coauthored with Donald Enlow, PhD, and which soon will be available in a second edition.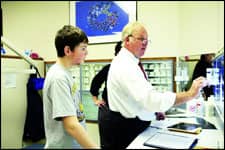 Hans explains a patient's case.
Hans also eyes India as another potentially huge arena for orthodontic education, given the size of that country's population and its growing prosperity. "I expect that within the next 5 years we'll be training students from India in a program similar to our China initiative," he says. "The growing international interest in orthodontics is a reflection of it being a quality-of-life issue. In many developing countries, people are now less focused on improving the quantity of their life, because that's been accomplished for larger and larger numbers of them. And because of that, they now have the time and resources to focus on improving the quality of their life."
While Hans is reasonably sure about the shape of things to come for the rest of the world, he acknowledges that he can't be certain at all with regard to what his own future holds. However, taking an informed guess, he predicts that 5 years from now he will still be an academician first and last.
"Private practice," he says, "is fun. Its only drawback is it can be limiting to someone like me who yearns for the challenge of learning and of teaching. The only way I can really accomplish what I want in life is to be here at the university."
It could be that Hans simply was always cut out to be involved in education. It cost him something to gain that involvement. But ask Hans and he will insist it was well worth the price—every penny of it.
Rich Smith is a contributing writer for Orthodontic Products. For more information, please contact