With the Align Digital Platform, William Graham Gardner, DDS, has found tools that give him back precious minutes for the work/life balance he wants.
By Greg Thompson | Photography by Caroline Martin
William Graham Gardner, DDS, remembers the day when he decided to become an orthodontist. Returning home from middle school, he declared his career intentions to his mom who responded, "That's great, but why?" The young Gardner replied with sincerity, "Well, I know they don't make any money, but I like to work with my hands and I would like helping people with their smiles."
When mom inquired about the salary assumptions, the seventh grade logic provided a reason: Have you seen my orthodontist's car? It's a beat up old Jeep. "So I feel like I went into it for the right reasons," Gardner remembers with a chuckle.
These days, Gardner is co-owner of Gardner and La Rochelle Orthodontics (a.k.a. GLO), with two locations in Richmond, the capital city of Virginia. Practice partner Natalie La Rochelle, DDS, and associate Dana Tang, DDS, share clinical duties in two offices that are both about 3,000 square feet.
One office has a river theme in honor of Richmond's iconic James River, replete with artwork depicting whimsical wooden boats. The other is a surf shack with little surfboards and a calm-inducing beach mural.
"We cater to all ages," says Gardner, who majored in biology as an undergrad at Wake Forest University before heading to the Virginia Commonwealth University School of Dentistry. "Our office smells like cookies and Starbucks. We keep it bright, fun, and professional. Richmond is a highly competitive area for orthodontists and we try to differentiate ourselves and show some personality versus just a sterile, predictable dental office. If you're not having fun at work, you're wasting half your life."
Backed by a stellar team, Gardner leads by example. No stranger to hard work, the Martinsville, Va, native draws on lessons learned as a young man working at a camp in the Caribbean.
"I was in charge of cleaning sailboats, and we lived on sailboats," Gardner remembers. "I did this for 8 years. One of the camp leaders taught this concept called motive power, which is a way to see positive things in life and foster gratitude. I've tried to adapt this, and when we see patients every couple of months, we have a great opportunity to pass on that positivity."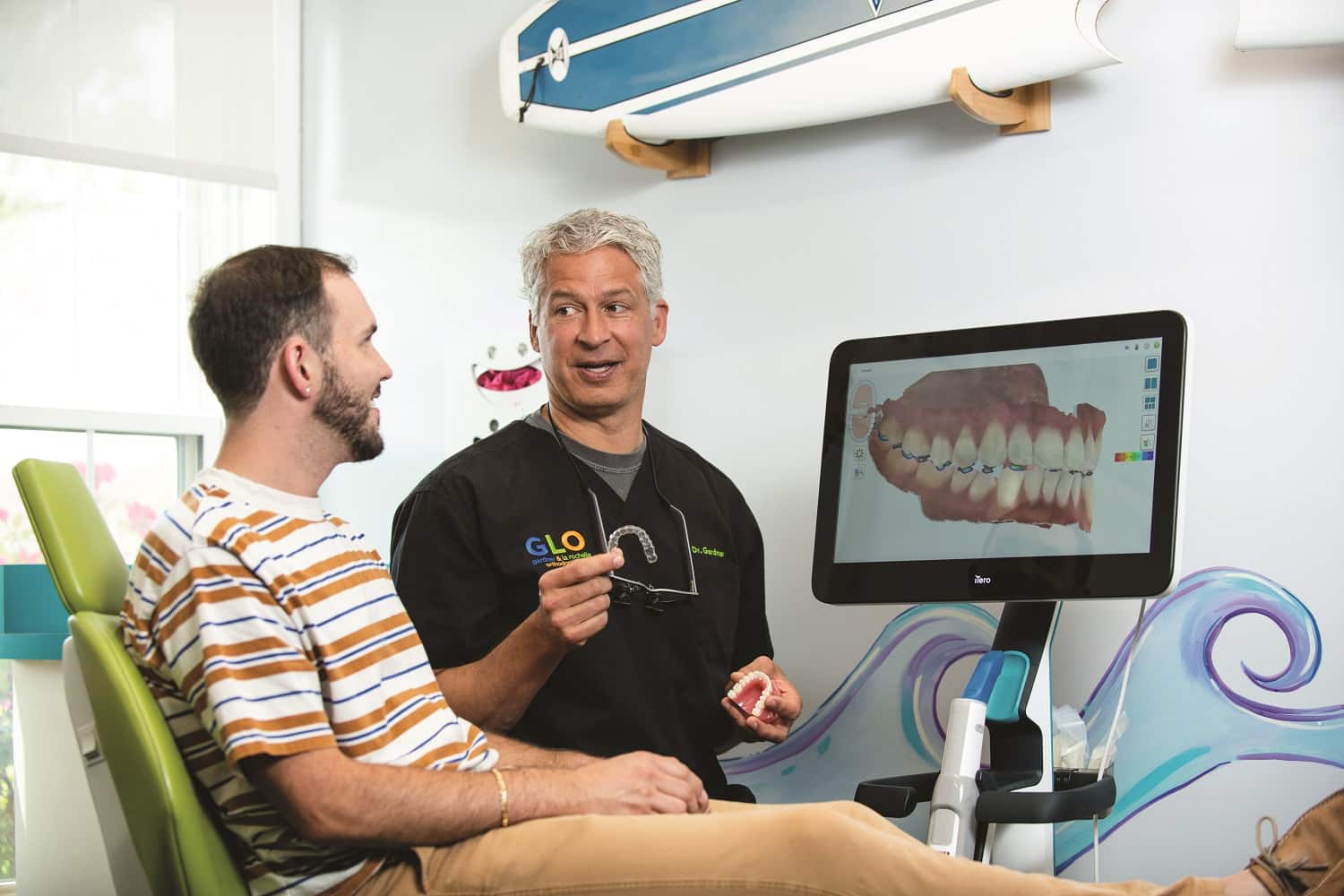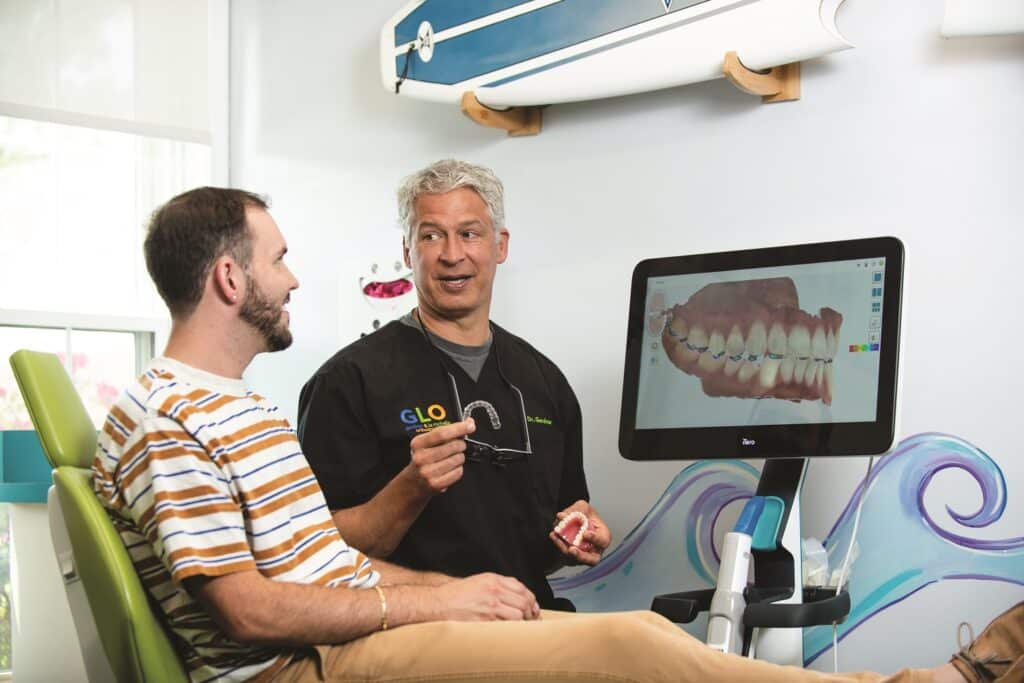 Saving Time, Improving Outcomes
About 2 years after earning his orthodontic certificate, Gardner watched with curiosity as a new company called Align Technology unveiled its new Invisalign System of clear aligners. After watching a webinar about the Invisalign System in the year 2000, that curiosity only grew stronger. Initially hesitant to embrace the new paradigm, he asked his wife to be his first aligner patient—followed by some office team members.
Even in the early days of clear aligner treatment, Gardner saw serious potential and enthusiastically hopped on the bandwagon. Along with consistent improvement in the hardware, significant software has continued to boost operational efficiencies and clinical outcomes.
Invisalign system innovations take shape within the Align Digital Platform, a proprietary combination of software, systems, and services designed to connect doctors, labs, patients, and consumers. Relatively recent Invisalign system innovations include ClinCheck Live Update for 3D controls, the Invisalign Practice App, Invisalign Personalized Plan (IPP), and Invisalign Smile Architect.
Gardner currently uses ClinCheck Pro 6.0 software that features a Live Update for 3D controls. Doctors can use 3D controls to make changes to a ClinCheck plan and see these changes in a revised treatment plan in about 2 minutes. "This eliminates much of the back-and-forth interactions between doctors and Align CAD designers," Gardner says, "and also communicates the doctor's clinical intent more accurately."
All components of the Align Digital Platform are designed to advance digital treatment planning, providing greater flexibility, consistency of treatment preferences, and real-time treatment plan access and modification capabilities. Each innovation enhances Invisalign treatment planning quality, efficiency, and scale—all while contributing to better doctor-patient engagement and treatment outcomes.
"From there, things have kept improving," Gardner says. "For example, with IPP [Invisalign Personalized Plan], a lot of my clinical treatment preferences are applied automatically."
IPP is a technology feature within the ClinCheck Pro software that is intended to streamline treatment planning and help doctors achieve treatment plans more efficiently. With IPP, Align incorporates doctor-specific treatment preferences into a template that is automatically applied to deliver a consistent, personalized, high-quality initial ClinCheck set-up. Doctor preferred prescription choices, clinical preferences, and special instructions are included from the start.
These treatment preferences can be applied across various indications or case types, such as open bite versus deep bite. Due to the individual nature of each doctor's approach, IPP is being scaled gradually in phases across the customer population.
"When I have someone whose front teeth overlap too much, or what we call a deep bite, or a deep overbite, then IPP puts into place my personal treatment design," Gardner says. "When someone has an open bite in the front, IPP adds my design. Now I don't have to plug in all those treatment preferences every time, which is a huge time saver because I have a lot less work. It also makes my designs more consistent because when you have a ton of stuff to put into a design, you don't always remember everything."
IPP has bolstered the bottom line and improved clinical outcomes, but Gardner is most impressed by the technology's ability to save precious time. "With IPP," he muses, "I have a lot less homework to do."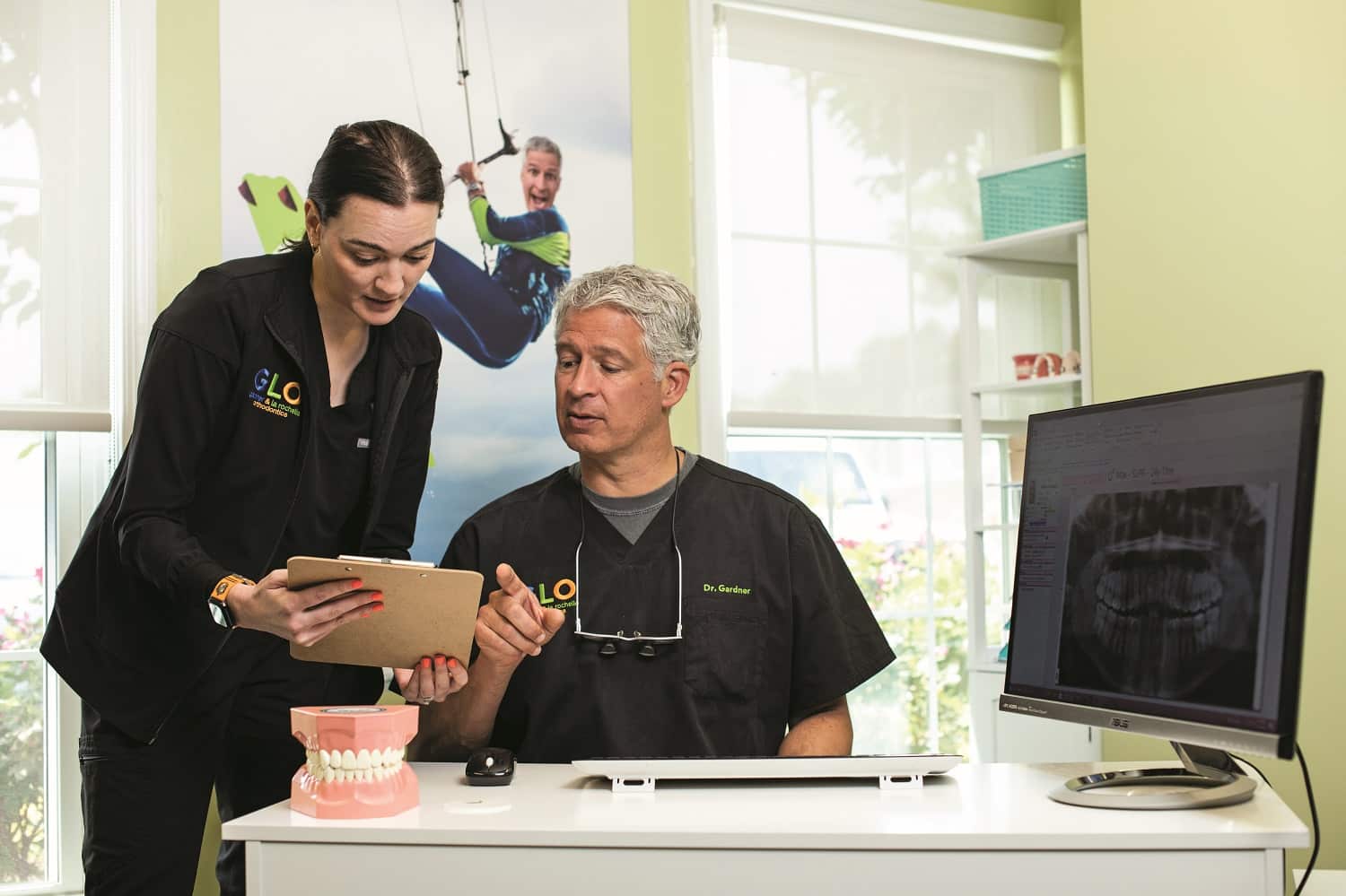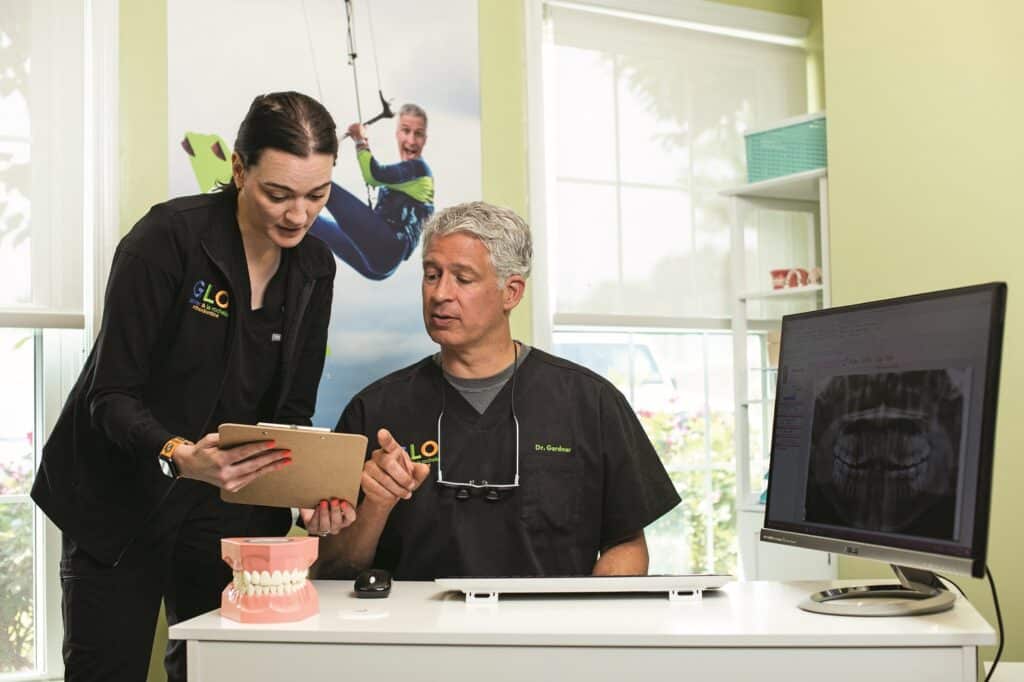 Gardner also touts the Invisalign Practice App, a new mobile companion to the Invisalign Doctor Site (IDS) that combines many Invisalign treatment features into one app. The user interface also allows docs to manage and prioritize tasks such as ClinCheck treatment plans awaiting approval and prescriptions ready for submission.
"Other recent advancements include the iTero scan that goes into the computer and auto-populates intraoral photographs," Gardner says. "But my favorite things have been Invisalign's Smile Architect where you design the aesthetics of the smile, including restorations done by the dentist and the ClinCheck In-Face Visualization tool."
Invisalign Smile Architect delivers ortho-restorative treatment planning with a facially-driven treatment planning approach. "It combines iTero intraoral scans, facial photos, and ClinCheck software," Gardner says, "to help doctors create treatment plans that integrate orthodontics and restorative treatments for patients."
With the ClinCheck In-Face Visualization tool, doctors receive a facial rendering that they can use for treatment planning and to help patients visualize their smiles after completion of Invisalign treatment and restorative dental treatment.
Highly technical, yet still intuitive, these digital tools have enabled orthodontists to do a lot more at home, which can be a blessing and a curse. It can reduce overhead by making the clinic more efficient through digital orthodontics.
"When you automate things that you do redundantly, all of a sudden the time you have to put in is significantly reduced," Gardner confirms. "Your free time opens up a lot more because you're not spending so much out-of-office time doing the digital treatment planning and designing that you were doing before."
Gardner estimates that he is reviewing between 30 and 40 ClinChecks per week for new patients and touch-ups for existing patients. "If I were to spend on average 10 minutes per case, and I have 40 ClinChecks—that's 400 minutes," he calculates. "If I have five minutes per case, all of a sudden that's 200 minutes. The time savings really add up quickly. These digital tools from Align support a wide range of cases, and they reduce my homework. That adds up to a real benefit for me."
Applying all that technology on a human level is the art that goes with the science. For those "really challenging" puzzles that spark creativity, Gardner has a special affinity.
He recalls the case of a woman missing several teeth. The woman happened to be a physician and she ended up chairside sporting partial dentures, mainly because other professionals had told her she could not have implants because her bite was off.
In a coordinated interdisciplinary effort, implants were placed first in the process, a practice that goes against the typical order of placing implants last. Gardner explains: "We placed the implants first and proceeded with STLs and 3D digital wax ups. We did it all using digital workflow elements to get everything ready. We placed the implants and placed temporary crowns on the implants. We then used those to move the teeth to the right spot and correctly develop the bite."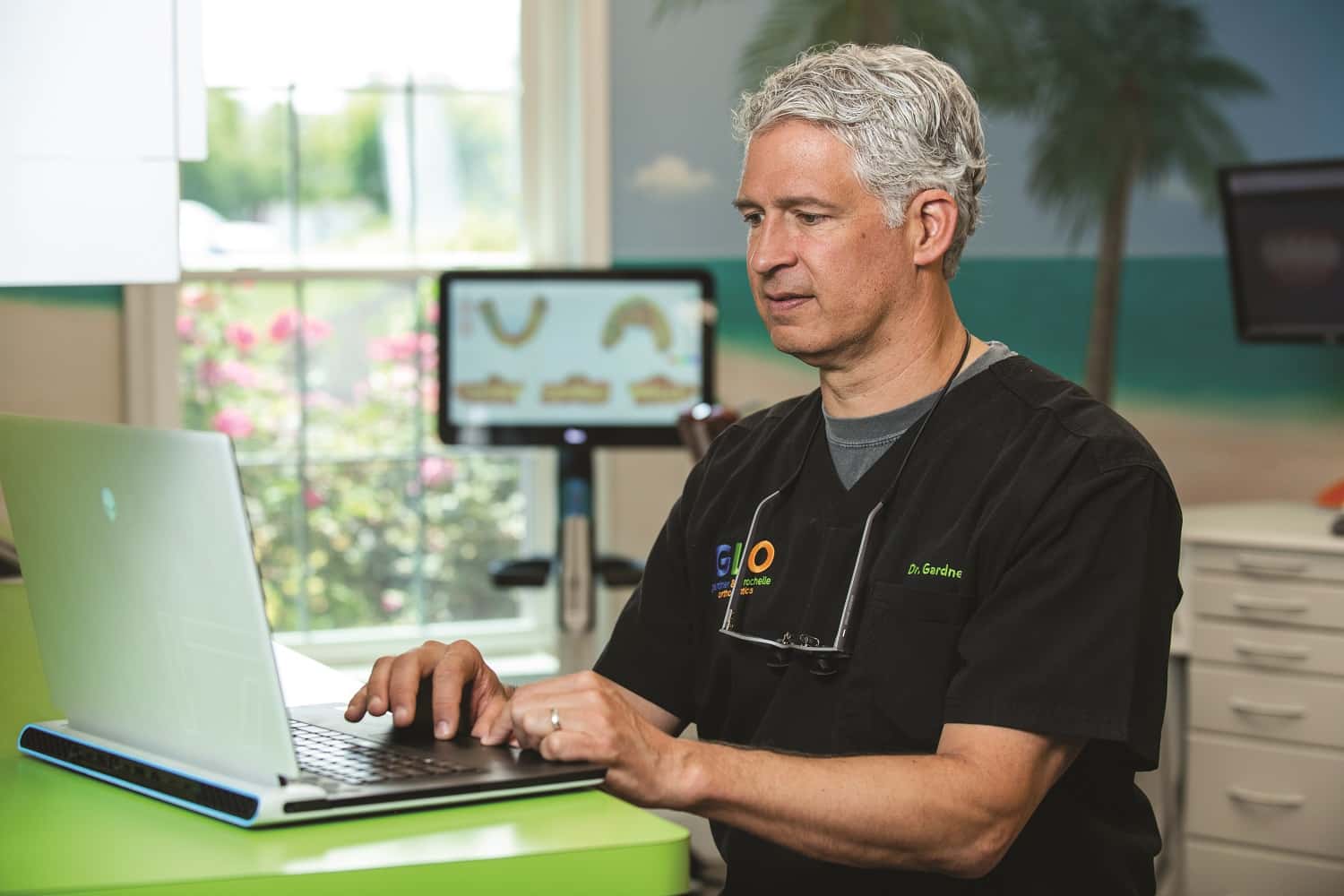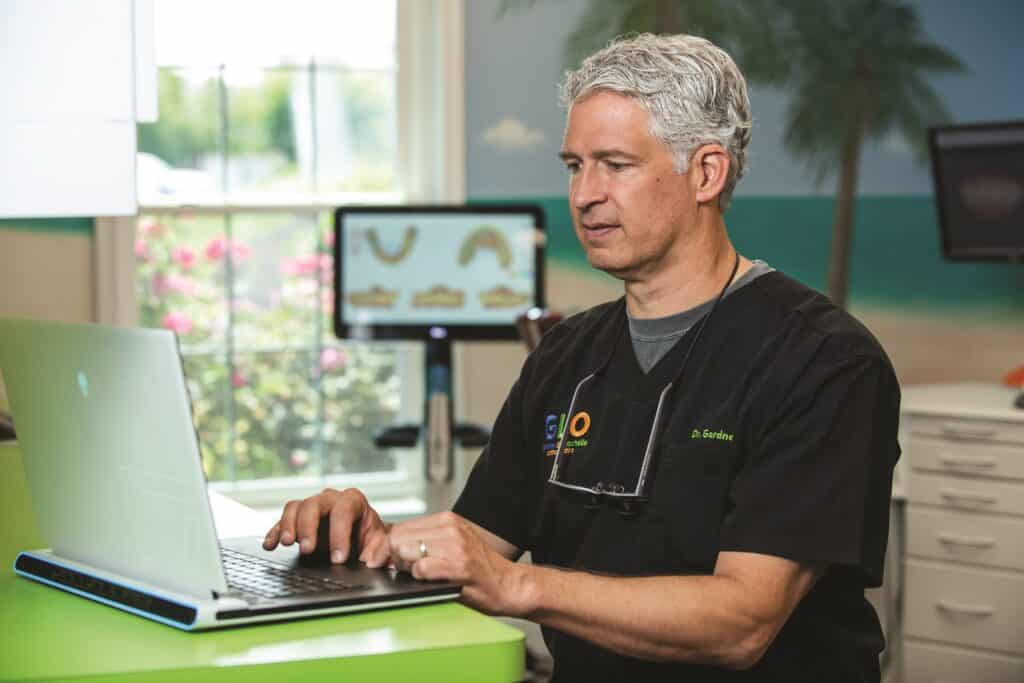 Meticulous advance planning got the bite to a proper place with implants in exactly the right spot at the end. Final crowns followed. "When we finished on the final day, she just started bawling and of course the team started bawling and maybe I did a little bit," Gardner continues. "She sent us a ton of patients over the years. She's brought her family in. That was one of the most rewarding patients of all time. It was really complicated, and I'm sure I lost money on that case because it was so much work, but I don't care. It was just an awesome experience and something I will never forget."
As someone who has seen the evolution of digital orthodontics, Gardner acknowledges that the progress can appear dizzying at times. Among some orthodontists, fear of new technology can emerge, as well as fear of competition from dentists. "Align is not plotting to let the machines take over," he says with a chuckle. "I think orthodontists see all the tough cases and we're seeing patients referred to us to fix or to finish."
As someone who uses technology to focus on patient care and to improve the elusive work/life balance, Gardner does not pine for the good old days. Instead, he makes the most of modern tools to improve clinical outcomes and to create more time to focus on family and hobbies.
"I have three children and three dogs and I'm almost an empty nester," Gardner enthuses. "I really love adventure and traveling. My favorite sport is kiteboarding, but I also love white water kayaking, mountain biking, dirt biking, and snow skiing. I've written a couple of children's books and I love to juggle, especially juggling fire—basically torches that are balanced. I always tell my children—weird is a compliment, normal is an insult."
Greg Thompson is a freelance writer for Orthodontic Products.