by Sarah Schmelling
Matthew Coats, DDS, MS, uses a fun 1950s theme to help teach his patients responsibility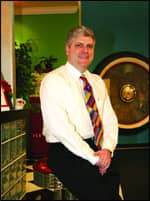 When you first see the Web site for Coats Orthodontics, the practice of Matthew Coats, DDS, MS, based in Flower Mound, Tex, the first thing to come to mind isn't necessarily character-building in children. The splash of bright red graphics and photos of the office—made to look like a 1950s-style soda fountain—are more likely to bring thoughts of surprise and wonder. But the look of the office, the elements of the Web site, and everything else involved in the practice all revolve around one philosophy: helping kids develop responsibility and character.
"To me, it's a given that you're going to have great results" from the orthodontics, Coats says, "because that's what we're trained to do. It's like if you go to a four-star hotel: You expect great service."
What isn't always utilized in orthodontics, he explains, is the opportunity to help kids take on responsibility. "I don't think we expect enough [from kids]," he says. "The kids we treat here are primarily between 7 and 12 years old and, in my mind, orthodontics is the first time they have responsibility—to not eat sticky or hard foods, to use appliances, and if they break things, to be honest about it. We want to build on that."
Coats does exactly that. His system not only teaches kids how to earn and to save, it shows them that by being responsible, they can also have a lot of fun.
Service With Your Smile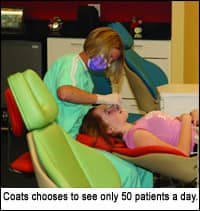 Coats' practice wasn't always this way. He was a general dentist for 8 years before he decided to go back to school for orthodontics. "I sold my practice and my house and two cars and moved my wife and two kids to [Temple University] in Philadelphia for 2 years," he says. "And the reason I did that was I liked working with kids and seeing their smiles change so much. You don't see that as much in a general dentistry office."
In 1999, he opened a practice in Flower Mound that he says was "traditional," but he already knew he wanted his office to be different. "I'm not sure why most orthodontic offices kind of copy each other like they're McDonald's," he says.
As an avid collector of Coca-Cola® memorabilia, he decided to create a soda fountain and a reward system for the kids. Patients could earn three "Coats Coins" per visit—one for good hygiene, one if nothing is broken, and one if they wear a Coats T-shirt—and then use the coins to purchase soda or food at the fountain. However, to buy two items, kids need at least four coins, requiring them to save up. "And you wouldn't believe how hard they work to get that popcorn and that Coke," Coats says. "That's funny to me, when their parents could stop at [the store] a few doors down and get it for them."
The soda fountain—dubbed "Coats CafÉ"—went over so well that when Coats decided to move his office into a larger space about a year ago, everything was designed to fit into that 1950s theme. "When you go in, it looks just like a restaurant. There are booths and tables in the waiting room," he says. "There are TVs—one plays chick flicks, one plays kids' movies, and one plays modern marvels like the story of Coke or the story of Disney. There's something everywhere you look."
Practice Profile

Name
Coats Orthodontics
Location
Flower Mound, Tex
Owner
Matthew J. Coats, DDS, MS
Specialty
Orthodontics
Years in practice
6 in orthodontics (8 in dental practice)
Patients per day
50
Starts per year
300–400
Days worked per week
4 (Monday through Thursday)
Office square footage
9,500
Number of employees
8
The idea was not only to create a fun environment for kids, but also to design a space where parents can relax while their children are getting their treatment. "I know my wife starts at about 6 in the morning with the kids and goes to about 10 or 11 at night," Coats says. "So we tried to make a place where [parents] could sit in a booth and read the paper or watch a movie or whatever it is they want to do, and we're serving them [food and drinks] the whole time. We're kind of their 20- or 30-minute haven."
Texas being Texas, the office is housed in a 15,000-square-foot building where 9,500 square feet of space is used for the practice. "It's a much larger space than we'll ever use," he says. But it allows plenty of breathing room for kids and parents. "It makes it seem like there aren't so many people here. People can have their space."
Coats says he was surprised to see how much the '50s-style environment "kind of defuses people," and that it really helps them relax.
"It's just been great," he adds. "People walk in and, especially if they haven't been here before, they're just floored. It looks just like a restaurant, and it's new and it's fresh. They respond really well."
Creating Character
Beyond the fun of the office's appearance, however, lies an intricate system of instilling responsibility in patients. The primary "Coats Character Creators" are the coins, which the kids can use not only for food, but for backpacks, shirts, hats, and "anything else you can think of," Coats says.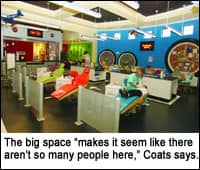 If a patient doesn't earn a coin—due to, say, poor hygiene—that patient is not allowed to purchase anything that day, even if he or she has saved up from past visits. But Coats says this is not meant to be a punishment, but a way to help the kids remember what to do for their next visit. He believes that through learning how to be responsible for their orthodontic treatment and how to save up for things they want, kids will also build confidence.
"I think it takes a lot for a child to successfully make it through orthodontics," Coats says. "An 8-year-old or a 12-year-old, they're unsure of themselves, and if you tell them they're doing great it really builds their self-esteem. So I don't want them to fail."
It's all the more gratifying for the child, he says, when the orthodontic work is completed and they can feel personally responsible for their new, great smile. "They'll know they did it on their own," he says.
Another element of the system is "Coats College," which all kids and their parents must attend before braces are put on. Coats took the idea from the "Pool School" he was required to take when he had a swimming pool installed at his house. "They would not show me how to turn it on until I took 2 hours off of work and went to pool school," he explains. "I was really agitated by it. But what they were trying to do was protect my investment."
He says he wants parents and kids to be "a little inconvenienced" by getting a 20-minute explanation of the braces that will be put on, because he wants them to understand how important it all is.
Coats College, he says, is a complete explanation of what will happen during treatment and how to properly care for braces. "We explain the dos and don'ts of orthodontics," he says. "We go through how to brush and how to floss, how we make appointments, what's expected of the [patients], and what's expected of the parents."
At the end, there is a one-question test: Coats hands the child a piece of sticky candy and asks them, "What are you going to do with this after we put on your braces today?" If they answer that they can't possibly eat the candy, they've graduated from Coats College.
On their first visit, parents are also given a CD of the motivational speaker Zig Ziglar, and Coats asks that they listen to it with their kids. He gives kids information to bring to their teachers, who, he says "are a lot of times our biggest offenders," and asks them not to give kids sticky candy. He also gives parents magnets that remind them not to solve all their kids' problems for them because this can prevent them from taking on the responsibility themselves.
He says that some parents don't understand all of this in the beginning, but almost everyone appreciates the end results. "I had a situation where a kid kept breaking the orthodontics and the parent wanted to take them off, but I talked her out of it," Coats explains. "She came back later and said I was right and that the kid had really grown up."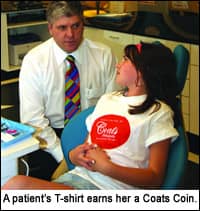 When he told this story to another parent who wasn't warming up to the concept, he says a light seemed to click on for her when he explained how much braces can help a kid become responsible. "She said, 'You're absolutely right—my mother has two 40-year-old kids living with her who never grew up,' " he laughs.
This push for responsibility in kids even crosses over to appliances. Coats says he still provides headgear for kids to correct overbite because he wants them to "rise to the occasion" of being responsible for the device. In addition, if a patient is having difficulty brushing correctly, he doesn't have them go to a mirror and brush on their own. He works with them directly until they do it right.
"We're trying to encourage them to know what they need to do," he says.
Working Together
All this instilling of traditional values doesn't mean that Coats' practice isn't up-to-date. He's proud of the state-of-the-art technology used, including digital radiography. "We don't have a darkroom; we just click a picture, and it prints out in about a minute," he says. He says everything in the office is computerized. There is also a laboratory on the premises where all Coats' lab work is done. "That way, if we have a rush order, we can make an appliance in a day," he says. "It's part of our emphasis on customer service."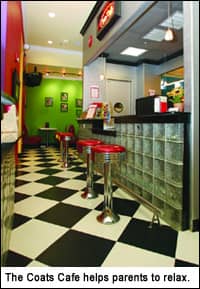 Coats makes clear to new employees that patients shouldn't be penalized for arriving late for an appointment. He also quotes an all-inclusive fee at the beginning of treatment to avoid adding "nickel-and-dime" charges. "We stress the idea that if you're going to do something, do it right," he says.
He works hard at keeping the office a stress-free environment for his patients. One staff member's role is exclusively to serve food and drinks and to keep the office spotless. Coats also holds a staff meeting every morning in which he and his staff discuss the day ahead. "We're always talking about how to make the patients' lives easier," he says.
Coats does his best to keep the meetings lively and fun so that the staff will be excited to start the day. "I just try to get people to laugh and get ready to respond in a great way to the patients coming in, so when people leave they say, 'Wow, that was a great experience, I can't wait to go back,'" he says. "And that's what I want. I don't want [patients] to have to think about the orthodontics. I want them to think, 'This is going to turn out great; let's have a good time.' "
He says there can always be challenges in communicating effectively with the staff, but that the system works well for the most part. Every employee has a checklist of daily, weekly, monthly, and yearly duties so that "nothing goes by, it always gets done, we never run out of supplies," he says. "There would never be a time that we would run out of anything."
During the day, Coats also tries to keep things fun. The staff gives away prizes, and he says he has no problem if he sees a staff member talking to a parent in the "cafÉ," because he really wants people to take a personal interest in the patients. Of course, "We want to stay on time," he says, "but we really try to give everyone the time they need and deserve."
He points out that he sees about 50 patients per day, even though he says the facility's size could handle 10 times as many.
"We're not trying to be the biggest practice in the country," he explains, and says that he invested in the space because of the great experience—and individual attention—he wants to provide to the patients.
A Unique Place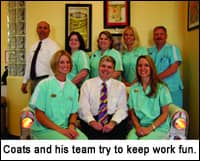 Coats says that by investing what he has in this unique office environment, he has created a less stressful experience for parents and their kids. Problems or altercations rarely arise, he says, and though this was also true of his dental practice, it still wasn't a fun place to be. "I didn't have a lot of arguing as a general dentist, but people didn't want to be there," he says. People do want to be in his orthodontic office—so much so that he had to limit the hours of the Coats CafÉ because people were coming just to hang out. Kids happy with their results often bring him presents, and he says he's running out of space for all the pieces of Coca-Cola memorabilia people bring him.
The practice doesn't do a lot of advertising, but it has cornered the market on branding: Everything in the office has the Coats name, from "Coats Corn" to "Coats Cotton Candy" to the location of the practice, "Coats Corner."
"People ask if we have a 'Coats Commode,'" Coats jokes.
Everything also sports a consistent logo and color scheme. "We try to have fun," he says. "I haven't spent a lot of money on advertising, but we try to go above and beyond for patients … everything the patient needs, I think we should do it."
In short, he's extremely happy with the space he's created. He says he and his wife spent more than 3 years planning the dÉcor; they had three mini-warehouses "packed to the ceiling" with decorations and furniture, he says.
What he has built is a place where kid can come, learn how to be responsible, and have a great time. "To steal from Disney, it is a magical experience," Coats says. "To me, the typical, everyday, run-of-the-mill doctor's office with chairs lined up along the wall just doesn't do it."
Sarah Schmelling is a contributing writer for Orthodontic Products.