For Brooks Barefoot, DDS, practicing orthodontics in Colorado was the perfect melding of professional ambition with personal satisfaction.

By Steven Martinez | Photography by Jimena Peck
When Brooks Barefoot, DDS, co-owner of Total Orthodontics stepped out of the airport into the high elevation air of Colorado for the first time, he says he was blown away.
The first thing he noticed was that he wasn't sweating profusely. He grew up in Overland Park, Kan near the Missouri River where summer temperatures are high and humidity levels hover somewhere north of 60% year-round.
As he took his first drive around town, he saw people biking, hiking, and active elderly residents. It was a world apart from the one he was used to.
"There's one thing to do in Kansas and that's eat," says Barefoot. "I was blown away by what there is to do out here."
But Barefoot only spent a year in Colorado as an initial step on his journey to becoming a successful orthodontist and practice owner. It would take several years and changes before he finally found his way back to the place he would call home.
Finding the Right Path
It had not occurred to Barefoot to become an orthodontist when he started college. Working toward a finance degree from the University of Central Missouri, he first realized during an externship before his junior year that he hated it. Around the same time, he developed an interest in medicine.
"I didn't like the idea of talking solely about money. It just wasn't my deal," says Barefoot. "No one in my family is a doctor. I was definitely the odd duck, but I started to get into medicine and really enjoyed it and volunteered at a lot of hospitals."
Rather than throw away his finance degree and start from scratch, he got all his prerequisites done for med school which added another year to his undergraduate studies.
After graduation, he worked as an orderly at a children's hospital where he quickly learned once again that even the medical field has varying degrees of satisfaction.
"That was eye-opening for me because I'd say 98% of the physicians I talked to hate their jobs," says Barefoot. "I was going to be an orthopedic surgeon, that was my goal, but I really didn't enjoy working as an orderly, so I ended up not pursuing medicine, and then I somehow really stumbled upon dentistry."
He couldn't remember the context exactly, but Barefoot says that it was probably during a routine teeth cleaning in Kansas that he thought to ask his dentist if he liked his job.
"My dentist in Kansas City raved about it," Barefoot recalls. "I thought, hmm, you're a business owner and how many days a week do you work: 4? That's very different from the physicians that I talked to."
Barefoot applied to dental school and got accepted to the program at the University of Missouri-Kansas City. The year before he started dental school, he decided to move to Colorado for a year to work at a practice in the dental lab. It was there that he met his mentor John Bassett, DDS, who took Barefoot under his wing and would later help him network and connect him with Total Orthodontics co-owner and partner Kevin Theroux, DDS.
At dental school, Barefoot realized once again that the path was not so straightforward.
"I realized I wasn't any good at general dentistry, at least in dental school," says Barefoot. "I loved oral surgery and spent a lot of time following oral surgery residents. I just was enthralled by it. But I didn't love that I didn't get to make great relationships with my patients."
It wasn't until he treated his first orthodontic patient that he finally found the thing that he'd been looking for all along. It's not that it came easy to him, Barefoot says it took an embarrassingly long time to, but when he finished her case, he realized that he loved it.
"I love the physics, I love the biomechanics behind it, and it has truly become the best profession ever," says Barefoot. "If I had to do it again, I would still be an orthodontist."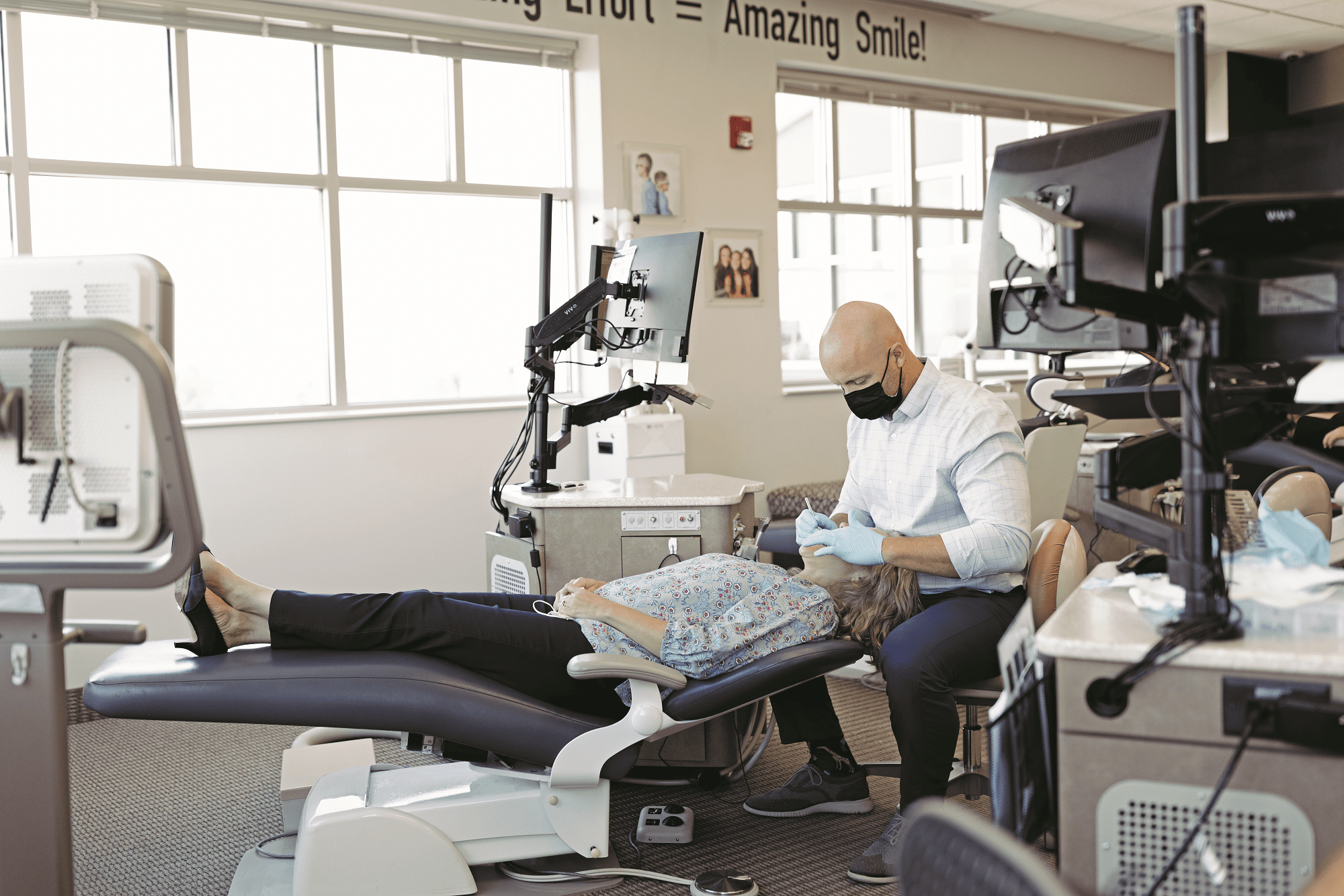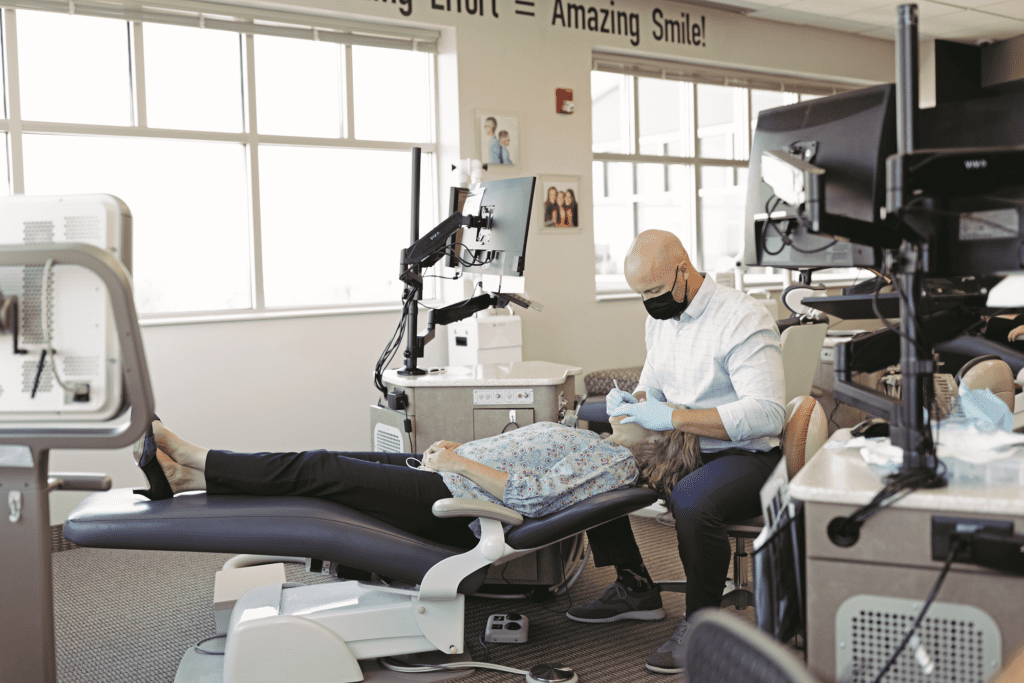 The Origins of Total Orthodontics
When Barefoot completed his residency at the Washington Hospital Center in Washington, DC, he wasn't sure where he wanted to practice. Bassett, his mentor, was relentless in trying to get Barefoot to come back to Colorado, but he was hesitant at first about having to compete in such a saturated market. But the draw of the Centennial state and a belief in his abilities inevitably brought him back.
"Being from Kansas, I was not excited about the idea of having 300 orthodontists within a 50-mile radius," says Barefoot. "But he convinced me that there's always room for a quality clinician and I trusted him in that and went against my instincts. I said, what a beautiful place to live, let me try it."
Fortunately, his wife, Ashley Barefoot, DDS, a pediatric dentist was accepted to a residency in Colorado, her first choice, giving Barefoot the go-ahead to start practicing in Colorado.
Bassett, ever the mentor, helped connect Barefoot with Theroux, whom Bassett knew through the Schulman Group, in which both were members. Theroux had purchased his practice in 1997 from the late Robert Bushey, DDS, growing it into what is today known as Total Orthodontics, with two locations south of Denver. For his part, Theroux was initially uninterested in taking on an associate, but Barefoot says they had breakfast together and ended up connecting so well that he hired him as an associate and eventually made him a partner.
When Barefoot arrived in 2012, Theroux's practice was a well-oiled machine, but that didn't make Barefoot's transition into the practice a smooth experience. As Barefoot points out, in residency, he saw 10 patients a day, but in private practice with Theroux he was suddenly seeing about 100 patients a day. He says it took him about year to get used to, but in the decade since, he's gained a wealth of experience in both the clinical and business sides of the practice.
"It's very different to practice orthodontics and to learn the verbiage and the little nuances—knowing when to finish treatment when to continue treatment," says Barefoot. "There's a lot of things that you have to learn when you get out [of your residency]."
A Focus on the Patients
Total Orthodontics has two locations in the outer suburbs of Denver in the towns of Lone Tree and Greenwood Village. Both neighborhoods are upper-middle-class suburbs, and their patients tend to be doctors, lawyers, engineers, and business owners. Total Orthodontics typically treats 30% adults and 70% kids.
"These are areas that, when I first started working, I couldn't afford to live in," says Barefoot. "But they're delightful areas and I think they're good hubs for being able to branch out and treat patients that are a little bit closer to downtown."
Location aside, a major element that Barefoot credits for the practice's growth is a focus on the quality of patient care. Theroux instituted a cooperation program to help motivate patients. The program provides instructive and encouraging videos and letters throughout treatment.
As a clinician, Barefoot has also grown as well and gained a reputation as an orthodontist who can provide non-surgical clinical solutions to problems that otherwise could require surgery. Total Orthodontics has received patient referrals from as far away as Kenya to avoid costly and occasionally damaging jaw surgery.
"Many things are possible orthodontically that many clinicians would otherwise feel is impossible without surgery," says Barefoot. "Technology, along with knowledge of efficient mechanics, really help accomplish what would have been nearly impossible in the past."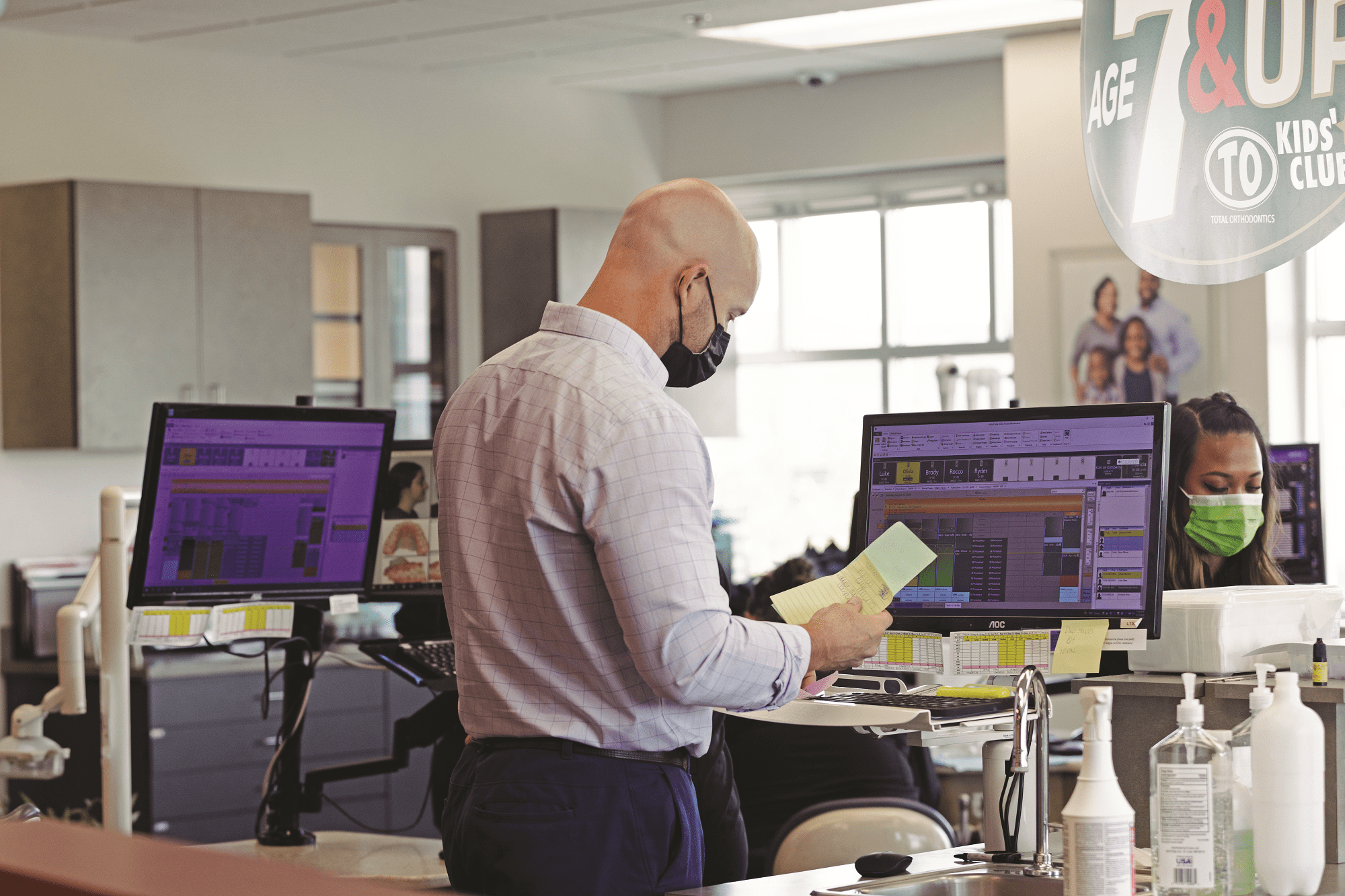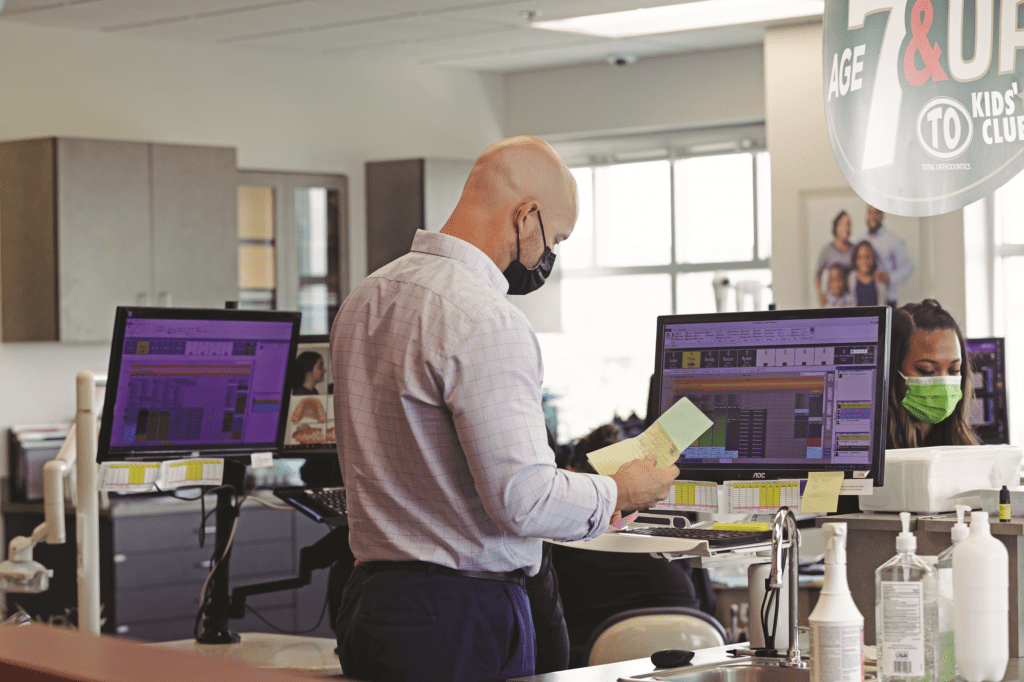 When Braces Make More Sense
With the rise of aligners in orthodontics as a faster, simpler, and increasingly more effective method of treatment, Barefoot has been careful not to push the method on patients, finding that in important ways braces are still a great way to treat patients, particularly younger ones.
His cases break down into 30% aligners and 70% braces. Total Orthodontics uses NuEdge brackets from TP Orthodontics for their reliability and ease of use and Invisalign for aligners. NuEdge brackets are made of cobalt chromium rather than stainless steel, which reduces friction and is less susceptible to corrosion. They also feature low nickel content which can help patients who are sensitive to the metal.
Cost, reliability, and customer service, especially for larger practices, are all important considerations when choosing a bracket, says Barefoot.
"The slots never pinch, we have few broken brackets, they are easy to align, they have a low profile, and are easy to remove," says Barefoot. "When something is working well, there's no reason to change it."
One issue he is passionate about is the profitability of braces, which often gets a bad rap when looking at them on a per-visit basis. He says he's attended many lectures that focus on the fact that because aligners require fewer visits for treatment and require less staff, they appear more profitable than braces. But Barefoot says there's a disconnect between that profitability per visit and the overall profitability of the practice.
"I heard that the savings from needing fewer staff outweighs the cost of the aligners that you pay," says Barefoot. "This is where I feel we have been led astray by some aligner companies. It depends on a practice's fees and overhead, but in a nutshell, if you convert your 100% braces practice to 100% aligners, your profit will be cut in half."
He admits that braces are more time-consuming and chaotic and require more visits which increase the workload; but that doesn't mean aligners are the answer. Barefoot points out that the doctor must weigh whether the benefit of avoiding these factors outweighs the loss of overall profitability.
"A lot of orthodontists need to understand that shifting all these patients to clear aligners is going to cut into your profitability dramatically and I don't think they see that," says Barefoot.
He also finds that braces are preferable for younger patients, who might not take the responsibility of aligners as seriously.
Ultimately, it's his job to give patients what they want and most adults that come into his practice usually prefer aligners. Total Orthodontics charges the same fees for both treatments. He says he never pushes patients to aligners, only evaluating cases where his experience tells him braces might end up working better.
Barefoot says he usually receives little pushback from patients who are nudged toward braces, adding that they are more likely to send future referrals.
"I went through all the numbers in our practice and looked at percentages and based on the percent we treat aligners [versus the] percent that we treat braces, we have more patients that refer to us families when they're in braces," says Barefoot.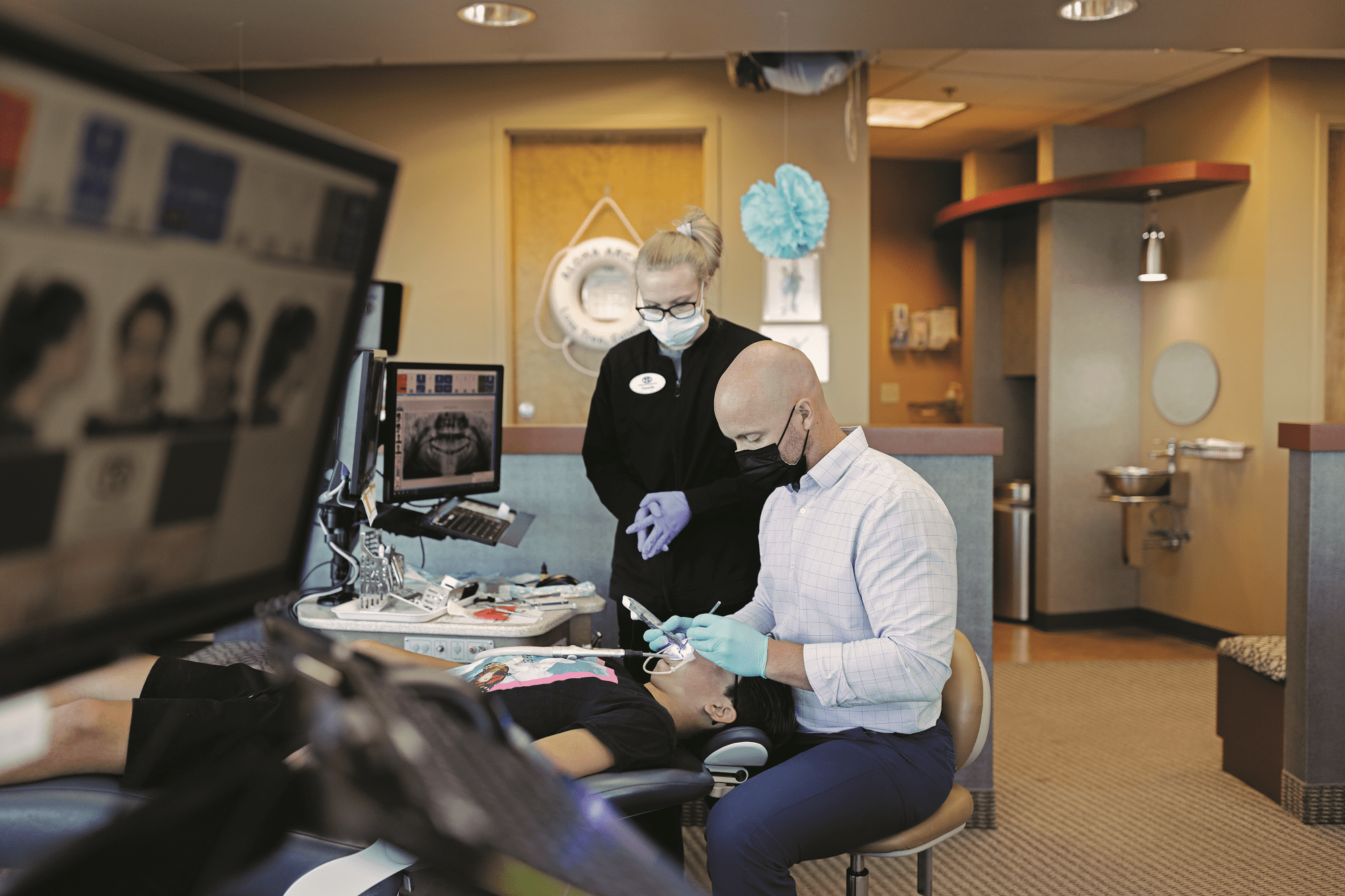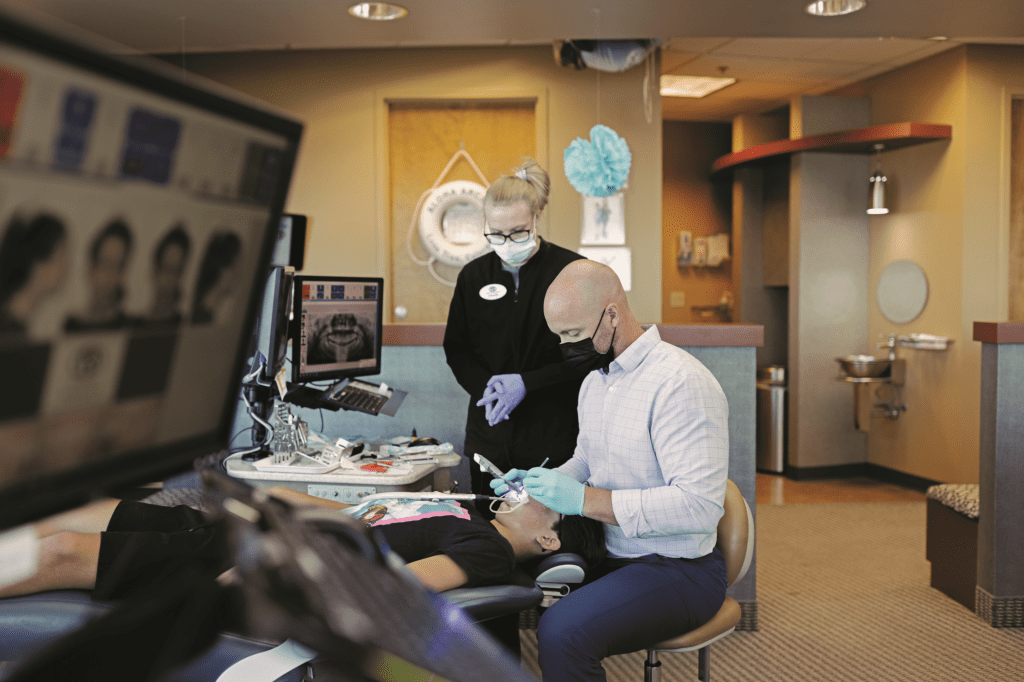 Where East Meets West
Just south of Lone Tree is a hilly, natural area with trails for hiking and biking and scenic viewpoints. From on top of a hill on a clear day, you can see the Rocky Mountains to the west, the downtown Denver skyline to the north, and the vast flat grasslands of the Great Plains to the east.
Barefoot's days are busy—not only in the office, but at home as well with four children. But when he can find time, he loves to take advantage of the region's natural beauty. He finds it therapeutic and welcomes the chance to recharge.
"Truthfully, I love to be out in the woods, and up high on mountain peaks," says Barefoot. "There'll never be enough time in our life to see all that Colorado has to offer."
When he first came to Colorado, he was amazed at how people took outdoor activities to a level that he had never even imagined. He recalls a charity bike ride that Theroux invited him to where he showed up in a shirt and basketball shorts and his partner started laughing at him.
"I remember him laughing and I'm like, 'What is so funny?' And he didn't tell me."
It wasn't until he rode a few miles and got to the first aid station that he noticed that he was the only one who used the kickstand on his bike before grabbing a drink, everyone else had laid their bikes down. And then he looked around and saw that all the other bikers were wearing full spandex riding outfits.
"Then I looked down at myself and I'm like, I'm the weird one. I'm the one that doesn't fit in here," says Barefoot. "It was humbling and at the same time very motivating. It's like, this is cool." OP
Steven Martinez is the associate editor for Orthodontic Products.