by Anita D'Alessandro
A roundtable on what works in patient seating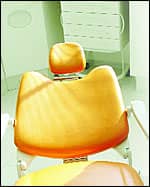 Marc Ackerman, DMD, a third-generation orthodontist who maintains a private practice in Bryn Mawr, Pa, is a clinical associate professor in the Department of Orthodontics at the Temple University School of Dentistry, Philadelphia. He is also a Diplomate of the American Board of Orthodontics, a member of the Edward H. Angle Society of Orthodontists, and the corecipient of the 2004 B.F. and Helen Dewel Award from the American Journal of Orthodontics and Dentofacial Orthopedics. His book, Enhancement Orthodontics: Theory and Practice, is due to be published by Blackwell Publishing in spring 2007. He can be reached at [email protected].
William J. Cherry, DMD, has been in the exclusive practice of orthodontics since 1990. He is a member of the AAO and the ADA, and he has been an officer in several local dental and orthodontic societies. He can be reached at [email protected].
John Gerling, DDS, MS, has been engaged in the private practice of orthodontics in McAllen, Tex, since 1983. His subspecialty is staff development and teamwork. He serves as board president of the International Museum of Art & Science in McAllen and lectures on various topics concerning astronomy and environment. He can be reached at [email protected].
Marcel Korn, DMD, is a diplomate of the American Board of Orthodontics, a member of the College of Diplomates of the American Board of Orthodontics, a member of the Angle Society of Orthodontists, and a fellow in the International College of Dentists. He maintains private practices in Boston and Fitchburg, Mass, and he is on the faculty at Tufts University School of Dental Medicine (Boston) in both the Department of Postgraduate Orthodontics and the Gelb Cranio-Mandibular Pain Center. He can be reached at [email protected].
Paul L. Ouellette, DDS, MS, has practiced orthodontics for more than 30 years. The results of his studies of sonographic analysis of temporomandibular joint sound have been presented to other professionals, nationally and internationally. He is a former assistant professor of orthodontics at Emory University in Atlanta. He has also served as a contributing editor and reviewer for various professional publications. He is a member of the American Dental Association and the American Association of Orthodontists. He can be reached at [email protected].

OP: How many chairs do you have in your practice?
Ackerman: I have six chairs in my practice.
Cherry: We have six treatment chairs in each office (Bethlehem and Schnecksville, Pa), plus one chair in the records room and one in the PC room at both offices.
Gerling: Six operatory chairs arranged side by side but angled. There are three other chairs in separate rooms. (One records and two exam.)
Korn: Six in one office and four in the main practice.
Ouellette: More than 25 in total. Our orthodontic practice currently has five locations, and each location has at least five orthodontic chairs.
OP: How are they configured?
Ackerman: The four primary chairs are configured in a large square, head to toe in two rows, with a central hand-washing and supply station. There is a fifth chair in a private room off of the main treatment area for adults and second-opinion examinations. The sixth chair is in the imaging studio and also serves as a chair for retainer checks.
Cherry: At the Bethlehem location, the chairs are aligned in a row, with one reversed for privacy. In the Schnecksville office, the six chairs are set up in a semicircle.
Gerling: My operatory chairs are side-by-side and angled about 30°.
Korn: In the six-chair office: four in the main operatory, one in the records/hygiene room, and one in an examination/conference room. In the four-chair office: two in the main operatory, one in the records/hygiene room (which serves as an additional chair at hyper time), and one examination/conference/retainer-check chair that serves as an additional adjustment chair at crunch time.
Ouellette: Our orthodontic offices are generally configured with semiprivate treatment areas. The use of cabinetry dividers for computer workstations works very well. There is one workstation for every two chairs.
OP: Why did you choose that particular configuration?
Ackerman: My partner, James L. Ackerman, DDS, who is now retired, chose this design nearly 2 decades ago. The reason for the open-bay layout was that the practice treats 90% children and 10% adults. An open bay is more conducive to social interaction between adolescents, and facilitates greater accessibility for parents and au pairs. From the staff's perspective, the open bay provides an airier space and a more pleasant atmosphere during afternoon crunch time.
Cherry: We built the Bethlehem office from ground up, and the in-line configuration suited the layout best. We reversed one chair to offer a little more privacy for adult patients. We acquired the office in Schnecksville around the same time, and worked with an architect and designer to complement the existing design features—circles and sweeping arcs—with the semicircular configuration.
Gerling: [My setup makes it] easy to "hop" chairs yet be able to observe the whole clinic. The angle provides some privacy.
Korn: Having been in practice for more than 20 years (now 36 years), when I opened my new inner-city office with mostly adults, I decided to spend more time with each patient, making sure that each visit is optimized and that treatment progresses rapidly and efficiently. Thus, the decision for fewer chairs so that I could have more time to work and speak with each patient, avoiding the rapid-turnover, mill atmosphere you get with many chairs and many assistants. The sophisticated, adult, working patients need and demand more individual attention.
Ouellette: For the last 35-plus years, my practice style has evolved. In the early practice years, I favored private operatories. Then, I designed new offices with an open-bay configuration. Now, I favor semiprivate operatories with always a place for a parent or companion to sit. This has been a great practice builder. The advent of practice-management applications delivered via the Internet makes it necessary to design the orthodontic office around easy access to computer workstations.
OP: Do you have a separate room for treating adults?
Ackerman: As I mentioned before, there is one private room for adults. Surprisingly, when given the choice, many adults prefer to be treated in the open bay.
Cherry: No, just the one reversed chair in the Bethlehem office.
Gerling: No, but I wish I did!
Korn: No. They are treated together with the younger patients, and they love it.
Ouellette: No, the semiprivate design makes our offices convenient for both adults and children. When the patient is seated, half-wall partitions or cabinetry allow the doctor and staff to interact with patients without distraction.
OP: What bells and whistles do your chairs have (massage, televisions mounted on the ceiling, headphones)?
Ackerman: The chairs themselves are very simple, with clean lines and very few built-in bells and whistles. There are several wall-mounted televisions for patient viewing.
Cherry: None. I like to be able to interact and communicate with patients without external distractions, which helps build a better relationship with them.
Gerling: Nothing yet along these lines. I tried Walkmans years ago, but they interfered with communication.
Korn: No bells and whistles at all. My office has fiber-optic lights and open space with no chairside computers.
Ouellette: All our offices have ceiling-mounted televisions. We do not use headphones because the same programming is viewed by everyone in the room.
OP: What is the most useful feature of your current chairs?
Ackerman: The most useful feature of the chairs is the programmable memory setting. Once it is set, the single push of a floor switch will raise and recline the chair into the most utilized position.
Cherry: Without a doubt, the lamps: you can widen or narrow the beam of light to tightly focus in on specific areas, getting the most accurate position and causing less irritation for patients. Another nice feature of these chairs is the ponytail slots for patients with long hair.
Gerling: Aesthetics and durability. They also seem fairly comfortable, and I love the foot controls.
Korn: They are made of iron and are more than 40 years old. They have been auto-shop painted and reupholstered with modern fabrics. They look great and work great, are sturdy and dependable. They are general dental chairs and not ortho chairs, and they are fully adjustable and sized for adults and children.
Ouellette: One of the most useful features of our chairs is the automatic return.
OP: When is the last time you replaced your chairs?
Ackerman: The chairs were last replaced nearly 15 years ago. However, we reupholstered them 3 years ago to match the new office color scheme.
Cherry: We fitted out the Schnecksville office with new chairs when we moved into the building in August 2005, and the Bethlehem office construction and fit out (including new chairs) was completed in October 2005.
Gerling: 8 years ago.
Korn: I have never replaced my chairs. They are up to date and very dependable.
Ouellette: We remodeled two of our offices last year and replaced all our orthodontic chairs.
OP: Are you looking to upgrade anytime soon?
Ackerman: I have no plans to upgrade anytime soon.
Cherry: Definitely not!
Gerling: I'm looking at upgrading to computers at each chair.
Korn: I am not planning to upgrade.
Ouellette: We plan to add six new chairs and delivery units to our Merritt Island office. My two sons are currently in dental school and, upon graduation, they will utilize the 14 chairs. We also plan to sublease our main office to a pediatric dentist on days when we are seeing patients in other locations.
Anita D'Alessandro is a contributing writer for Orthodontic Products.