by Joe Mayes, DDS, MSD
How to make the transition to cone beam 3D technology painless and financially feasible
Joe Mayes,
DDS, MSD
Many orthodontists are aware of cone beam 3D technology. They're familiar with its best-of-breed capabilities that far outdo 2D x-rays and launch patient diagnosis, treatment, and care to the highest level possible.
Yet many orthodontists still won't buy a cone beam machine. They are daunted by the task of selecting a machine, learning how to use it, and paying for it.
Indeed, if orthodontists don't know what they're looking for, this process can be time-consuming and confusing. They also run the risk of investing in a low-quality machine, or purchasing a machine that does not do what they want and getting in over their heads financing it.
But orthodontists can avoid these pitfalls by following simple guidelines that break down the best way to research machines, choose one, learn it, and fund it. These best practices make the step into orthodontics' third dimension manageable and feasible, and let orthodontists and their patients quickly realize the many benefits of cone beam 3D technology.
2D Distortion Versus 3D Reality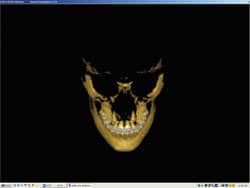 3DVR and 2D radiograph of a transfer-in patient from a dentist without 3D capabilities. Note that bringing the upper canines into the mouth in an untoward direction resorbed the roots of the upper centrals and laterals. These teeth have subsequently been lost.
A typical 3DVR image using i-CAT's Extended Field of View.
i-CAT's 3DVR showing the retained lower left "B" and a small supernumerary tooth impacting the permanent lower left lateral.
Every orthodontist's goal is to provide the best treatment. To attain that, they traditionally take 2D radiographs, such as panoramic or lateral cephalometric x-rays, to assist them in diagnosing the individual patient.
But 2D is a world of distortion. It captures a 3D image and flattens it. As a result, the image shows tissues laid over one another, so it can be difficult to distinguish one tissue or bone area from another. For example, in a panoramic x-ray, the key ridge of the malar process can appear on the other side of the film as a shadow.
While orthodontists have satisfactorily used 2D x-rays for many years to capture patients' jaw and tissue structures, cone beam 3D imaging is rising to the forefront due to its more accurate diagnosis, treatment planning, treatment response monitoring, and treatment outcome evaluation.
The reason is simple. Patients are 3D, a reality that is captured by cone beam imaging. It performs a comprehensive scan of the mouth, face, and jaw areas, and displays the 3D image on a computer screen within minutes.
There, orthodontists can see—in 360º—undistorted, virtual, rotating models of the patient's anatomy. They can then format and select desired "slices" for viewing.
In this way, 3D images provide greater detail than 2D x-rays. Orthodontists can see things they couldn't see before and discover the unexpected well in advance of a procedure.
This extra knowledge leads to shortened treatment time and increased diagnostic accuracy and surgical predictability. For example, cone beam imaging reveals the location of impacted teeth, and allows an orthodontist to see how to uncover them and bring them into the mouth so as not to disturb adjacent teeth and roots.
Plus, the scan uses more than 10 times less radiation than a medical CT, which is safer for patients. And because cone beam imaging quickly reconstructs the images on a computer screen, orthodontists can show patients images that help explain treatment plans and surgical procedures. This all can be done in one visit, reducing the time patients must spend in the office. It also puts the patient at ease when describing surgical treatment, and leads to increased case acceptance.
Shining Light on Cone Beam Integration
These benefits show that cone beam technology is the way to go for orthodontists who want to provide the best patient care. But transitioning a practice to 3D imaging and realizing these benefits can be challenging, especially in a new market with many diverse options.
However, integration is easy when orthodontists follow a step-by-step checklist. By following these guidelines, orthodontists and their patients can quickly begin to realize cone beam technology's benefits.
The first step is to research machines. Several cone beam machines are available. Learn more about these machines by visiting their Web sites, or at www.ConeBeam.com.
A 2D radiograph of the TMJ. Note the marked resorption of the left condylar head.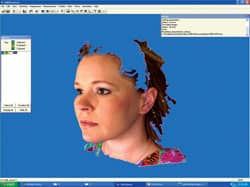 3dMD photogrammic image ready for analysis. The 3dMD camera system is accurate to 150 µm and thus allows accurate analysis of the soft tissue.
While reviewing each machine's specifications, look for several features, including:
Price. Costs vary from machine to machine, so orthodontists should investigate prices to see what type of plan can work for them. Large practices might be able to pay for the machine in full up front. Otherwise, financing plans are a great solution.
Unit size. Machine sizes vary from 80 inches x 100 inches to 42 inches x 56 inches. Most cone beam machines can fit in the spot vacated by 2D machines. However, larger machines will require a separate 8- to 10-square-foot room.
Patient position. Proper positioning of the patient is crucial to the accuracy of the scan. Various machines position the patient standing or lying down; however, the seated position reduces movement and optimizes image capture.
"Gray-level" resolution. Machines offer 8-bit, 12-bit, and 14-bit image processors. Go for the highest resolution to achieve the best image quality.
Sensor type. Cone beam machines have flat-panel or image-intensifier sensors. Opt for flat-panels because they tend to last longer and not fade after repeated use. The Amorphos Silicon flat-panel sensor is proven to be the best sensor technology available.
Scan times. Patient scans can take from 7 to 40 seconds, depending on the model. Look for the lowest scan time possible for two reasons. One, the less time that patients have to sit still, the less chance they'll move and distort the image. Also, lower scan times mean less time patients are exposed to radiation.
Radiation dosage type. When the machine circles patients' heads, the cone beam is emitted in a continuous or pulsed fashion. Continuous dosage emits up to 870 uSv of radiation. Alternatively, pulsed beams take a picture at every degree. This reduces the amount of radiation patients are exposed to—less than 70 uSv for some machines—so opt for pulsed to increase patient safety.
Field of view. Machines' field of view varies from 8 cm to
22 cm in height, and 6 cm to 17 cm in diameter. The Imaging Sciences i-CAT, for example, offers extended field of views up to 17 cm in height x 23 cm in diameter on an adjustable flip-panel sensor that creates landscape and portrait fields of view for extra versatility. Choose a machine with a larger field of view to capture the most information in one scan and the ability to collimate for a smaller field of view with less radiation.
Reconstruction time. After the scan, cone beam machines reconstruct the image on a computer screen. Reconstruction times range from a few seconds to 10 minutes across the available machines. Opt for faster time to speed workflow.
Reconstruction shape. Reconstruction shape can be cylindrical or spherical. A cylinder captures more comprehensive information than a sphere.
File size. Cone beam image files can be very large, anywhere from 50MB to 700MB each. Go for a machine that produces smaller files because they open faster and take up less storage space.
Storage space. It's important to buy large external hard drives, anywhere from 1.5 to 2 terabytes (TB), to store image files. Smaller practices can probably use .5TB to 1TB drives. Also, have a backup drive to store file archives once per week to help prevent data loss.
Software. Special cone beam technology software lets orthodontists view and manipulate images in hundreds of ways. They can view images from any angle, zoom in and out, slice sections, and rotate the skull to make diagnoses and determine treatment. Software also archives files based on date of scan and patient name.
Machines come with viewing software, making the cone beam purchase easier and more convenient. Look for a machine that comes with software that allows you and your referring doctors to view and navigate the patient's scan.
Some machines require both you and your referring doctors to purchase additional viewing software, which can prove costly and inconvenient. The i-CAT Vision™ software is free and fully functional for viewing in a referring doctor's office.
If buying software separately, first consider the operating system. There are different programs for Mac and Windows. Osirix works well for Macs and is open access, and i-CAT Vision is excellent for Windows.
Another top-notch program is 3dMD's Vultus software. It is my favorite software, and it will be available for release in a few months. It also allows viewing and diagnosing of 3D photogrammic images on the same screen.
Some software can be deployed to more than one computer. This makes it easy to share software and access images across the network.
Reaping the Maximum Benefit
After you select a machine and have it installed, the manufacturer should provide training for a day or 2 to teach staff how to use the machine and software.
Once everyone is up to speed, orthodontists can begin scanning patients and realizing the benefits of cone beam technology immediately.
The financial benefits, on the other hand, can take time. To speed return on investment, use the cone beam machine as a practice marketing tool—the secret to getting the most from the technology investment.
Mail a personal letter to referral sources and a separate letter to patients describing the machine and the diagnostic benefits it has to offer. Add a line about the machine in phone book advertisements, and even try to get local newspapers and television stations to report on the new technology in the office.
When patients and referrals know an orthodontist has the latest cone beam 3D technology, and are aware of its benefits, they're more likely to schedule appointments with that orthodontist. This will increase case acceptance and generate revenue.
To find the right 3D imaging system for you, search for "3D" in our online Buyer's Guide.
All the benefits of cone beam technology prove it's a must-have tool for practices committed to improving patient safety, diagnostic accuracy, treatment planning, treatment response monitoring, and treatment outcome evaluation.
Transitioning to cone beam technology isn't a shot in the dark when orthodontists know what to look for in a good machine and how to incorporate it into their practice. And this makes the step into orthodontics' third dimension possible, practical, and profitable.
Joe Mayes, DDS, MSD, is in private practice in Lubbock, Tex. He is a frequent lecturer on new and innovative orthodontic treatments both nationally and internationally. He can be reached at