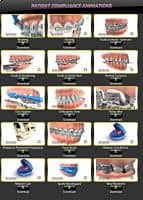 Ortho2, Ames, Iowa, has released ViewPoint 9, a new version of its practice-management software.
The new version features an improved On-Deck Operatory Display, whichnow includes a Light Bar system. In addition, Treatment Chart userswill now be able to open a patient's chart as well as other programapplications using their fingerprint. ViewPoint 9 also includesintegration with DemandForce.
Ortho2's Edge Imaging and Premier Imaging extension pack are alsoavailable for ViewPoint users. The extension pack features card flowpresentation, shadow alignment, and unlimited undo. The optional PremierImaging extension includes new image morphing capabilities.
Users can access Patient Compliance Animations with ViewPoint 9, withthe option to add full Edge Animations for treatment, surgical, and 3Danimations; annotate and draw functionality; and custom audio narration.ViewPoint users can also upgrade to Edge Reminders, which includes theability to send text, human voice, and/or e-mail messages withoutminimum usage fees or long-term contracts.
For more information on this and other orthodontic companies, visit our Buyer's Guide.