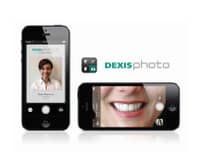 The DEXIS Photo app from Hatfield, Pa-based DEXIS is now available via the Apple App Store in the United States and Canada. The free app provides a fast and easy way to add photos directly into the DEXIS imaging suite using an iPhone or iPod Touch.
Using the DEXIS Photo app, clinicians simply frame the shot and capture an image right into the patient record instantaneously and wirelessly, eliminating the need for cards, readers, and manual file transfers.
DEXIS Photo enables dental professionals to capture patient photo IDs that can be viewed from any imaging screen in DEXIS. Users also can capture images for the software's extra-oral photo screen. According to DEXIS, the new photo app helps maintain HIPAA compliance as images are stored securely within DEXIS and not on the mobile device.
DEXIS Photo is a companion app for registered users of DEXIS Imaging Suite software version 10.0.8 or higher. Minimum requirements for the DEXIS Photo app are iOS 7, iPhone 4, 4S, 5, 5C, or 5S, and iPod touch 5th generation.