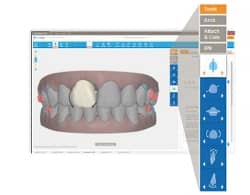 Align Technology Inc, San Jose, Calif, announces the development of its ClinCheck® Pro, the next-generation Invisalign treatment software. The technology is designed to provide more precise control over final tooth position and help Invisalign providers achieve treatment goals.
Innovations featured in the ClinCheck Pro software include interactive 3D controls that enable adjustments to be made to the position of individual teeth directly on the 3D model. Using this technology, doctors can visualize the effects on the whole dentition in real time.
According to Align Technology, the 3D controls toolbar featured in ClinCheck Pro brings an exciting evolution to the company's ClinCheck interface, including tooth position modifications, arch form, and IPR and space management for management of interproximal reduction (IPR) and spacing for specific contacts. The toolbar also features a 3D control for attachments and precision cuts in which users can drag and drop conventional attachments and precision cuts onto the 3D model.
"Real time adjustments on the ClinCheck Pro 3D model [provides] our customers with the ability to make treatment plan decisions immediately to achieve their treatment goals," said John P. Graham, vice president, marketing and chief marketing officer for Align Technology.
ClinCheck Pro will be available to Invisalign-trained providers in the United States and Canada starting February 24, 2014. International availability is scheduled for the third quarter of 2014.