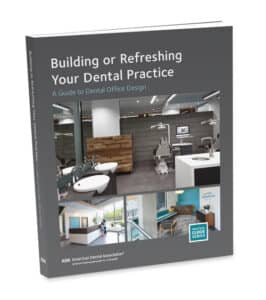 The American Dental Association (ADA) has released two new books for dental professionals.
Building or Refreshing Your Dental Practice: A Guide to Dental Office Design (pictured) covers everything from building and renovating to refreshing a practice space. The book includes full color photographs and insights from dental architects, design consultants, and practicing dentists. The book provides a road map for navigating such issues as building an expert project team, financing a build or remodel, and choosing an office site that meets requirements. In addition, the book gives advice on anticipating potential legal issues; determining dental equipment needs; integrating dental office decor, colors, and finishes within a brand; and incorporating green dental office design tactics.
The second book, The Essentials of Dental Assisting, is a practical guide for dental assistants. It includes full color photographs and detailed step-by-step instructions. This reference book focuses on core clinical skills and practical knowledge for dental assistants.
Both books are available through the ADA's online store. Special pricing is available for members.
Save
Save