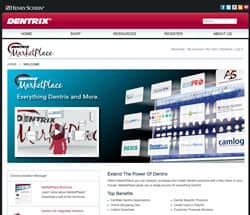 Henry Schein Inc, Melville, NY, recently launched Dentrix® MarketPlace , an online store for its Dentrix® G5 platform. The new online store sells Dentrix G5-connected versions of a growing number of applications that can be integrated with Dentrix G5 by accessing its database or adding new features.
Modeled after the Apple Store, Dentrix MarketPlace will sell apps, as well as books and training services on practice management. According to the company, a number of developers are already participating in the Dentrix Development Program, which provides tools to develop and certify products that integrate with Dentrix G5.
In addition to searching for apps in Dentrix MarketPlace, Dentrix users can identify apps certified to work with Dentrix G5. Those apps will feature a "Dentrix G5 Connected" logo.
For more information about this and other orthodontic companies, visit our Market Guide.