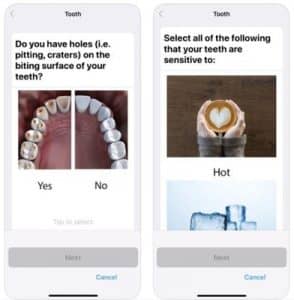 The Kois Center, Seattle, recently launched Healthy Mouth, a new self-assessment, educational app specifically designed for patients. The app provides users with an immediate estimate of their oral health using an algorithm that analyzes user responses to oral health questions, before providing risk estimates in a variety of categories.
The Healthy Mouth app is available for the iPhone in the App Store.
The Healthy Mouth app features a series of images with YES and NO questions and answers to help patients evaluate their oral health. The app screens for issues with gum health, overall teeth health, bite and jaw-joint health, as well as smile characteristics. After the oral health self-assessment, the app helps users locate qualified dental professionals near them that are equipped to more deeply interpret the app results. According to a press release from the Kois Center, the entire app-screening process is designed to be quick, from evaluation to appointment scheduling, and is often completed in less than 7 minutes.