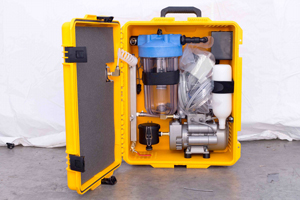 BaseVac Dental Systems introduces PortaVac, its new, portable dental vacuum.
The PortaVac takes its place in the new Porta vacuum series and is designed for mobile dental clinic applications at schools, community service locations, and military field positions in which mobility, simple setup, and easy shipping are required. Based on rotary vane technology, the PortaVac offers the same level of suction found on all BaseVac vacuum systems and is built from industrial-quality components intended to provide powerful performance in harsh conditions.
BaseVac Dental Systems is a division of R.E. Morrison Equipment Inc, located in Mississauga, Ontario, Canada. BaseVac and R.E. Morrison supply the food, pharmaceutical, medical, and laboratory markets with rotary pump vacuum system technology and compressed-air delivery systems.