One of Dolphin Imaging & Management Solutions' newest features gives the practice and patients greater control of appointment scheduling, as well as a safe check-in option
Talk about fortuitous timing. When the pandemic started, Dolphin Imaging & Management Solutions had a new app made for the moment: Dolphin Concierge. Concierge not only allows patients to schedule appointments from their own mobile device, but also check-in, reducing in-person contact as practices continue to maintain social distancing guidelines. To learn more, Orthodontic Products spoke to Dewitt Blankenship, manager of practice management, mobile, and web products at Dolphin.
Orthodontic Products: What types of software solutions does Dolphin offer the orthodontic practice?
Dewitt Blankenship: Dolphin offers a comprehensive suite of software and services that answer all the needs of an orthodontic practice on a single platform. Specifically, we offer solutions for 2D/3D imaging, diagnostics, practice management, case presentation, and patient education. All our solutions are available via desktop software, or in the Cloud in a subscription service model. We also offer mobile apps for both the practice and patient.
Dolphin Management is our practice management product. It's an extremely robust system that can track all workflow and patient flow throughout the different areas of the practice, including the admin and financial aspects of running a business.
The neat thing about Dolphin Management is that it makes it possible for the practice to embrace the New Patient into its system before they ever step foot into the physical office. This is done using a feature called New Patient Online Forms & Online Scheduling. The practice embeds this feature onto its website, allowing a New Patient to fill out these forms from the comfort of their home. They can enter health history, demographic information, and even schedule the first appointment. Once the appointment is scheduled, the New Patient's record is automatically created and populated with the given information. Now that the patient is in the system, their entire treatment journey can be handled from within Dolphin Management.
Some of the most popular features in Dolphin Management—and that truly set us apart from other orthodontic software systems—are the reporting features. Practices love the ability to run customized reports on all aspects of their business, allowing them to detect patterns and improve processes.
There are so many functions and features within Dolphin Management that facilitate and streamline patient care, it's impossible to list them all here. But I'd also like to add that the software integrates with an array of third-party systems, giving practices lots of options for daily processes such as handling financials and engaging with patients.
OP: Dolphin recently rolled out a new scheduling feature within the Dolphin Management platform: Dolphin Concierge. What does Concierge do?
Blankenship: Concierge allows practice staff to initiate scheduling or rescheduling of appointments by sending a link (via text and/or email) that opens up the practice schedule, from which the patient can then schedule directly into, in real time. Using Concierge, staff can pull up a list of patients waiting for an appointment, and directly send the schedule to them so they may schedule at their convenience. The patient can add the appointment to their personal schedule on their mobile device, directly from the Concierge. Concierge also allows patients to check-in securely and remotely (say from the parking lot), allowing them to avoid gathering in a waiting room and touching a common computer screen.
OP: This feature was released at the start of the pandemic. The timing is very serendipitous.
Blankenship: Yes, it had been in development long before the pandemic. It debuted at a small orthodontic meeting in January 2020, then again at our annual Dolphin Meeting in March 2020. Frankly, we weren't sure if it was going to be a feature that customers would find useful. It was originally conceived as a way for the front desk staff to easily share their scheduling screen with the patient or parent during checkout. The idea was to beam the list of dates and times available to the patient's phone so they could see what was available firsthand, and then pick the opening of their choice. But obviously, it also wound up working very well in the suddenly socially-distanced world we found ourselves in last spring.
The remote check-in was added with the pandemic in mind, and even includes the ability to designate a parking space you've arrived in so that staff could greet the patient outside when they are ready to seat them.
OP: How does Dolphin Concierge change the practice's workflow?
Blankenship: Dolphin Concierge keeps the front desk staff and phones freed up to take New Patient calls and grow the practice. Parents of patients love it because they can schedule that next appointment from the parking lot, home, or work. And when the practice gets a cancellation, they can quickly and easily offer the opening in their schedule to anyone on their "sooner if possible" list by sending a Concierge, which then handles the rescheduling for them.
OP: How do current Dolphin users add Dolphin Concierge?
Blankenship: Any customer that is part of the Dolphin Service Club can utilize the Dolphin Concierge at no additional charge. A set of customizable email, SMS, and HTML templates are provided in the software to get them started. Webinars are available to help customers with the setup, as well as our knowledgeable support team. Verbiage, typeface, colors, and even the practice logo are all configurable so that Concierge can be fully branded for your practice.
---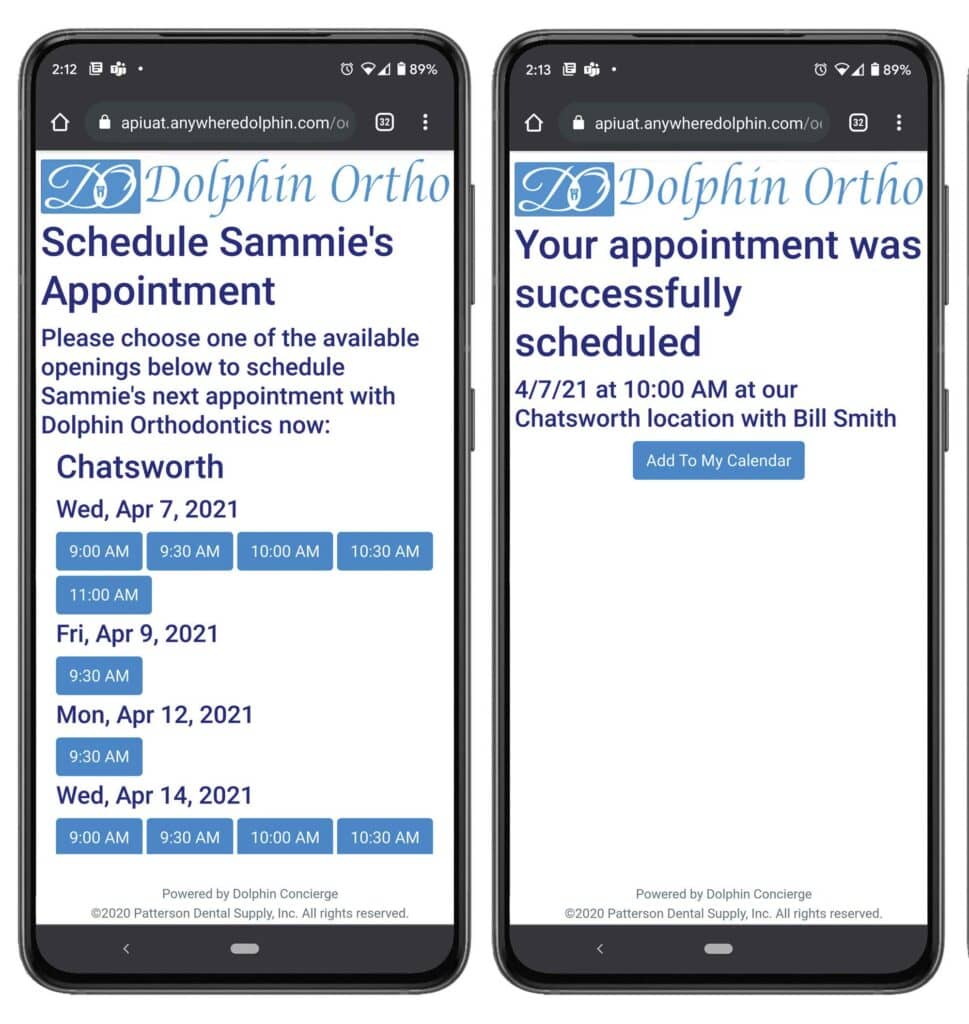 Rebecca Pickett is the office manager at Pickett Orthodontics, which has offices in Mobile and Jackson, Ala. The practice incorporated Dolphin Concierge into its workflow early in the pandemic. As office manager, Pickett is keyed into how the app impacts patient scheduling and new patient conversion. Orthodontic Products asked her to share how the practice has integrated Concierge into its workflow, and, more importantly, where it has the most impact.
Our practice has utilized two-way texting from another company for years. It was okay, but very behind the times. We decided to bite the bullet to switch to Dolphin's texting service in spring 2020, right in the middle of the pandemic shutdown. This was such a devastating time to all dental practices, but certainly posed lots of mental challenges to orthodontic practices that are used to being busy and inundated with the need to multi-task. The hidden blessing was the innovation that positively impacted our day-to-day when we were finally able to reopen. Having the two-way texting right within Dolphin streamlined patient communication and stepped up our efficiency game. Then, Dolphin surprised us with the release of Concierge.
Concierge opened up so many doors for us by allowing patients to feel in control of their appointment scheduling, and also relieving our front desk of dreaded mundane tasks. The Concierge service has been such a blessing to our office.
Here's an example of how I've utilized it recently: A mom sent me a message via Facebook saying she was ready to schedule her daughter's braces. I sent her a Concierge to schedule and she reserved an appointment immediately. The reservation prompted our Financial Questionnaire to be sent, allowing her to set her contract preferences and submit her updated insurance card via the Dolphin MyOrthodontist mobile app. This automatically alerted our Financial Coordinator to prepare the contract as requested and shared it to the app for mom to sign. This was all done in less than 15 minutes. When braces day came, she received a Concierge invitation to check-in to the appointment once they arrived. This allowed mom to tell us exactly what spot they were in so we could safely complete the COVID screening process before they entered the building. It was flawless.
We primarily use Concierge for our initial banding reservations. It has been a game-changer for patients that want to "think about it" or "talk it over" instead of scheduling from the new patient exam. My favorite way to use it is to say to mom, "Why don't I send you an invite to our scheduling Concierge so you can see exactly what dates and times we have available? That way you can pick what works best for your family when you're ready." Passing that control to the family is like handing them a little wrapped gift with a beautiful bow. I find that patients will typically schedule. Patients love the control of picking their appointment.
We also use Concierge to reschedule appointments, fill last-minute cancellations, and allow patients to check-in to their appointments.
Patients love Concierge. That level of control and flexibility reinforces the practice's value to the patient. These are the people who talk about you to their friends and coworkers. Plus, it is so difficult to get adult patients on the phone these days. Sometimes you will wait for hours to hear back from them to schedule an appointment that cancelled. With Concierge, they are on the schedule almost immediately after sending the invitation to them. OP