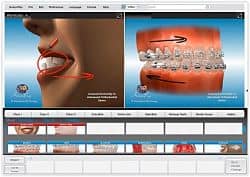 Solutions by Design, Clovis, Calif, is offering its ScreenPlay 9.0 for pre-order. The orthodontic patient case presentation and education application can be used for presenting patient case problems and treatment options at the initial examination. ScreenPlay 9.0 includes a new drawing utility, interactive care and use forms, and multiple new languages.
The drawing utility allows users to draw diagrams and sketches on any animation or imported patient record with the mouse. These sketches can be saved and imported into the PMS as a patient document. They can also be included in the presentation email.
Among the interactive care and use forms is an interactive elastics form which allows orthodontists to click on the upper and lower teeth they want the patient to attach elastics to. The 3D image of teeth with attached elastics will appear with specific instructions on attaching the elastics as per type of movement desired.
ScreenPlay 9.0 will now include Spanish, French, and Dutch in the forms section of the interface and the captions for the animations and videos. In addition, all voice-overs will be translated.
ScreenPlay 9.0 is scheduled for the release at the end of March 2013.
For more information about this and other orthodontic companies, visit our Market Guide.