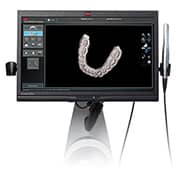 3M Unitek, Monrovia, Calif, has released the 3M True Definition Scanner for use in orthodontic practices. The product is a complete digital impression system that uses 3D-in-motion video technology to deliver a true replica of the oral anatomy with precision and accuracy, according to 3M Unitek.
The digital technology will improve productivity, oral care, and create a better patient experience, the company said.
The 3M True Definition Scanner platform features include:
Lightweight, ergonomic intraoral scanning wand;
HP workstation with a touch-screen display;
Rolling cart for easy transport; and
The 3M Connection Center: a secure, cloud-based, digital platform that stores impression files and provides access to the Unitek Treatment Management Portal (TMP) connection for Incognito System Appliances.
The technology will allow orthodontists to display digital impressions immediately for analysis and treatment planning, and securely store data on the system's cloud-based storage, which holds an unlimited number of patient scans and provides access to open STL (3D) files.
For more information on this company, please visit our Market Guide.