by Greg Thompson
Specializing in both orthodontics and prosthodontics, Douglas E. Jensen, DDS, tackles complex cases from a unique perspective
Combining dental specialties is becoming more common, but pairing prosthodontics and orthodontics still remains rare. How rare? If you started counting the number of ortho/prostho specialists on one hand, you might get to the other hand but would not need to proceed any further. Douglas E. Jensen, DDS, is a proud member of this small fraternity, and he just might be out in front of a growing trend.
As the other half of a Texas-based two-clinician practice, Jensen acknowledges a growing movement to combine prosthodontics and periodontics, but he confirms that marrying prosthodontics and orthodontics is still a rare thing. In fact, the Baylor College of Dentistry grad knows of only five other prosthodontist/orthodontists in the country. A 2009 Dallas Business Journal article pegs the total at "less than a dozen."
Whatever the exact number, it is clear that few students are interested in spending an additional 5 years after dental school to secure the prosthodontic pedigree. Not so for Jensen, whose first love after general dentistry was prosthodontics, followed by his pursuit of orthodontics. "In days past, prosthodontics was a very separate specialty," says Jensen, who practices at Wise Orthodontics, with lone star locations in Frisco and McKinney. "People did not think to use orthodontics to solve prosthodontic problems, or vice versa."
PRACTICE PROFILE
Name: Douglas E. Jensen, DDS
Practice: Wise Orthodontics
Locations: Frisco, Tex (population 93,000) and McKinney, Tex (population 115,000)
Office square footage:Frisco (4,000) and McKinney (3,500)
Specialty: Orthodontics and prosthodontics
Years in Practice: 2
Patients per day: 40 to 70
Starts per year: 475
Business Partner: John Wise, DDS
Days worked per week:3 clinical orthodontic days and 1 prosthodontic/admin day
Web site: wiseorthodontics.com
While general orthodontics is still the backbone of the business, it is not surprising that Jensen's rare talents are a magnet for adult patients with complex bites and adolescents who have missing teeth. These difficult cases spark the type of creative thinking that prosthodontic training fosters.
A Multidisciplinary Approach
Operating under the philosophy that prosthodontic concepts are indeed universal, Jensen integrates his specialized training into treatment plans that encompass the traditional goals of straighter teeth and better occlusions. Whether the treatment is directed at healthy adolescents or adults with worn dentition, moving teeth into ideal positions is the ultimate goal.
The recent case of a 14-year-old boy with 12 congenitally missing teeth—several up front in the aesthetic zone—illustrates Jensen's multidisciplinary treatment approach. The regimen involved an exacting restorative plan to redistribute the existing teeth, then provide natural replacements for the missing teeth. Orthodontics required the most time, and the treatment concluded with the placement of dental implants, crowns, and veneers—all according to plan. Many adults who seek orthodontic care for "crooked teeth" may indeed require the same type of restorative work, an option that may be overlooked by traditional orthodontists.
According to each patient's wishes, and in line with Jensen's schooling, the native Texan is able to create treatment plans that leave no stone unturned. "The setup results in as close to ideal continuity of care and outcomes as possible," Jensen says. "In prosthodontics, you learn the big picture beyond just moving teeth. You learn where the teeth should be. The prosthodontic side of my training taught me how to treatment-plan and properly sequence events, and general dental education normally does not emphasize this. Prosthodontics also nurtures the kind of hand skills needed for cutting more ideal crown preparations, putting implants in a better position, and creating more natural-looking restorations."
Old World Versus New World
Before attending dental school, Jensen cultivated an abiding talent for working with his hands as an accomplished automobile tinkerer and woodworker. While his book learning was solid, it took multiple applications over a couple years to eventually get accepted to dental school. After getting into the program at Baylor College of Dentistry in Dallas, perseverance and desire led him to go "all the way" with the dual specialty.
Jensen says that his prosthodontic training helps him properly sequence events when he is treatment-planning.
With a bit more dexterity than the average student, Jensen developed a deep appreciation for what he calls the old-world craftsmanship of prosthodontics, an art he believes is occasionally overlooked in today's technology-driven climate. The de-emphasis on hand skills, he says, starts with how the industry chooses its future practitioners. "The criteria for bringing people into dental school has little to do with any history of using the hands," Jensen laments. "There are no inquiries about work or hobbies. Instead, they want to know about research, grade-point averages, and test scores. The result is that a lot of people are book smart with few hand skills."
Jensen saw the phenomenon firsthand while working with undergraduate dental students. "There are a whole lot of students who don't know much about carving wax," Jensen says. "Too many dentists are looking for technology to save the day and make things easier for them. Technology cannot replace hand skills, creativity, knowledge of materials, and good clinical judgment."
Certain situations require "Tweed"-style wire-bending skills, and Jensen takes pride in accomplishing these tasks. However, along with his appreciation for hand skills, Jensen is an avid user of the Orametrix SureSmile technology, an advance that he believes fits the practice's mission of better and faster results. To enhance the "old-school craftsmanship," Jensen places and uses temporary anchorage devices along with dental implants (often to be used restoratively in the future) as temporary anchors to get teeth in the right spot.
Jensen uses cone beam computed tomography (CBCT) routinely for diagnostic purposes and as a basis for SureSmile scans. Jensen agrees that SureSmile with CBCT is a cutting-edge orthodontic technology that helps clinicians digitally visualize the crowns of teeth, their roots, and the surrounding bone to plan the final positions of the teeth and fashion an aesthetic smile and an exact bite—more quickly and with less homing.
Word of Mouth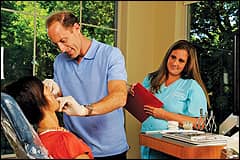 Jensen's prosthodontic background has also helped improve his hand skills.
Since the prosthodontic/orthodontic combination is so rare, many general dentists in McKinney, Frisco, and surrounding areas are unaware of Jensen's existence. Even if they know about him, they may not fully understand his talents and how he may benefit patients. Direct colleague-to-colleague communication, sometimes even via cold calling, is the only way to get the word out, and it is a process that Jensen has embraced.
To boost his chances for a warm reception, Jensen must first convey that he has no intention of diverting patients. After all, general dentists do prosthodontic work such as crowns, bridges, and implants. "When I meet dentists, they could feel as if I am invading their space," Jensen acknowledges. "I have to make sure that they understand that I am not there to take away their prosthodontic work. If they have a case for which they would like to do the prosthodontics, then my role may be more as a facilitator or an adviser for the overall treatment plan."
Dentists understand that they are the gatekeepers of the profession, and it is not uncommon for new dentists to hear from a barrage of specialists, such as orthodontists and oral surgeons, who want to meet them. Everyone is vying for their attention, and in the 100,000+ population areas where Jensen practices, competition is tough. Cold calling is sometimes necessary, and it can succeed with the right approach.
In a nonthreatening manner, Jensen simply introduces himself and attempts to arrange a time for a face-to-face meeting—perhaps a lunch or an office get-together. "I may meet someone for the first time and barely talk about dentistry," Jensen says. "The second time I might have an excuse to meet him or her by following up on something that we had talked about, and then proceed into dental matters, give out business cards, and talk about what I can offer patients. I may even show a computer presentation. We might have become friends by then, and as time goes on, dentists understand what I can do for them orthodontically, working to solve their difficult cases and how I can help their patients."
Careful Collaboration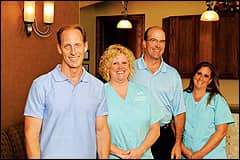 Jensen shares a smile with Tammy Long; his business partner, John Wise, DDS; and Carolyn Lafferty.
Eventually, referring dentists will test the waters and send over a case. Many times, the interactions are no more than goodwill builders where no money changes hands. "My advice is a loss leader, so to speak," Jensen says. "I interact with dentists as necessary so that their cases get moving. Where I get compensated is if the patient begins consulting with me, is complex, and requires more than a standard amount of time in the treatment-planning and collaboration phase. I may need to collaborate with other specialists on intricate plans. These cases are identified early as interdisciplinary dentofacial therapy [IDT], and there may be fees associated with the diagnostic workup."
Before patients get a definitive treatment plan, Jensen charges an upfront fee. The additional workup fee would cover diagnostic wax work, x-rays, and perhaps a CBCT scan. The next time the patient comes in, Jensen will have a presentation that outlines all the options, including treatment costs.
If a dentist approaches him with a question about a certain case, Jensen will sit down and talk on the phone at no charge, and even meet with that dentist at his or her office. "The referral base will be there, and he will know what I can do when the time comes," Jensen says. "By that time, I won't have to convince him that I won't steal patients, because he knows that I am only there to serve patients as he wants me to serve them. I can advise them on final veneers or implants. And if it is something more difficult than they'd like to take on, I can take on the case from start to finish for the sake of continuity."
Another way Jensen spreads the word of his dual specialty is to create continuing education courses for area dentists. These seminars highlight various aspects of dentistry, such as complex restorative techniques or puzzling prosthodontic cases made easy (with orthodontics). Jensen creates the curriculum, applies to the state of Texas for a course certification, then invites dentists and hygienists from offices with which he has not yet formed solid relationships. Participants get a meal, a lecture, and—best of all—a chance to ask questions and get to know Jensen.
In just 2 years at Wise Orthodontics, Jensen's consistent one-on-one interaction with general dentists has paid off with solid yearly starts that range from 450 to 500. Patients who begin with Jensen find a kind, prudent, and thorough clinician who strives for a balance between technology and human ingenuity. When new products do come out, Jensen admits he is not the first on the bandwagon, instead electing to study the research and long-term outcomes. "There is a lot of technology emerging these days, and manufacturers are all looking for doctors to jump on their train, and I am not one that does that," Jensen says. "I'm not the first and I'm not the last, but if research shows the technology is faster and better, I won't waste time."
Altitude Is Everything
As he tells stories about the colorful history of prosthodontics, it is easy to see that Jensen shares a kinship with the clinicians of old who had nothing but their carving skills, creativity, and mostly organic materials. Wood is one material that historical lore has routinely placed in the mouth of George Washington. Just as Washington probably did not chop down the cherry tree, Jensen confirms that the first president's dentures did not actually contain wood. "His early dentures were made of gold, ivory from the tusks of animals, and human and animal teeth," Jensen says with a chuckle. "They had springs to help them open, and bolts to hold them together. In the old days, you would get teeth from poor people or others who lost their teeth, and then place them in a denture base. Washington may have had several generations of interesting dentures, but none included wood."
Jensen also brings his unique blend of dexterity and rigorous analysis to his hobby of flying. Not surprisingly, merely buying a plane does not appeal to Jensen. The artisan who deals so skillfully with the tiny dimensions of dental restorations is instead aiming for the day when he can build his own plane. Add pistol shooting and tap dancing to the mix, and you have a potpourri of hobbies that reflects the varied interests of a dedicated dual specialist.
Will others follow Jensen's example and take up a dual role? Much of it depends on changing the perceptions of dental students, many of whom view prosthodontics as an overly lab-intensive pursuit. "I think prosthodontics is the best-kept secret in dentistry," Jensen says. "In this day and age with all the new technologies, prosthodontists come up with creative ideas to make long-lasting restorations a reality. The profession is as much about treatment-planning to a much higher level as it is performing the treatment with exactness. When nobody else can figure it out, the prosthodontist knows how to do it."
---
Greg Thompson is a contributing writer for Orthodontic Products. For more information, contact