Neil J. Capolongo, DDS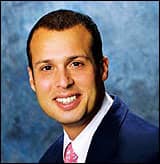 As we all know, a few years back, money got tight and discretionary income fell. When it became clear that starts would be down and my practice income would decrease, my first instinct was to slash spending and cut expenses.
As I contemplated these changes, my gut told me that a child's smile is not viewed as a discretionary expenditure by many parents. In fact, it can be a "core" expenditure if the treatment is viewed as a permanent, "once and done" procedure by parents.
Effective treatment-planning meetings are critical to maintaining acceptable levels of new starts. In today's economy, that means I need to cover all the benefits that my patients (and their parents) get from my practice. I need to make sure that what separates my services from the competition is real and truly different, not just fluff.
Many of the prospects I deal with are on the fence and need assurance that they will get maximum value for dollars spent in my practice. I have three powerful benefits I offer that many orthodontists in my area do not. Each of these benefits represents a minuscule expenditure but is perceived as a major benefit to parents considering my services:
1) Lifetime care at no charge: I am truly close to my patients and love watching them grow up. After the braces come off, I encourage the kids and their parents to come in as often as they like. While these visits tail off, from time to time an old patient will pop in when home from college to say hello, and I am always happy to have a look at how my work is holding up. This open-door policy is viewed as a big value during case presentations, especially when other orthodontistsexplain that they include only a few retainer checks after debonding, after which they charge a fee.
2) Peace of mind on the investment with retainer monitoring: The word seems to have gotten out about relapse, and recently several prospects have wanted to know if I retreat for free if the teeth shift after active treatment. I use a new technology called SMART Retainer to measure retainer usage and identify problems early on. My lab embeds a small sensor in the acrylic, which measures precise retainer usage for more than a year. I place the sensor on a reader, and in 10 seconds the patient, the mom, my staff and I can all see exactly what has been going on. The colorful charts that the software creates can identify days when the patient did not use the retainer. The charts can also provide positive reinforcement when compliance is good. I catch compliance problems early, print out the charts, and explain the consequences.

For more information on products mentioned here, visit our Buyer's Guide.
During case presentations, I acknowledge that relapse is common and retreatment is a hassle for all involved—even if done at no charge. I then guarantee my work by saying that if the patient keeps his or her retainer usage at or above the level I set on the computer and still experiences any relapse, I will retreat the child at no charge.
This added assurance of permanent results gives me a major competitive edge. I simply build the cost of the sensor into my fee and include it at no charge, which proves to prospects that I want my work to last and am doing everything I can to provide value for them. Thanks to the sensor, I have yet to see significant relapse with proper retainer compliance. In fact, I am sure my patients' retainer habits are much better because they know I can verify use.
My guarantee that my practice gets it right the first time has generated plenty of buzz in my area, bringing many new parents in the door.
3) It's a family affair: Legacies are always great prospects. In my community, I know if I get the first child and make it a positive experience, I am very likely to treat the siblings. I work hard to make all of my patients and their parents happy. It's surprising the positive word of mouth in the community that I get by not nickeling and diming my patients. I would rather get 20 extra starts a year by throwing in a few free retainers or seeing a boarding-school kid who is rarely in town on my day off than stick to hard-and-fast rules. People talk, and they remember little favors in a positive way. They also remember in a negative way when you don't accommodate special needs or charge them for every little thing.
My secret to growing my practice over the past few years has been simple: provide extra value. The cost is minimal, and having a full practice is proof that the little things can make a big difference.
Neil J. Capolongo, DDS, is in private practice in Mt. Kisco, NY. He can be reached at