Orthodontists everywhere are exploring the best path forward for them and their practices during this pivotal moment in dentistry. Disruptions are constant and inundating their lives in unprecedented ways. The only wrong choice in our current climate is no choice at all. In this webinar, Dr. Greg White, President and CEO of PepperPointe Partnerships, will share a transition model that truly works for the practitioner, their team, their patients, their community, and their legacy.
Featured Speaker
Dr. Greg White
President & CEO of PepperPointe Partnerships
Featured Speaker
Julie Booher
Chief Strategy Officer of PepperPointe Partnerships
Learning Objectives
Understand the market disruptions impacting practice owners
Outline the current transition models available to practitioners.
Assess how private equity investments have changed practice valuations in dentistry in
general, and orthodontics specifically.
Understand the after-retirement passive income component to a unique practice
transition model.
What can people expect to get out of your webinar by attending?
A perspective on the disruptions that impact orthodontic practices and private equity's
impact on the old transition model
 More information on the key factors that have led to the rapid consolidation of
orthodontic practices
Learn more about the after-retirement passive income component to a unique practice
transition model.
Gain insights into a doctor-owned, doctor-controlled DSO created to preserve the legacy
of doctor-owned practices, maintain continuity of care for patients, and create
generational wealth by choosing "and" instead of "or".
Watch On-Demand Now
Fill out the short form below for immediate access to the webinar
Speaker Bios
Dr. Greg White, DMD, MS
President and CEO of PepperPointe Partnerships
Dr. Greg White is one of the founding partners of White, Greer and Maggard Orthodontics, formed in 1991 and currently part of one of the largest, privately-owned pediatric and orthodontic group practices in the country. He has been actively practicing orthodontics for more than 25 years. Dr. White values building meaningful and lasting relationships, has a high propensity for action, a commitment to excellence, and an entrepreneurial spirit. He co-founded the company that invented, produced, and sold what is still the world's top-selling custom breast prosthesis for post-mastectomy breast cancer survivors. He has also owned multiple restaurant concepts for more than 20 years. He is proving to be a visionary in the dental industry,specifically in his specialty, with a deep understanding of the market and the ever-increasing consumer demands. Dr. White serves as the president and CEO of PepperPointe Partnerships, which currently serves more than 100 dental locations and more than 130 doctors.
Julie Booher
Chief Strategy Officer
PepperPointe Partnerships
Julie Booher is the chief strategy officer for PepperPointe Partnerships located in Lexington, Ky. She has more than 13 years of experience in brand management, public relations, and marketing communications working with corporate and brand leaders to create platforms, programs, and partnerships that deliver on a company's purpose and make a positive impact in the world.
Julie started her career working for the University of Kentucky Public Relations and Marketing department supporting the communications efforts of UK HealthCare and the Kentucky Children's Hospital. Julie has also worked for the American Cancer Society as the national director of strategic communications planning where she led corporate social responsibility efforts with corporate partners, including Walmart, Kroger, the NFL, and Lee Jeans, and the Muscular Dystrophy Association, where she served as the national director of marketing communications.
Julie has been a driving force in PepperPointe's growth, providing leadership in strategy and business development. Julie led the formation of PepperPointes' two group practices in 2019 and 2020, helping to ensure the preservation of doctor ownership, practice legacies, and thriving cultures. Julie sees her opportunity to share the amazing story behind the organization's mission as one of her greatest privileges. A native of Shelbyville, Ky., she graduated from the University of Kentucky's College of Communications with a bachelor's degree in integrated strategic communications. She is also Accredited in Public Relations by the Universal Accreditation Board and the Public Relations Society of America.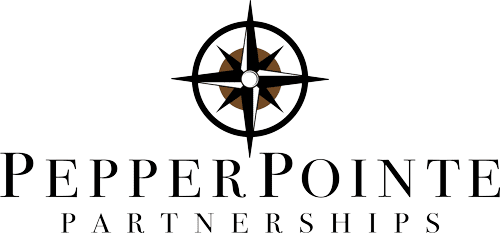 About PepperPointe Partnerships
Founded in 2017 and based in Lexington, Ky., PepperPointe Partnerships is the only doctor-owned, doctor-controlled dental service organization (DSO). The unique DSO is committed to preserving true doctor ownership — at every level of the business — in order to protect personalized patient care. Through this patient-centered model, autonomy is maintained and the heart and soul of each individual practice is preserved while doctor owners experience significant financial security from the synergy, growth, and the collaborative network. Learn more at PepperPointe.com.