Whether you're looking for a clear plastic with a longer shelf life or a bold, colorful option that gives patients a choice, American Orthodontics and Dentagrafix offer innovative options for your retainers and aligners.
By Alison Werner
Innovation is the name of the game when it comes to brackets, wires, and imaging. But what about the thermoforming plastic materials used to fabricate retainers, aligners, and mouthguards? American Orthodontics and Dentagrafix, a new player in the orthodontic world, have both released materials in recent months that bring innovation to the product category.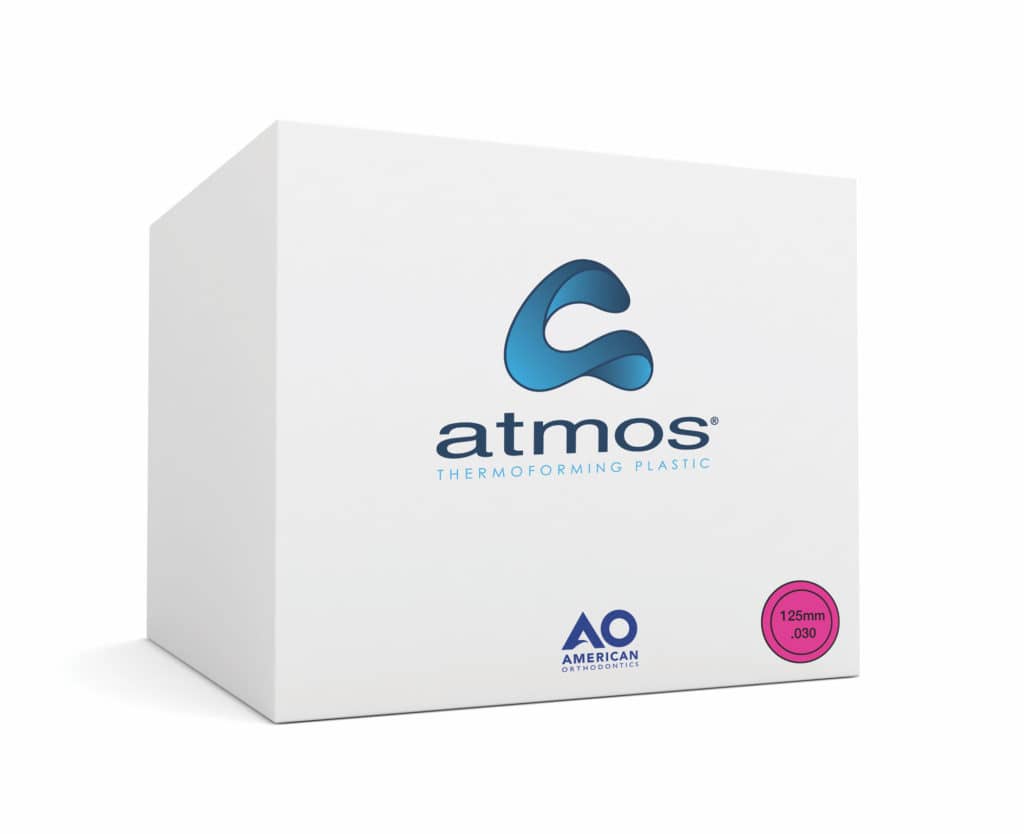 Extended inventory shelf life
With the release of Atmos, its new thermoforming plastic material, American Orthodontics (AO) has released a product that gives users greater flexibility. According to the company, the material has been tested and engineered for "best-in-class formability, clarity, [and] moisture tolerance." What's more, this material has been developed with an extended inventory shelf life.
"Atmos has an open-package shelf life or storage time of more than 3 days in a climate-controlled storage area," says Kathryn Dinolfo, product manager at AO. That, she says, could equate to weeks in office or lab conditions, compared to the typical recommendation advising the use of similar products within 15 minutes of exposure to the atmosphere.
As Bill Layman, DMD, an orthodontist in private practice in Clearwater and Seminole, Fla, explains it, the open-package 3-day shelf life means if a lab tech gets called away to work on something else after opening a package, he or she can go back to it later that day or the next. "Stuff comes up. We still have plenty of time to use the same package and we didn't waste it. It's nice to have that functionality and 3 days is a very good buffer," he says.
Features that make a difference
Atmos Thermoforming plastic sheets, available in .030, .035, and .040 thicknesses, can remain in open air for 10 to 14 days without warping during formation. This moisture tolerance means less waste in the lab. Additionally, if stored in an environment of no more than 75°F and 60% humidity, unopened packages of Atmos could be stored for as long as 3 years, according to the company.
Additional Atmos features include stain and wear resistance as well as a Visual Inventory Management color coding system that allows orthodontists to easily identify the size of the plastic for intended usage and better manage overall inventory visually.
Atmos, which is FDA registered and CE marked, and has passed all ISO 10993 biocompatibility testing, can be formed on equipment that requires 125 mm or 120 mm circles or 5-inch squares, and on stone or 3D printed models.
Layman, who has used a number of plastic materials in his practice over the years as part of his in-house 3D printing lab, started using Atmos few months ago and appreciates the fact that the plastic really grabs the cervical part of the tooth effectively. "I haven't seen other plastics that I've used do that," says Layman. "They're a little flimsier when you get closer to the gum and this one seems to grab it a lot better. That makes a big difference in the attachments."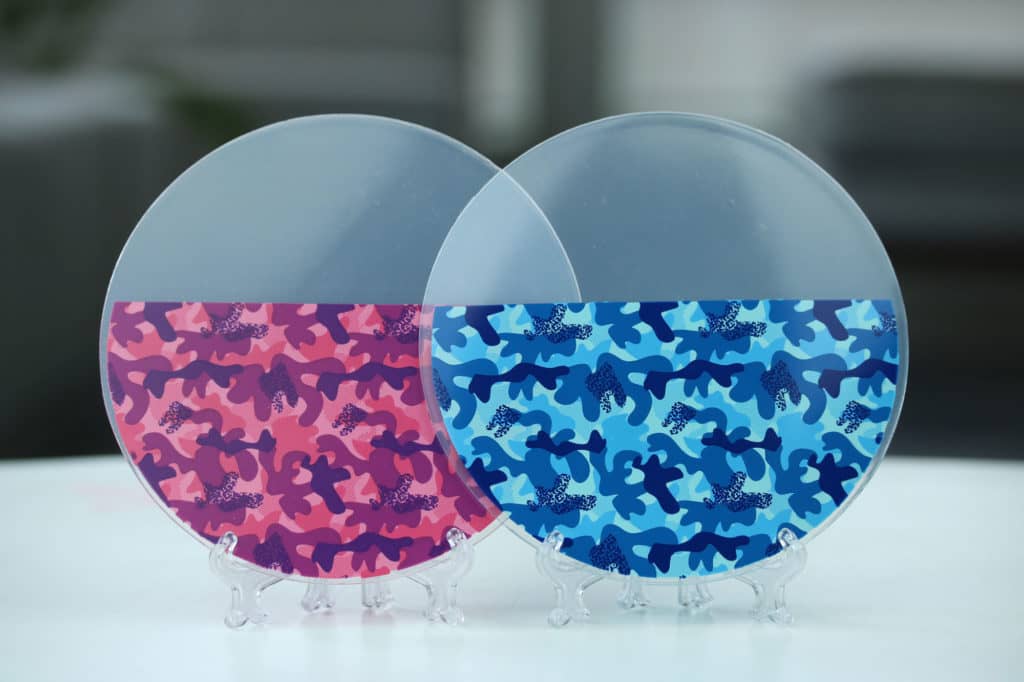 A bold choice
For those looking to give patients a bold, customizable alternative to the clear plastic materials on the market, Dentagrafix offers a unique option.
The brainchild of Eric Sacks, DMD, an orthodontist practicing in Livingston, NJ, Dentagrafix builds on the idea that patients like colors and choices when it comes to their orthodontic treatment. Sold directly to orthodontists or labs, these thermoformable plastic sheets feature a range of graphic designs and can be used to fabricate custom appliances, including retainers, aligners, and mouthguards.
The designs are part of the proprietary, FDA compliant, BPA-free plastic, not a decal or sticker applied after the appliance is fabricated. Appliances can be fabricated so that the graphic is visible on all the teeth, ie, full coverage, or posterior, depending on the patient preference—although Sacks recommends the "social six" remain totally clear. But for that bold patient, the plastic sheet simply needs to be rotated in the machine to create the full-coverage appliance. Designs range from sports themed (basketball, football, baseball, and soccer) to various camouflage color options, including blue, green, and hot pink. Additional graphic options include hearts, peace signs, skulls, stars, and unicorns, with new designs coming soon.
"What's kind of neat about our plastic is you can either be as bold or as discreet as you want," says Sacks.
The company also offers custom designs for practices that want to apply their branding to the appliances their patients wear. Dentagrafix uses a patent-pending process to manufacture the plastic material so that designs will not transfer, smear, or fade over time.
The plastic sheets, which were launched in December, are available in a variety of thicknesses—including .030 and .040. Like Atmos, Dentagrafix plastic sheets can be thermoformed on stone or 3D printed models.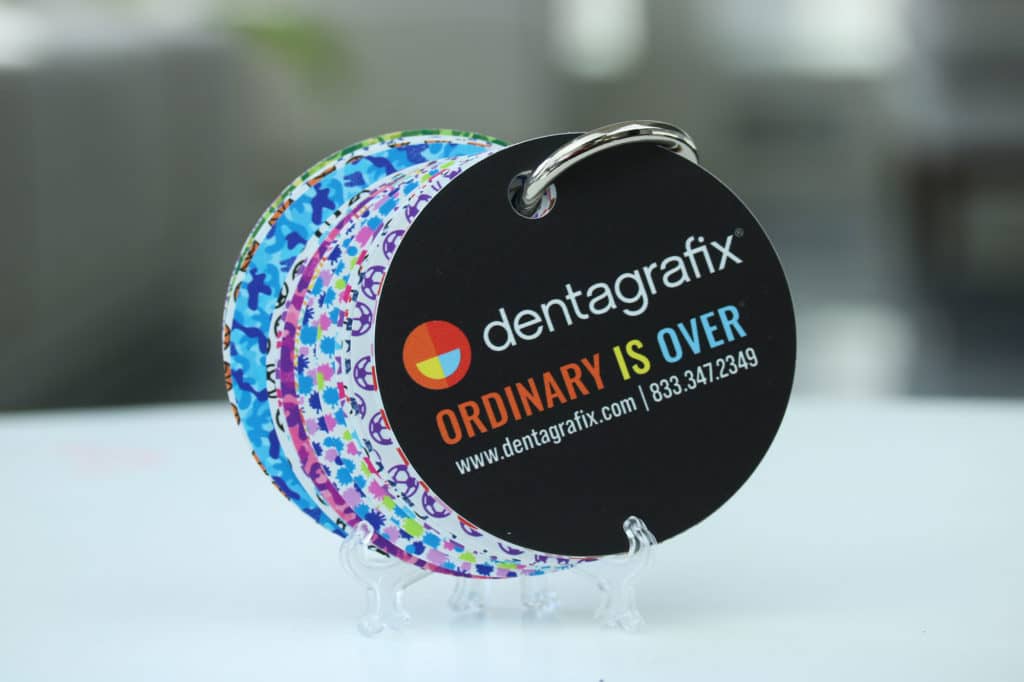 Patient appeal
Sacks, who has been practicing for 14 years, conceived the idea for Dentagrafix about 3 years ago, forming an advisory board 6 months later to help him bring his product to market. As part of the development, the company conducted a number of focus groups among a range of patient groups, including adolescents and parents. According to Sacks, 9 out of 10 people preferred a decorated plastic for a variety of reasons. Number one: It was fun and exciting. Number two: It was less likely to be lost or misplaced. And number three: It can encourage patient compliance as patients feel empowered and excited about treatment because they are able to choose the look of their appliance. Among parents surveyed, Sacks reports that 100% said they would pay a premium for the Dentagrafix product. They listed the above reasons for that, but also the fact that the colorful material could reduce the risk of a child mixing it up with a sibling's or friend's appliance.
The company offers practices sample rings and menus that patients can browse while in the chair. The sheets are sold individually, as well as in packages of 6 to 25 sheets.
Ultimately, Sacks' goal was to create a product that engages the patient. "It's a great conversation starter," he says. "It's definitely a nice thing for patients that makes the patient experience a little bit more exciting and fun." OP