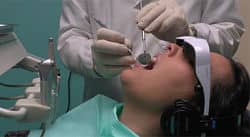 Total 3D Solutions, Auburn Hills, Mich, offers the Cinema ProMED System. The system offers patients an immersive 2D and 3D video experience while they are in the treatment chair.
Patients can watch an assortment of 2D or 3D video content, including movies, TV shows, or informational programs provided by the orthodontist. In addition, patients connect the system to their personal iPad, iPhone, or iPod Touch and watch their own content. The Cinema ProMED system can also be connected to a PC, Mac, handheld touch device, Blu-ray player, or standard DVD player. Total 3D Solutions supplies a list of suggested video content, offers free 3D relaxation videos, and supplies a free 30-day subscription to Netflix with the Cinema ProMED System.
Powered by the Carl Zeiss cinemizer OLED, the Cinema ProMED System comes with integrated Sony over-ear headphones that can be sanitized between patients, as well as an Apple connector kit and an optional fourth-generation iPod Touch device for playing digital video. The multimedia video glasses come with a charger and a carrying/storage case.
For more information about this and other orthodontic companies, visit our Market Guide.