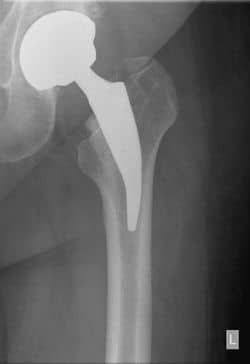 The American Dental Association (ADA) and the American Academy of Orthopaedic Surgeons (AAOS) found there is insufficient evidence to recommend the routine use of antibiotics for patients with orthopaedic implants to prevent infections prior to having dental procedures because there is no direct evidence routine dental procedures cause prosthetic joint infections. The ADA's and AAOS's recommendations are based on a collaborative evidence-based clinical practice guideline that focuses on the possible linkage between orthopaedic implant infection and patients undergoing dental procedures.
"It has been long debated that patients with orthopaedic implants, primarily hip and knee replacements, are prone to implant infections from routine dental procedures," said David Jevsevar, MD, MBA, chair of the AAOS Evidence Based Practice Committee and an orthopaedic surgeon in St George, Utah. "What we found in this analysis is that there is no conclusive evidence that demonstrates a need to routinely administer antibiotics to patients with an orthopaedic implant, who undergo dental procedures."
Elliot Abt, DDS, MS, MSc, who served as member of the AAOS-ADA work group on behalf of the ADA, pointed out that the review committee conducted a thorough review of existing clinical research published in the peer-reviewed literature. "This guideline was based primarily on clinical research which examined a large group of patients, all having a prosthetic hip or knee and half with an infected prosthetic joint," said Abt, a general dentist in Skokie, Ill, and a member of the ADA Council on Scientific Affairs. "The research showed that invasive dental procedures, with or without antibiotics, did not increase the odds of developing a prosthetic joint infection."
This clinical practice guideline, with three recommendations, is based on a systematic review of the correlation between dental procedures and prosthetic joint infection (PJI). The guideline recommends that practitioners consider changing their long-standing practice of prescribing prophylactic antibiotics for patients who undergo dental procedures. Limited evidence shows that dental procedures are unrelated to PJI. In addition, there is no direct evidence that the use of oral topical antimicrobials before dental procedures will prevent PJI. The guidelines support the maintenance of good oral hygiene.