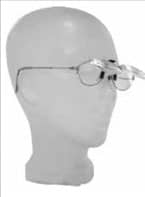 Vision USA, Cherry Hill, NJ, now offers Task Vision™ Mag Clip-Ons. The coated clips attach to any style frame and can be flipped up when not needed. The lightweight clip-ons feature aspheric lens that are scratch resistant. A case is included.
The clip-ons are available in +1.0, +1.5, +2.0, +2.5, +3.0, +3.5, +4.0, and +5.0 magnification, and come in three styles: bifocal lens, full lens, and extra large full lens.
For more information about this and other orthodontic companies, visit our Market Guide.