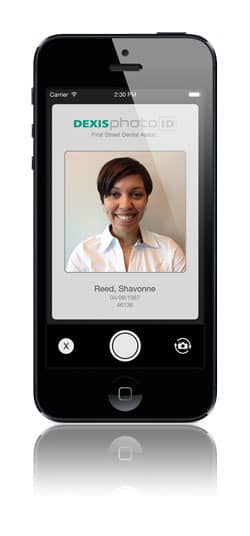 DEXIS, Hatfield, Pa, has released the DEXIS photo™ app, designed to provide a fast and easy way to add photos directly into the DEXIS® Imaging Suite using an iPhone® or iPod Touch®. The app allows users to frame the shot and wirelessly capture the photo right into the patient record, eliminating the need for cards, readers, or manual file transfer.
With two functions of DEXIS photo, dental professionals can choose to capture patient ID photos that can be viewed from any imaging screen in DEXIS or to take and send images for the software's extra-oral photo screen. Using the applicable mobile device and DEXIS photo, these tasks can be performed when in proximity to and interacting with the DEXIS Imaging Suite software.
"After the release of our last app, DEXIS go®, we were praised for our use of contemporary technology that was adapted to a valuable dental application," said Adam Palermo, product manager for DEXIS, in a released statement. "We know from research that mobile devices are widely used in dental practices, and we are embracing this technology to improve clinical workflow."
According to the company, the app allows dental professionals to maintain HIPAA compliance as images are not stored on the mobile device; rather they are securely stored within DEXIS.
DEXIS photo will be available on in the Apple App Store at the end of December 2013. The app works with iPhone 4, 4S, and 5, and the 5th generation of the iPod Touch. The app requires iOS 7 or greater.
For more information about this and other orthodontic companies, visit our Market Guide.