by Cheryl Pickett
How to make sure your dental laboratory is the perfect fit for your practice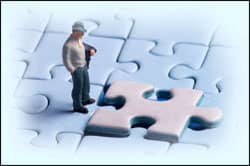 Dental labs, whether they are large, small, local, or national, are an integral part of any orthodontic practice. Much like the behind-the-scenes crew of a successful movie, labs can make life easier or add to an already busy workload. Having a poor relationship with your lab can cost time and money, but a good one can make you look like a star in front of your patients.
What does it take to find a dental lab that's a great fit all the way around? To find out, I asked three offices to give us their perspective as well as their hints for making a successful choice: Brent R. Lang, DDS, Boulder, Colo; Roy D. McAnnally, DMD, Bloomfield Hills, Mich; and Zvi Kennet, DMD, Macomb, Mich.
What Do You Need?
Whether you are setting up a new office or believe your practice could improve in this area, the first thing you should consider is making a list to clarify exactly what problem you're trying to solve. In addition, note exactly what it is you want the lab to do about it. While at first glance this may seem like an unnecessary step, a concrete list will keep you on track and help you pinpoint your best option in less time.
For example, do you want to make a change because of a product problem with your current lab? Or is it a customer service issue—and what would make things better? Do you want to offer your patients something different? Do you need custom work? Are you looking for a new technology?
Researching Your Options
Once you've narrowed down exactly what services or products you're looking for, it's time to figure out which labs offer what you need. According to the orthodontists I talked to, the two common ways to do this are through colleague referrals or by visiting with representatives and technicians at trade conferences.
There are many examples of how well referrals can work. Lang has been in practice for 16 years and has used one local lab, Mountain Vista, for almost the entire time. He originally found out about the lab through a colleague's recommendation. Later on, he was introduced to AOA the same way, and both relationships are still going strong many years later.
Getting information about potential labs via word of mouth is also something Kennet recommends. He turned to his colleagues to find out about their resources, especially when his practice was just starting out. Currently, when he finds something new in an ad or at a seminar, he likes to touch base with offices that have already tried it. "If it works in someone else's office, it's good to know that," he says.
While Kennet has gotten great information through word of mouth, he also highly recommends meeting with representatives at conferences or seminars. He finds this strategy particularly helpful because "You get to talk to technicians, you can bounce ideas back and forth," he says. In some cases, he comes prepared with his own ideas for modifying a particular appliance and then looks for a lab that would be willing to try to make it. He has also been known to spend an hour or 2 with a single rep, investigating and learning as much as possible before deciding whether to try a particular product or lab.
Besides putting a great deal of effort into educating himself, Kennet also goes one step further and brings staff along to meet with lab techs whenever schedules permit. He emphasizes staff education on all levels to make sure that clinical assistants can directly answer as many questions or concerns as possible. He has found that, when everyone is knowledgeable, there are fewer interruptions and there is a strong level of confidence in the office as a whole, not just in him as the orthodontist.
McAnnally is also a strong believer in making use of lab booths and displays at conferences. In practice since 1976, he has used a couple of labs for at least half of that time after meeting their reps at an AAO Annual Session. He says that sessions are "good opportunities to talk with people who are in charge of operations and to see what's new."
Quality Work
Brent R. Lang, DDS Boulder, Colorado

Roy D. McAnnally, DMD Bloomfield Hills, Michigan

Zvi Kennet, DMD Macomb, Michigan
Once you have decided which labs you would like to investigate by either visiting them or doing a few test orders, you will need to have some criteria to help you judge if a lab is a good fit. All three of our respondents agreed that quality of work should be one of the top criteria for the lab-selection process, especially if more than one lab offers the same thing.
Quality work is definitely one of the reasons that Lang continues to give much of his work to the same lab after all these years. Even though it is staffed by just two people, it reliably meets his criteria for quality. One of those characteristics of high-quality work for him is that there is "minimal adjustment needed" when he delivers the appliance. He also appreciates their custom services and rarely has issues that involve remaking an order.
One other important note is that even though his lab choice hasn't changed much in more than a decade, his loyalty is not something he offers without good reason. At one point, he did try another lab for a short time but believed the quality just wasn't the same, "and I went right back," he explains.
Kennet also agrees that, "The main criterion is the ability of the lab to give us a quality appliance that fits well and achieves its goals, and does it consistently."
Details, Details
McAnnally sums up his perspective on finding the right lab this way: "Be a student of appliance design." As mentioned earlier, he believes a great way to accomplish this is to attend conferences and seminars to meet the people who actually do the work. He advises that instead of just casually walking past displays or picking up a few brochures, attendees should spend some serious time at the booths of the labs they are considering. "Look at the details such as clasp design. What kind of wire and screws are used? How is the durability?"
Another quality assurance strategy McAnnally suggests is to use labs that hold proprietary licenses. Typically, these types of labs will be the larger, national facilities, and such licenses allow them to be fully equipped to handle specific products even if they are upgraded or changed. As an example, his office works with Dynaflex and its Series 2000® line, which is something most other labs cannot offer.
What About Price?
Once again, all three orthodontists that I talked to agree that, while price is a consideration to some extent, it should be relatively low on the list of criteria. They also agree that one of the primary times to consider price is when more than one lab can provide the particular service that you are looking for. Kennet also notes that it is crucial to keep an eye on your bills. "You have to watch for 'incidental charges,' such as trimming the models, seating your bands, etc," he cautions.
Customer Service
According to Lang, McAnnally, and Kennet, once you find a lab that does quality work, you're not quite at a great fit just yet. Once again, all of them agree that the other part of having a great lab relationship is customer service. It is also important to point out that "good" customer service can mean different things to different people; therefore, it is wise to take a moment to consider what kind of interaction is most important to you.
One point to consider, Kennet suggests, is the difference between the generally more personalized nature of small labs and a larger facility where you may not get as much personal attention. For instance, if there's a significant issue with an appliance, would you rather have a "no questions asked" approach or a detailed discussion with someone you probably know on a more personal basis?
You might also consider what is high on your office's list of pet peeves. For example, will it bug you if it takes a while for a return phone call? Do you dislike not knowing who you will talk to from day to day? Certainly, being aware of expectations like these will help both sides decide if you have found a good match to begin with, and will likely decrease the chances of issues down the road.
Teamwork
After you have gone through these selection steps and have chosen a lab, it might seem like your work is over; however, in one way, it's just beginning. Just as your in-house staff needs feedback, attention, and support, so do your lab partners. Whether they are located next door or across the country, MacAnnally reminds everyone that "they are absolutely team members."
And, of course, in order for any team to remain strong, there needs to be mutual trust, respect, and cooperation. How can this be accomplished with all that you have to do within your own office? What's the key to a perfect fit? Lang offers a last bit of simple advice: Involve everyone and communicate. "Good communication is what it's all about," he says.
Cheryl Pickett is a contributing writer for Orthodontic Products. For more information, contact