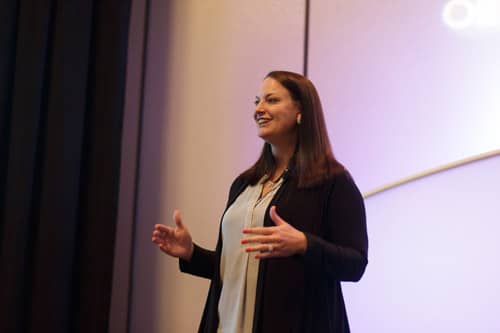 Sponsored by
For the HSO Orthodontic Excellence & Technology™ Symposium in Scottsdale, Ariz, in February, Becky Schreiner, DDS, teamed up with Patti Panucci, DMD, MS, to provide attendees with tips and tricks to take the guesswork out of implementation of the Carriere Motion 3D Appliance into the practice.
Schreiner and Panucci's breakout session, titled "Efficient Implementation of The Motion 3D Appliance into a Fast-Paced Practice," not only focused on walking attendees through application of the Class II and Class III Motion 3D Appliances, but also showcased anchorage options for the opposite arch, including retainer, aligner, and bracket protocols. As part of their lecture, the two ran through patient appointments, including initial delivery, as well as interval and refinement appointments.
"The lecture that we're giving is [focused on] how to take the concepts that the audience has been exposed to in other lectures and break it down to take it home—the simple steps to make it happen and to make it successful in their day-to-day worlds," Schreiner said during an interview with Orthodontic Products ahead of her lecture. "It's really about how do I make this easily fit into my workflow without it being a tremendous disruption to everything else I have to think about in a day."
For Schreiner, Class II correction is the biggest indicator of how long treatment will take. Three years ago, when she was introduced to the Motion 3D Appliance and the SAGITTAL FIRST concept, she saw how rapidly Class II correction could happen—less than 6 months—and how this approach could really impact a patient's treatment.
"For me, SAGITTAL FIRST means making the case set up as a Class I case so, that moving forward, we're applying far easier mechanics that can express much more quickly," Schreiner said.
In Schreiner's practice, the sagittal correction is most often followed with clear aligner therapy—a significant change for her.
"[Before implementing the SAGITTAL FIRST philosophy,] we didn't necessarily have other ways to achieve the same results with clear aligner therapy. We told patients they weren't candidates for full correction with aligners and steered them toward treatment with braces. But getting that Class I platform, or that Class I SAGITTAL FIRST correction, opens the door to be able to treat a wider variety of patients in the manner that we want to see their result," she said.
The Motion 3D Appliance, according to Schreiner, opens up the possibility for clear aligner therapy. "I'm not as bashful about doing early Class II elastics [with the Motion 3D Appliance and SAGITTAL FIRST approach]," she said. "And the Motion 3D Appliance is extraordinarily simple. You don't have a lot of supplies. You really don't need a ton of training. I honestly learned how to apply the appliance via an email thread.
"It's just not a complicated appliance to apply to a patient's treatment. We all know how to make a vacuum formed retainer. We all know how to teach patients to wear Class II elastics. We all know how to bond a bracket. Those really are the steps involved with placing [the Motion 3D Appliance]. So it's really quite a simple appliance to introduce into our workflow."
And for those who think they can just learn everything they need to know about SAGITTAL FIRST and Motion 3D Appliances in an email thread, Schreiner hopes they'll take a different tack and come to a future Symposium. "The value in the Symposium," she said, "lies in getting to hear amazing speakers with a lot of experience and a lot of charisma." OP