by Rich Smith
How preparation and dental colleagues helped one practice survive (and thrive) after a catastrophic fire
On mid-autumn days in the Southern California city of Diamond Bar, when the Santa Ana winds blow hot and dry out of the desert, the temperature sometimes rises to where it is just about possible to fry an egg on the sidewalk.
But on this particular mid-autumn day in 2004, the sidewalk temperature at the corner of South Brea Canyon and Pathfinder roads in Diamond Bar rose high enough to fry an entire chicken coop. Or two. Or three.
It was so hot, in fact, that plastic liquefied, glass evaporated, and steel girders twisted like pretzels before turning to goo.
Surprisingly, wind and sun did not cause this catastrophic spike in the mercury during the predawn hours of October 21. Water did. Or to be precise, water leaking behind a building's interior wall and interacting with the 240 volts of electricity pulsing inside a power junction box did.
The resultant fire at the building occupied in part by Abari Orthodontics—the practice of Robin F. Abari, DDS—proved among the hottest ever battled by city firefighters. When the blaze was at last quelled, all that remained of the once-gorgeous edifice was smouldering rubble. Abari's state-of-the-art, award-winning clinic, which featured twin open bays (one with four chairs, the other six, and computer terminals alongside all) was gone. Up in smoke as well was every last piece of patient documentation: treatment plans, case notes, x-rays, photos, billing records, payment histories, the works.
PRACTICE PROFILE
Name:

Abari Orthodontics

Locations:

Diamond Bar, Calif
San Dimas, Calif

Owner:

Robin F. Abari, DDS

Specialty:

Orthodontics

Years in practice:

28

Patients per day

60-75

Days worked per week:

5

Office square footage:

Diamond Bar: 3,200
San Dimas: 3,600
In short, Abari lost not just an office, but an entire practice that day.
However, his loss was only temporary. Incredibly, just 1 week later, Abari was back in business, seeing patients as usual, almost as though nothing out of the ordinary had ever transpired.
A Lifeboat and a Lifeline
One reason for Abari's lightning-fast comeback in the face of so decimating a calamity was the rallying assistance he received from well-wishers.
"In the 24 years I had been in this community, I made many friends," Abari says. "I didn't realize just how many until this disaster struck. The next thing I knew, it seemed like the entire community had put its arms around me and was offering to help."
The strongest show of support came from dentists, many of them regular referrers, others who knew him by name or reputation only. Their charity ran the gamut, but it was the invitations to share clinic space that proved most key. Only trouble was that none who wanted to roll out the welcome mat could shelter Abari Orthodontics for more than 1 day per week—an impracticality given the size of Abari's practice. Fortunately, a local endodontist who had only a short time earlier vacated his office to take occupancy of a bigger place came forward and offered that now-empty suite to Abari for full-time use as long as necessary. "It was a much smaller office than what I had, but that was unimportant," Abari recounts. "This was a lifeboat, and I didn't waste a minute putting my practice aboard it."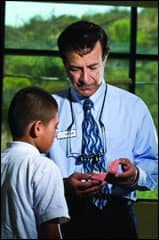 Abari discusses treatment with patient Victor Meza.
In addition to the lifeboat, there also was a lifeline. One year earlier, Abari had converted all his paper-based patient records to an electronic format. Practice associate Larry Will, DDS, MS, credits this step—putting every single document onto computer hard drives—with making the practice's phoenix-like rise from the ashes possible. "The computers in our office were destroyed in the fire, but what saved us was having an up-to-date copy of all our digital records safely stored at a data service center outside California," Will says. "So all we had to do was download to our replacement computers everything contained in the duplicate archive. It was quick and painless."
Back to the Future
A few short months after settling into the former endodontic clinic, an opportunity to lease a right-sized office in the nearby city of San Dimas presented itself. "Quite a few of our patients were coming from that area, which is about 10 miles from Diamond Bar, so acquiring space in San Dimas made sense," Abari says.
Even after setting up shop in the San Dimas office, Abari and Will continued to use the donated Diamond Bar office for another year. During that time, the owner of the building that had burned down on South Brea Canyon Road cleared away the debris and, on that same site, erected an even better-looking, higher-tech building. Abari Orthodontics moved back in following completion of the reconstruction. "We again have a fully state-of-the-art practice," Abari says. "We are 100% digital, with just about every conceivable piece of cutting-edge technology available at each station."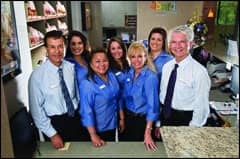 From left: Abari, Monique Defrancis, Edina Raquel Saenz, Angelique Vasquez, Shauna Smith, Kylene Donnert, and Will.
The equipment inventory (mirrored at the 3,500-square-foot San Dimas office) includes a new Sirona panoramic-cephalometric digital x-ray, which Abari considers to be his most advanced technological investment. Meanwhile, Abari has organized the new office's floor space (3,200 square feet) into a single open-bay operatory with eight chairs (San Dimas, in contrast, is twin-bay with four and six chairs, respectively). Elsewhere in the office is an Internet cafÉ with computers connected to the Web via high-speed T-1 lines. The cafÉ is "where parents can go online and get some work done or just relax with a cup of our complimentary hot gourmet coffee while waiting for their children," Abari says. "For the kids, we have a fun zone with arcade games and other great activities to keep them occupied."
Beyond the emphasis on high-tech, Abari Orthodontics differentiates itself by being on the cutting edge of orthodontic philosophy, the prime example of which is adherence to the concept of nonextraction, full-face orthodontics. "In my opinion, the reason patients seem to need extraction is because they have underdeveloped dental arches," Abari explains. "The problem is that extraction only serves to narrow those arches, which results in the creation of a narrow smile and a concave face. My preferred approach in treating underdeveloped arches is to intervene when patients are at the youngest appropriate age. Early intervention to begin developing those arches makes most extractions unnecessary. Extraction can still be appropriate, such as in the case of a bimaxillary protrusion. But the goal of extraction must be to benefit the face rather than to benefit the teeth."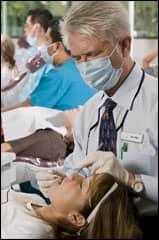 Abari says he is pleased to see many of his colleagues embracing nonextraction orthodontics. Particularly gratifying is seeing them make the switch after being persuaded to do so by one of his seminars on the subject. He enjoys relatively frequent opportunities to make his case: Abari speaks at meetings of the California Dental Association, the AAO, and local dental societies.
Twice the Talent
Abari and his associate, Will, have practiced together since 2003. Prior to joining the practice, Will was director of the graduate orthodontic clinic at nearby Loma Linda University. He came to the attention of Abari through Abari's then-associate, who also happened to be Will's friend. The associate had confided in Will that one day he planned to leave practice because of back pain that was steadily worsening and making it increasingly difficult for him to walk the floor. The associate asked Will if he would like to be recommended as a replacement. Will was only too delighted to have his name put in for consideration. "I was very excited at the prospect of joining Dr Abari's practice," he says. Once he received the nod from Abari, it did not take long for Will to feel at home. "It's been a good fit—from the very first, we shared ideas about theory and technique that were remarkably similar, even though Dr Abari's background stressed functional appliances and mine stressed use of light forces."
The two make it their custom to be present in the same office at the same time—actually a necessity given that they work on cases as a team. "We don't have our own sets of patients; we have mutual patients," Will says. "There are many advantages to this approach. One of them is that we can keep the office fully functioning in the event one of us is away, which results in a tremendous continuity of patient care. A second advantage is that patients are assured of receiving what I believe to be a higher quality of care. For example, Dr Abari develops a treatment plan, then I pull it up on my computer, review it, and, as appropriate, offer suggestions to refine and enhance it. He does the same with treatment plans I develop."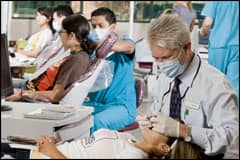 New patients are greeted by whichever of the two orthodontists happens at the moment to be available. But, typically, before those patients depart at visit's end, they will have also met the other half of the doctor duo. "We have a great working relationship with our patients," Will enthuses, adding that they normally see patients on Monday and Tuesday in the San Dimas office, and on Thursday and Friday in Diamond Bar. On Wednesday, the lights can go on at either San Dimas or Diamond Bar, depending on how the schedule falls into place; they also see patients one Saturday each month.
Both orthodontists say they are pleased with the way things have turned out since the fire, but acknowledge that things could easily have gone in the opposite direction. "I think back and realize how fortunate we've been," Abari says. "The fire was devastating all by itself, but had we permanently lost our records, it would have been devastating to the power of 10."
Awakened to the huge risk of unprotected records, Abari now spends considerable time warning others of the danger. "When film x-rays burn, you cannot go back and recreate those," he tells all who will listen. "When paper charts are ruined because of a flood or a hurricane or they are scattered to the winds when a tornado rips through your building, you cannot go back and easily reconstruct them. You can rebuild your facility, buy new chairs, put in new equipment—but when your papers are destroyed, you can't get them back."
---
Rich Smith is a contributing writer for Orthodontic Products. For more information, contact
HOW THEY GOT THERE
Robin F. Abari, DDS, came to his Southern California practice by way of the nation of Iran. He was born there and is a graduate of Tehran University. "When I was a young boy, my grandfather began telling me he wanted me to become some form of doctor, so I followed his guidance and decided to become a dentist," Abari says.
That choice led him to leave his homeland in 1976 to begin dental schooling at New York University. After completing his work there in 1978, Abari went on to orthodontic residency at the same institution.
In 1980, his training behind him, Abari relocated to Southern California to join his three brothers who had previously settled there. One of the brothers was living in Diamond Bar, a small town 30 miles east of downtown Los Angeles. The semirural area appealed to Abari, so it was in Diamond Bar that he put down roots. Diamond Bar was underserved with regard to orthodontics. "There were a couple of practitioners, but they were only here 1 day a week," says Abari, who saw an opportunity to remedy that deficiency by opening a 5-day-per-week office of his own.
It proved to be a prescient move: only a few years later, Diamond Bar experienced a housing boom that transformed the once-sleepy town into a densely populated city. And Abari's was about the only consequential orthodontic practice around.
In 1994, he moved from his original Diamond Bar location to a spectacular, newly built 3,600-square-foot office at a multitenant complex a short distance away. That office was gutted by flames 10 years later. After it was rebuilt in 2007, he moved back in and remains headquartered there.
Abari is proud to have been named a top orthodontist in the United States by the Consumer Research Council of America several times, and is equally proud of his designation as an Invisalign premier provider. Also, the practice hosts a quarterly study club attended by as many as 300 dentists and orthodontists.
Abari's wife, Lorraine Burke-Abari, is his office administrator. They have two sons: Brandon, 15, and Brian, 8. Both boys participate in youth soccer, basketball, and other sports; whatever the athletic pursuit, their dad is right there to cheer them on and offer pointers. Abari himself is in fine physical shape, thanks to his frequent visits to the gym, where his favorite activity is spinning, an extremely challenging aerobic workout performed on a stationary bicycle.
Abari is paired in practice with an associate, Larry Will, DDS, MS, whose favorite pastime is reading. "My mother," Will says, "insists that the first sentence I ever spoke was, 'Buy me a book.'" Will also is a writer who, among other things, enjoys penning tales of his travel adventures. "The only two continents I've not yet visited are Australia and Antarctica, and I plan to remedy that before long."
As a kid growing up in Central California, Will wore braces, which afforded him a patient's-eye view of orthodontic processes. What he saw captured enough of his imagination to inspire his decision to become an orthodontist. His parents instead thought he might like to follow in the footsteps of his grandfather and become a physician, but he says he chose orthodontics because of the more pleasant nature of the work. "I'm an upbeat type of person to begin with," Will offers. "I didn't see myself in the role of a physician, because a lot of what physicians deal with on a daily basis is sorrow and disappointment. That just wasn't for me."
Will attended Pacific Union College in California's Napa Valley region, where he majored in biology and minored in both chemistry and art. He graduated there in 1966. Next stop for Will was the dental school at Loma Linda University. Following graduation in 1970, he spent a year working at Loma Linda in the dental school's Continuing Education department before beginning orthodontic training there. As a newly minted orthodontist, Will remained at Loma Linda in the Department of Orthodontics, where he eventually was tapped to serve as director of the graduate orthodontic clinic. He also taught orthodontic principles, concepts, and techniques to dental hygienist students and undergraduate orthodontic students. Will joined Abari's practice in 2003.
—RS