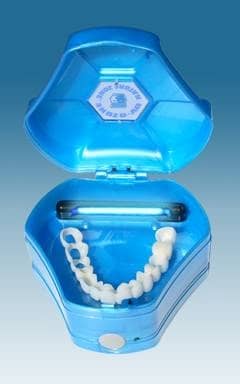 Henry Schein Inc, Melville, NY, has announced a new partnership with Brain-Pad® Inc, Conshohocken, Pa, to be the exclusive distributor in the United States and Canada for the NatureZone™ one-touch UV/ozone oral appliance sanitizer.
NatureZone disinfects, sanitizes, and deodorizes oral appliances, including mouthguards, retainers, dentures, and night guards. NatureZone is equipped with ultraviolet light and ozone ion technology. According to the company, the device kills 99.9% of germs and viruses that can lead to MRSA, staph, and strep bacteria on any oral appliance in less than 3 minutes.
Henry Schein also will market and distribute Brain-Pad's line of protective and performance dual-arch athletic mouthguards on a nonexclusive basis.
For more information on this and other orthodontic products, visit our Buyer's Guide.