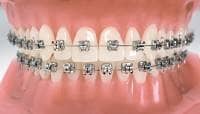 FORESTADENT,St Louis, has introduced BioQuick®, a self-ligating Quickbracket system, and MiniAnts, a reduced-width bracket system.
BioQuick brackets (pictured) feature a base that has been adapted to the anatomicalcontour of tooth crowns. The modified brackets also have acircumferential pad margin, designed to reduce the overflow of adhesive,as well as an optimized clip with snap function.
MiniAnts brackets work with FORESTADENT's 2D lingual bracket system.According to the company, the mini anteriors allow for wider spacing inthe lower anterior region than twin-wing brackets do. The increasedspacing is intended to improve use of compensation bends required duringthe finishing phase.
For more information about this and other orthodontic companies, visitour Buyer's Guide.