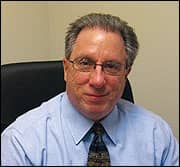 With Ron Baron
Ron Baron is the founder and president of OrthoEssentials.
Orthodontic Products: How long have you been with the company?
Ron Baron: OrthoEssentials was born in January of 2009. In essence, we are a start-up company. As the founding and principal partner, I traded my managerial hat for my entrepreneur's hat, and the rest, as they say, is history. Here we are, more than 2 years later, building our business one customer at a time.
OP: What did you do before you started OrthoEssentials?
RB: For almost 18 years I was very fortunate to be a part of one of the larger, more well-known orthodontic supply companies. I started as the sales manager and wore a variety of hats through the years until 2002 when I became the general manager, holding that position until September 2008. Those years provided me with the industry education and experience that led me to the decision to launch OrthoEssentials and to stay in an industry I truly love.
When we launched OrthoEssentials, we made a very clear and conscious decision to only offer the best quality we can find from manufacturers and vendors with the best industry reputation. We partnered with a US-based manufacturer who helped us launch a high-quality, premium line of orthodontic pliers. In the short time that we have been in business, the Imperial Series Pliers have become one of our flagship product lines.
OP: How are Imperial Series pliers unique?
RB: Imperial Series from OrthoEssentials features a molybdenum tip that not only holds up well in the sterilization process, but will not lose its cutting edge as quickly as other instruments might. We have also incorporated "box-joint" technology in most of our instruments, which prevents a scissoring effect while bending wires. We offer a full repair or replace warranty for 5 years on our cutters and for 10 years on noncutters. In addition, we offer a lifetime warranty on forging failure. When our customers sit down to do the math, they quickly realize they can save up to $70 per instrument on repair costs in the first 5 years alone. We are so confident in our quality, we offer a trade-in program as well.
OP: What is the OrthoEssentials bracket club, and how does it work?
RB: OrthoEssentials is very fortunate that we have been able to partner with many well-known and respected manufacturers in the United States who are willing to private label for us. So we wished to take advantage of the quality and the price position that our relationship with these vendors has provided.
We set definitive prices for all brackets, bands, tubes, and attachments, well below market averages. When customers commit to buying our brackets and our weld assemblies, they will be rewarded in two ways. First, for every dollar they spend on brackets, they will receive 50% of the order value in free goods of their choosing. They can use it to buy anything they find in our catalog. Second, for every dollar they spend on weld assemblies, they will receive 35% back in free goods, again to spend on anything in our product offering.
OP: As a small business owner in the orthodontic industry, what would you say are your biggest challenges?
RB: Well, the most obvious one has been the economy. We are fortunate that our industry has not been hit as hard as others, but nevertheless, speaking to orthodontists around the world, they have had to make changes and adjustments to their day-to-day business practices, as have we.
Secondly, carving our niche has been difficult. Orthodontists are, like many consumers, creatures of habit. Persuading them to view a new option with an open mind has been challenging, to say the least. Certainly, we realize there are many choices for the orthodontist in terms of supplies.
I truly believe if we get 2 minutes to speak to the decision-maker, we can convince them that OrthoEssentials can be a great supply partner. Our biggest cheerleaders are truly our satisfied customers.

For more information on this and other orthodontic companies, visit our online Buyer's Guide.
OP: What do you think is the next big thing in orthodontic technology?
RB: I truly don't know. Being in a smaller company environment has prevented me from being a part of the major trade organizations I used to attend. But if I had to pick something, I would say within a relatively short period of time, orthodontics as we now know it will take on a whole new face, if you will. The computer, digital, and technology age is upon us and changing every day. It would not surprise me if in the next 20 years traditional braces will serve less than 50% of orthodontic patients.