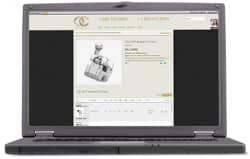 Ortho Classic Inc has launched a new online store that features the company's entire product line. Products such as brackets, buccal tubes, elastomerics, wires, adhesives, instruments, and auxiliary supplies can be ordered via the company's online venue.
According to Ortho Classic, the store is easy to navigate and includes such features as part number look-up, related product suggestions, mobile device compatibility, and table information sorting.
"We hope the new online store makes ordering OC products more convenient than ever," said an Ortho Classic spokesperson in a released statement. "We've been working on this store for a very long time, and wanted to make sure it was intuitive to use and worked efficiently."
For more information about this and other orthodontic companies, visit our Market Guide.