On the Market
X-ray System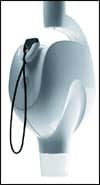 KaVo Dental Corp introduces the In eXam x-ray system, which integrates state-of-the-art x-ray technology into the dental practice. The In eXam x-ray tube head features a unique laser-positioning aid, which ensures accurate and precise patient positioning. To increase work-flow efficiency, the system integrates the Dig eXam sensor into the x-ray head. The sensor automatically activates with the x-ray beam. The images can be immediately displayed with KaVo's x-ray software, VixWin PRO. In eXam also features a timer with tooth-selection keys that automatically select the correct radiation dosage.
For more information, contact KaVo Dental Corp, 340 E Main St, Lake Zurich, IL 60047; (800) 323-8029; www.kavousa.com.
Bending Pliers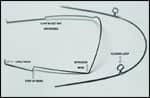 Suhail A. Khouri, DDS, offers Bendistal Pliers that bend nitinol, titanium, and other superelastic wires without annealing. The pliers can help intrude anterior teeth, correct cross-bites, expand or constrict dental arches, and rotate and tip back molars with simple and fast bends on tied archwires. The pliers feature a unique design that allows placing permanent bends in strategic locations on archwires that activate them to move teeth to their planned positions, all with a simple intraoral squeeze.
For more information, contact Suhail A. Khouri, DDS, 175 Lamp & Lantern Village, Chesterfield, MO 63017; (636) 230-9933; www.bendistalpliers.com.
Trial Kit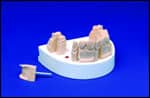 Whip Mix Corp offers the Precision Fit Trial Kit, which produces precision models and creates a system to fabricate stable crown and bridge working models with sectioned, removable dies. The free kit includes Golden Brown ResinRock (a new, resin-fortified die stone), White FlowStone (a fluid-base stone), and MainStay dowel pins (which provide stability). ResinRock and FlowStone each have a low-setting expansion of .08% and provide dimensionally stable, accurate, and precise models and bases. ResinRock's golden-brown color offers excellent contrast for determining margins and contour. FlowStone produces an accurate yet dense surface that resists dowel-pin abrasion. The MainStay Dowel Pin system provides stability and prevents the rotation of sectioned dies that use a single-pin application.
For more information, contact Whip Mix Corp, 361 Farmington Ave, Louisville, KY 40217-0183; (800) 626-5651; www.whipmix.com.
Bracket-Adhesive Systems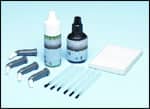 Masel offers Granitec® Light-Cure and No-Mix Orthodontic Kits. Both easily removable bracket-adhesive systems produce a quick-setting, strong bond with metal, plastic, and ceramic brackets. Fluoride-releasing agents help prevent caries and decalcification under the brackets. Light-Cure and No-Mix kits are available in two application styles, including the 40-prefilled-tip kit and the two-syringe-dispenser kit. The Granitec Light-Cure system includes a thick-viscosity composite adhesive, a low-viscosity resin sealant, and an etchant gel. The adhesive works with standard and quick cure lights on metal, plastic, and ceramic brackets. Granitec No-Mix is a chemically cured orthodontic bracket-adhesive system that does not require premixing. The self-curing bracket adhesive contains a thick-viscosity composite adhesive paste, a low-viscosity liquid resin primer, and an etchant gel.
For more information, contact Masel, 2701 Bartram Rd, Bristol, PA 19007-6892; (800) 423-8227; www.maselortho.com.
Oral Pain Reliever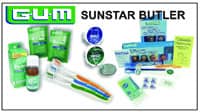 The Ortho Club/Imperial Orthodontics offers the Sunstar Butler line of orthodontic products. Rincinol is an oral pain reliever that forms a protective barrier to provide relief for up to 6 hours and to promote healing. The "V" trim orthodontic toothbrush features a soft brush that facilitates cleaning around braces and has a comfortable, soft-grip-handle design.
For more information, contact The Ortho Club/Imperial Orthodontic Products, 480 E Water St, Urbana, Ohio 43078; (800) 679-6793; www.orthoclub.com.
Online Tool

TeleVox Software Inc offers T.LINK 5, a HIPAA-compliant online patient-inquiry tool. T.LINK integrates with existing practice-management software and allows practices to send customized, automatic email appointment reminders and messages to their patients. The system provides patients and other parties 24/7 access to their appointment and account information, and enables them to make secure online payments. Orthodontists and their staff can also use the system to create and send online newsletters. T.LINK 5 features Easy At-Home ActivationTM, which allows the user to activate an account from any PC, saving office staff time. The InfoAnywhere function provides staff with faster and easier access to patient information. In addition, T.LINK 5 offers a comprehensive staff-training module, animated greeting selections, an expanded library of content for the Newsletter Wizard, and advanced message-building technology.
For more information, visit Televox Software, 1110 Montlimar Dr, Suite 700, Mobile, AL 36609; (800) 644-4266; www.televox.com.
Panoramic System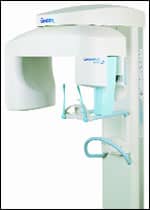 Gendex offers the Orthoralix 8500 entry-level panoramic system, which provides imaging performance with its multimotorized rotation and a tubehead with a 0.4-mm focal spot. The unit is available in film or digital. Multiple laser references, lateral positioning devices, a hand grip, and a chin rest provide simple and stable patient positioning. The Orthoralix 8500 features two control panels that are mounted directly on the unit. It connects directly to the office network, and it works with nearly all practice-management software.
For more information, contact Gendex, 340 E Main St, Lake Zurich, IL 60047; (888) 275-5286; www.gendex.com.
X-ray Source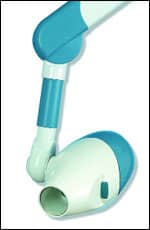 Schick Technologies Inc offers SDX, an x-ray source that works with Schick Wireless sensors, CDR Standard sensors, and film. The unique, integrated design places the CDR Wireless antenna directly inside the collimator, ensuring optimal signal transmission for every image. If a CDR standard sensor is used, it simply plugs directly into an available port on the x-ray head. The SDX intuitively detects the type of CDR sensor being used and automatically configures itself to that technology. The operator uses a remote keypad to select the user-programmable exposure mode or the preset exposures for digital sensors or film.
For more information, contact your local Patterson representative, (800) 873-7683; www.schicktech.com.
Oral Microscope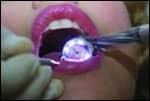 Miras Imaging Inc offers the MirroScopeTM, an operative instrument that enables dental practitioners to work from a monitor and view magnified, real-time images. MirroScope, with its magnification and illumination capabilities, incorporates elements of a loupe and a microscope in a digital dental mirror. The system also captures video or still images that can be downloaded to most image-archiving software tools via a video-capture card, allowing clinicians to work directly from the mirror or indirectly view high-resolution images magnified up to 30 times.
For more information, contact Miras Imaging Inc, 31 Habarzel St, Tel Aviv, Israel 69710; (888) 399-1473; www.miras-imaging.com.