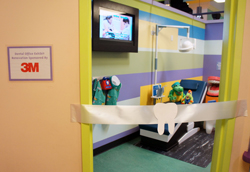 Together with the 3M Foundation, 3M Unitek recently provided a grant to Pretend City Children's Museum, located in Irvine, Calif, to revitalize and redesign its dental office exhibit, which allows children to play with dental and orthodontic equipment. The exhibit is designed to help foster a curiosity and understanding about the importance of visiting the dentist and maintaining good habits between visits.
The exhibit also includes a 3M™ Paint Your Smile kiosk, which allows children to upload a photo of themselves and virtually try on 3M's Clarity™ ADVANCED Ceramic Brackets and experiment with different-colored ligatures. Seeing first-hand what braces would look like could encourage treatment acceptance and build excitement for that first appointment.
3M Unitek also provides clinicians and their patients with resources to encourage healthy brushing habits during treatment in an interactive "Brushing With Braces" guide, which is available online at 3mbraces.com/brushing.