by Laurie Crane
The right patient seating is the first step in creating optimal patient flow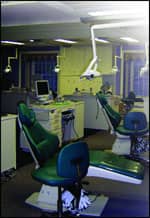 In busy orthodontic practices, speed and efficiency have become second nature. Having comfortable dental chairs that are easy to clean, developing a layout for heavy traffic in treatment areas, and using a patient flow coordinator (PFC) are essential for the efficient operation of a high-quality practice.
Dental Chairs
Whether you are just starting your practice or are in the market for new chairs, you should choose a chair with tear-resistant vinyl. Most orthodontists see 10 times the number of patients that other dental practices do; you will need chairs that are able to withstand a great deal of everyday wear and tear. Vinyl chairs that have fewer seams in the seat and back, and have "wings" instead of arms, provide patients with the same level of comfort, less cleaning time, and easy entrance and exit.
Programmable, hands-free chair-setting buttons or pedals is another time-saving feature worth choosing. The buttons are usually located at the base of the chair and are operated with the foot. They can be programmed to move the patient to the optimal height and tilt with separate settings for the doctor and the assistant. This means fewer chair adjustments when the doctor arrives at the chair. There is also a setting for patient dismissal that automatically sits the patient up. Since the buttons are accessed with your foot, they do not have to be wiped down in-between patients. In addition to the programmable buttons, separate tilt and height buttons are convenient for slight adjustments if needed.
When deciding on a headrest, the articulating headrest adjusts to comfortably support the neck and head. Removable pillows, which now come in many shapes, can be added. We prefer the "U"-shaped or donut pillow, which is great for patients who wear ponytails or hair clips.
With regard to clinical units, lights, and computers, we have found that they are best used when they are not connected to the chair. A unit placed behind or beside the chair can be set up so that the patient will not interfere with it. Paperless offices can mount flat-panel monitors to dental cabinets or choose the latest technology—wireless tablet computers. The wireless tablet computer can be carried throughout the office, so that the orthodontist and his staff can chart treatment notes or show patient photos at the chair without a keyboard or mouse.
Chair Placement
Most orthodontic practices have treatment "bays," or open areas where they treat their patients. A well-designed chair layout in the treatment area is crucial to smooth and efficient patient flow. The orthodontist should be able to enter and exit the dental-chair area as quickly as possible. Time should not be wasted adjusting the chair or getting tangled in wires. Many orthodontists place their chairs close to one another to allow quick walks from chair to chair during high-volume periods. Some practices use a half-circle layout or a circular layout to facilitate easy movement and communication between chairs. The center is usually the location of the units and cabinets for bands, brackets, and other clinical items that can be shared with the surrounding chairs.
If you have a large number of adult patients in your practice, you may want to space your chairs farther apart to allow for more privacy. In our practice, we designed an "L" shape. We chose this layout to create a treatment area that has many chairs but appears less congested. Patient and parent perspective is a priority in our practice. We feel that the "L" shape provides a smooth flow for our orthodontist and assistants, while at the same time enabling patients to not sit as closely together.
Treatment areas should also have a section for parents who wish to observe. In our practice, window seats in front of the dental chairs have worked very well. It allows the parents to watch what's going on without feeling as though they are hovering over their child at the chair. The window seats are comfortable and homey, and parents can read a magazine and still be included in a conversation with the assistant and the orthodontist. Parents enjoy being invited to the treatment area. During the waiting time, we take the opportunity to inform the parent about their child's progress. I have found that today's parent/patient wants to be well-informed, to feel safe, and to receive high-quality treatment that can be delivered in a timely manner. Developing a rapport with patients and parents requires positive communication about their treatment. Making them feel like they are in a partnership with our practice shows that we are committed to their needs and the success of their treatment. Discussing upcoming office events, or just having fun socializing, increases their overall experience in our practice.
The Patient Flow Coordinator
Finally, in keeping with my theme of speed and efficiency, I would like to share with you the one thing that I feel made our practice phenomenal: a PFC. A consultant suggested that we create a PFC position in our practice. In my 19 years in this practice, this suggestion has had the most impact.
Although I was familiar with the position and duties of the PFC, I could not comprehend how this person would make us run on time. During high-volume times, we usually added more assistants to the chairs. I thought that we definitely could not afford to spare one to be a PFC. Was I wrong? Absolutely!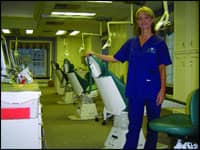 The PFC's primary function is to keep the patient flow moving. We had to use the PFC 100% to see the result. This means our orthodontist no longer follows a light system. The PFC directs him where to go at the appropriate time, based on a doctor-time schedule. The PFC works in the emergencies for the day, works with the front desk on special items to be scheduled, assigns the assistants to their chairs, and assigns the assistants to their patients. The PFC also does the majority of charting, cleans the assistants' stations when needed, and sets up the assistant for their next patient. During high-volume times, the PFC brings back the patients to keep the assistants and the orthodontist constantly moving. This is the key to patient flow: assistants and an orthodontist constantly moving to the correct patient at the correct time.
Of course, your PFC should be an experienced assistant who is fast, friendly, and able to give orders with finesse. Our patient flow went from running over 20 minutes or so in the evening and before lunch to finishing early. As a result of being faster and more efficient, our staff teamwork has improved greatly. We have fewer problems working in patients for emergencies, and we have had many comments from our parents about how efficient and fast we are. Our patients and parents already expect speed and efficiency. I feel that it is our goal to exceed their expectations.
Laurie Crane has worked in the practice of Michael Rogers, DDS, for more than 19 years as practice manager, treatment coordinator, and certified orthodontic assistant. She was a speaker at the 2005 AAO Annual Session in San Francisco. She can be reached via email at [email protected].