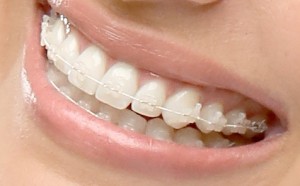 TP Orthodontics Inc, La Porte, Ind, introduces ClearVu® Cosmetic Brackets, the latest addition to its line of aesthetic solutions.
The new brackets feature Personalized Color-Matching Technology®, which produces optical properties that enable ClearVu Cosmetic Brackets to blend with almost any tooth color. Other features include non-staining ceramic material and a patented polymer base designed to provide a protective barrier between the bracket and the enamel, making debonding safe for patients. Since the base flexes upon debonding, the bracket removes cleanly without the need to fracture the bracket or rely on special tools.
The true-twin design of ClearVu Cosmetic Brackets offers multiple ligation options, and ball-end hooks enable secure placement of elastics. The brackets are available with Readi-Base® eXact® Pre-Applied Adhesive.