by GF Sheffer
Buying your father's business may be a tough sell, but for the Georges, it was only a matter of time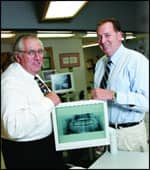 Consider what it would be like to be your father's boss. Now imagine what it would be like if, only a few short years ago, he had been yours. That story line forms the cornerstone of one of Rhode Island's top orthodontic practices. And yet, that generational handoff only hints at the whole story of Ray George, Sr, DMD, his son, Ray George, Jr, DMD, and their impressive six-office practice, Orthodontic Partners. With 73 employees, including six staff orthodontists, the Georges and their practice have stared down the challenges of size, the intricacies of expansion, and, of course, your everyday father/son trials and tribulations.
"I definitely grew up with orthodontics in my blood," says George, Jr, proudly. "This is what I'm destined to do. I could just feel it at a very early age. There really wasn't any other option for me." Growing up, he would watch his dad tracing x-rays, bending wires, and making retainers. By 8 years old, George, Jr embraced 6 am Saturday wake-up calls so that he could accompany his dad to the office in East Providence, RI. The boy started out by vacuuming and filing records, and later he moved on to pouring impressions, trimming models, and making retainers.
It was no surprise that George, Jr, would eventually follow in his father's academic footsteps, completing Colby College in Maine, then going straight to Tufts University School of Dental Medicine (Boston), his father's alma mater. A residency in orthodontics followed at Boston University, where George, Jr, credits his year with Anthony Gianelly, DMD, MD, PhD, as providing him with an "unbelievable" educational experience.
Gianelly's knowledge—and, more importantly, his flexibility—empowered George, Jr, to explore various treatment modes, giving value to research and outside-the-box thinking. "Except for being a practicing orthodontist, [it was] the most important education I had," reflects George, Jr, today. Those lessons in flexibility and planning would later inform not only his medical skill but also his business sense and, ultimately, his leadership style.
Practice Profile
Name:
Orthodontic Partners
Location:
Six in Rhode Island and Massachusetts
Owner:
Ray George, Jr, and Kirsten Romani
Specialty:
Two-phase treatment, orthodontic surgery, and Wilckodontics
Years in practice:
17
Starts per year:
1,800–2,000
Days worked per week:
4.5
Office square footage:
18,000
Annual Revenue:
$5–$6 million
It didn't take long for George, Jr, to become an official part of the practice. After graduating from orthodontic school in 1988, he was in the office with his father the very next day. "I graduated on Sunday," recalls George, Jr, "and I was in the office on Monday."
At that time, George, Sr, had two offices: one in East Providence, and another in South Attleboro, Mass. Within the first 6 months of George, Jr, joining his father, the business expanded, with a third office opening in Seekonk, Mass. Almost immediately, plans for George, Jr's future ownership of the practice were being discussed.
"Approximately 10 years after I joined the practice, we would be transitioning the ownership over to me," says George, Jr. "During those first 10 years, he brought me along and gave me different areas of responsibility, so that when it was time to take over it really wasn't that abrupt of a change."
Passing the Torch
Emerging from your father's shadow isn't easy for any son, especially when your father was your boss for more than a decade, and his employees tended to stick around—some for as long as 30 years. Of his staff, George, Jr, admits, "It took a while before I was the person that people would go to."
In truth, it was one of the toughest aspects of taking over the practice. "My challenge was to earn their respect. I had earned their respect as an orthodontist, and I had somewhat earned their respect as a boss, but," he concludes, "it was my turn to earn their respect as a leader."
For George, Sr, the hardest part was taking a step back. "The biggest challenge is to be able to give him the lead, to give up ultimate control," he says. His son agrees.
"That was a big challenge: for people to look at me as the leader, not because they didn't think I could be their leader, but because Dr George, Sr, was there for so many years," George, Jr, says. In fact, George, Sr, very explicitly deferred to his son on several occasions, telling people, essentially, "Go ask George, Jr." He also supported his son in establishing a place with the referring dental community, until ultimately, George, Jr, could take over the business and keep it growing.
Lines of Communication
By 1991, the Georges had taken another step toward expansion. In a period of less than 4 years, the business had doubled. The father/son team understood that a crucial part of the practice's success was guaranteeing consistency across each of their offices. Forms, a computer network, communication, and management of staff and workflow—all of these daily concerns became riddles to be solved.
"Very early on," says George, Jr, "it was a huge investment to get all the offices connected so that in one office we could go into another office through the computer lines and do scheduling and billing and really everything." Beyond fluid connectivity, having a capable staff to implement the Georges' philosophy of attention to detail and teamwork became essential as well.
"The staff makes everything work. We have enough people who are cross-trained that if somebody is not present, someone else can step in and help out," says George, Jr. "Everyone knows what drives and what grows our practice, and that's the customer service we give to our patients and our parents. That's what gives us the referrals from family, friends, and the dental community."
Considering the number of patients who walk through the front doors of Orthodontic Partners each week, a highly organized system was necessary to manage the business. Ultimately, the Georges developed a hierarchy of capable staff and teams of managers/coordinators.
"Very early on," says George, Jr, "we set up a supervisor type of organization." That meant that in all the offices, every department, from finance to treatment, had a team supervisor who was responsible for all its needs. Supervisors regularly travel between the various offices, managing and assisting their team. "What was very evident early on," George, Jr, continues, "was that you can't let these teams act independently. Everyone has to know what each department does, and there can't be a sense that any one department is more important than the other. And that's extremely important."
Every 8 weeks, the orthodontists and supervisors review a prepared agenda during a doctor/manager meeting. "We'll just go soup to nuts," says George, Jr, "and the week after that for half a day, we have an all-team meeting. We do this very regularly, probably every 8 to 10 weeks during the year. All the teams come to one office. At first, we start together and talk about common things, common goals, common problems. Then, we'll break up into different departments and go over things that we want to accomplish and improve on."
That kind of systemic communication is fundamental to the success of a practice this size. If satellites don't communicate, they start to drift apart. Facilitating regular team communication helps keep each office's starts and conversions in line with the practice's long-term goals.
The system also works because supervisors are in charge of team staffing needs and introducing new systems or policies to their teams. The hierarchy gives the staff a leader to go to if there is a problem. That leader in turn reports to the managing orthodontist.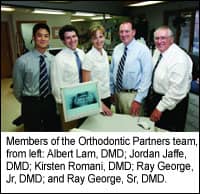 As the business continued to grow, this structure became more significant because, says George, Jr, "The more staff members we got, the more it was evident that not any one or two doctors could handle all the different problems that would come up." Supervisors are so close to the action that they can immediately step in and solve problems without the managing orthodontist being troubled. Another smart move: Only two of the practices' six orthodontists ever work at any given location, so patients and staff are used to seeing the same team.
George, Jr, also motivates healthy competition among his different sets of employees by using accurate statistical analysis of his practice's six locations. "Years ago, we felt we needed to move everybody [from location to location] so we wouldn't have rivalries, with one staff thinking they were more elite than the other. [Not moving people] has done the opposite. It set up very healthy competition," says George, Jr. "You know, which office can have the highest conversions, which office can have the least amount of clinical emergencies coming back."
And those precise statistics? "We run by our numbers," says George, Jr, "because keeping good numbers is important to know where you are and where you're going to go, and how you're going to get there." George, Jr, lets all staff members know where their office stands in relation to the practice's other locations. "We keep the staff very closely informed about what the numbers are," he says. "How many no-shows? How many people came back for an emergency? What's going on? Is it technique? Is it a new staff member who needs to get more training? We're always trying to make ourselves better." Needless to say, good research numbers enable Orthodontic Partners to achieve even better fiscal numbers.
Growing Pains
Growth, however, can be a cruel friend. After leveraging the practice's size to achieve a significant discount on supplies and equipment, George, Jr, and his partners flirted with having one central supply dispensary that would do all the ordering.
"We thought, 'Let's order everything in bulk. We'll keep it in the supply room, and each office—instead of ordering it from a company—will just requisition the central dispensary,' " says George, Jr. But while the idea sounded great in theory, it also meant having to hire someone to keep track of all those supplies. In the end, the setup cost more than it saved. "So we went back," says the flexible George, Jr, that old Gianelly influence revealing itself. "We learn from our mistakes. Not everything that we've implemented over the years has turned out like we thought it would." Today, each office has two people—one administrative, one clinical—in charge of tracking supplies, and the orthodontist in charge signs off on all orders.
Size and scale always present logistical challenges to an orthodontic office. So George, Jr, cut back to make things easier. "Some of [our] offices used to be open 5 days. We changed it to 4 patient days and 1 administrative half-day to reboot, resupply, and get ready for the other patient days," explains George, Jr. In the end, this approach made the schedule more efficient. Further, staff isn't burned out, since many of them work a 4-day week. These days, plenty of nonpatient days are spent training staff on two of their offices' newly acquired technologies.
Looking to the Future
Orthodontic Partners is embracing many of orthodontic technology's latest advances. Two years ago, for example, the Georges closed a pair of offices they purchased in 1996. In their place came an update to the downtown Barrington, RI, location. Like their East Providence satellite, this renovated space is both paper- and plaster-free. Digital photography, an advanced computer system, and computerized treatment charts are among the technologies on hand. Up ahead? "Within the next 2–3 years," says George, Jr, "all of our offices will use completely digital radiography and computerized treatment charts."
While George, Jr, guides Orthodontic Partners, his father is on track to be the president of the AAO in 2008. Representing the Northeast Society of Orthodontists (NESO), George, Sr, has been a liaison to various AAO councils since the 1970s. Now in his ninth year as the society's trustee on the AAO Board, George will be voted in as secretary/treasurer in 2006. In May 2007, he will become president-elect of the AAO, and he will take his office the following year.
Certainly, several issues are commanding the AAO's attention, including Health Insurance Portability and Accountability Act of 1996 regulations and getting the latest technologies to its members, but George, Sr, sees education as the key to the field's future success. "AAO's challenge will be in the field of recruitment and retention of orthodontic educators. We are really working on trying to get programs together to help retain the ranks of current orthodontic teachers and encourage more to join," says George, Sr. The situation is even more untenable when you consider the commercial incursion into orthodontics, particularly in educating and retaining residents in corporate environments. The challenge is to ensure that the standards for accrediting these organizations are upheld.
The pride George, Sr, takes in his work with the AAO and the NESO mirrors the feelings he has seeing George, Jr, take over the business he started in 1969. "There's a great sense of pride in seeing him grow professionally and in his business acumen. He works hard at what he does, and I have great pride in what he is attempting to do with the business and within the profession," beams the elder George. "The tribute to the transition is that he has the loyalty of the staff, which makes me feel really good. When you take another orthodontist into a practice with you, your old staff tends to think of only you as the doctor, and that's not the situation in our office." That the Georges were able to achieve such a smooth transition amid such rapid growth is a testament to both men's dedication to their patients, their business, and each other.
GF Sheffer is a contributing writer for Orthodontic Products.