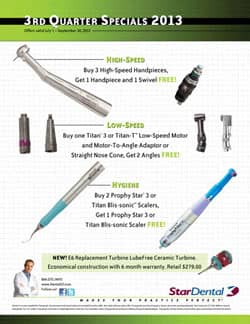 DentalEZ, Malvern, Pa, is offering a number of specials on its StarDental line through September 30, 2013.
Customers who buy any three high-speed handpieces will receive one handpiece and one swivel free. When customers purchase one Titan® or Titan-T™ Low-Speed Motor and Motor-To-Angle Adaptor or Straight Nose Cone, they receive two Angles free of charge. In addition, the company is offering a "2+1" deal on the Titan Blis-Sonic Scalers and Prophy Star 3 Hygiene handpieces.
For more information about this and other orthodontic companies, visit our Market Guide.