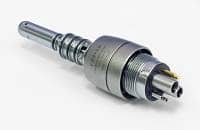 J. Morita USA, Irvine, Calif, has introduced a new LED coupler and expedited maintenance service for its TwinPower Turbine handpieces.
The new CP4 LED coupler is compatible with any existing Morita-typeTwinPower Turbine handpiece. It provides 50% brighter lighting than ahalogen light bulb, with a four times wider illumination field. Accordingto the company, the light source is similar to those found in operatingrooms and is designed to reduce eye fatigue. The CP4 LED coupler isavailable with and without water adjustment and is compatible with astandard ISO 9168 Type 3 (C) connection.
J. Morita also has implemented an expedited handpiece maintenance andrepair service for the TwinPower Turbine handpieces. Pre-paid, 2-dayshipping boxes are supplied free of charge for all inbound handpieceevaluations. According to the company, once a handpiece has beenreceived, an assessment report is guaranteed within 48 hours.
For more information on this and other orthodontic companies, visit our Buyer's Guide.