Software, handpieces, mouthguards, and more
SL3 Desktop Soft-Tissue Laser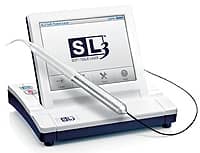 Discus Dental, Culver City, Calif, has introduced the SL3™ soft-tissue laser, a desktop diode laser. The SL3 features disposable fiber tips, eliminating the need to strip and score fiber before each use. It also comes with a wireless activation foot pedal. The SL3 includes voice confirmation, 3 watts of power in continuous and pulsed modes, and a full-color LCD touch screen interface with 18 general dentistry and orthodontic preset procedures. Discus also offers an eight-credit CE laser certification course.
Discus Dental
(800) 422-9448
discusdental.com
---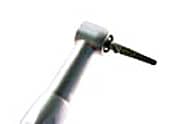 C-Saw Interproximal Reduction System
Danville Materials, San Ramon, Calif, offers the C-Saw interproximal reduction system. According to the company, the system can be used for interproximal reduction as well as recreating natural contours. The C-Saw features an air-driven, high-torque reciprocating handpiece, diamond blades, diamond strips in a C-Saw frame, and a GP Separator. The GP Separator is a proximal spreading clamp that allows the blade to be inserted between the teeth and does double duty to protect the gingiva and tongue.
Danville Materials
(800) 827-7940
danvillematerials.com
---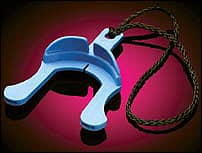 Sports Mouthguard
Totalgard Corp, Woburn, Mass, now offers a sports mouthguard designed for use with Class II activating appliances. It is designed to slide past the activating springs and pistons. The mouthguard can be used with Herbst, Forsus, and Eureka Springs, requires no molding to use, and has full bite-rim protection.
Totalgard
(888) 447-1807
totalgard.com
---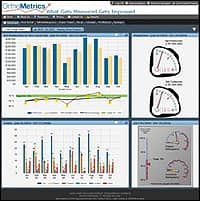 OrthoMetrics Performance Analysis Software
OrthoBanc, Chattanooga, Tenn, and Impact 360 Consulting, Murrayville, Ga, offer OrthoMetrics, a practice-management software that provides performance monitoring for orthodontic practices. OrthoMetrics allows users to compile graphic and statistical data to create more than 30 visual reports in either monthly, quarterly, or yearly formats. These reports can give detailed information about a practice's financial performance, as well as exam and recall conversion rates. OrthoMetrics also offers users the ability to compare individual practice statistics to regional and national averages from other practices, while keeping individual practice specific data private. Currently, OrthoMetrics is available for OrthoTrac users and for pre-purchase for Dolphin Management users.
OrthoMetrics
(800) 287-3396
orthometrics.com
---

45º TwinPower Turbine
J. Morita, Irvine, Calif, has added a 45° handpiece to its TwinPower Turbine® product line. The new handpiece provides up to 20 watts of power and features rear-facing exhaust vents to direct airflow away from the surgical site. The device also features a 13.2-mm head height and 10.5-mm diameter, glass rod optics, braking within 2 seconds, and a ceramic-coated surface.
J. Morita
(800) 831-3222
morita.com