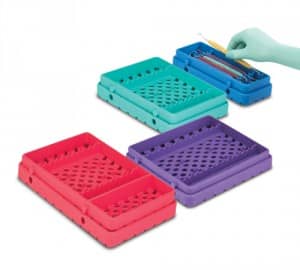 Practicon, Greenville, NC, introduced its new line of silicone Cool Cassette 2 instrument trays.
The new trays incorporate improvements based on feedback from users. Among the improvements: larger vent holes for increased flow through and wraparound perforations for complete drainage at any angle. Cassettes are also longer to accommodate ultrasonic scaler inserts, and feature built-in lock buttons to prevent accidental opening.
Cool Cassette 2 is available in four colors and four sizes, including the new 10XL size which features an extra compartment for syringes, handpieces, or other accessories.