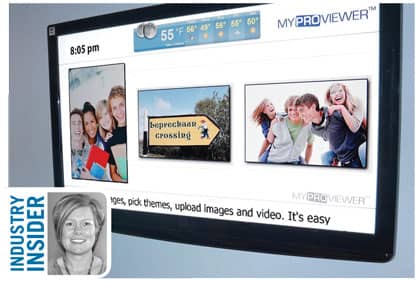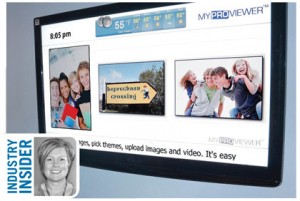 With Patti-Jo Stoll, vice president of operations at MyProViewer
Savvy business owners know that the waiting room of any practice holds limitless potential. The folks who occupy this space at any one time run the gamut from anxious, to time-pressed, to downright bored. However, technology has evolved in such a way that practice owners can utilize the space in order to ease, educate, and entertain.
Orthodontic Products recently spoke with Patti-Jo Stoll, vice president of operations at MyProViewer, based in Waterloo, ON, Canada. The company provides orthodontic and dental offices worldwide with a high-definition media delivery product designed to engage patients and promote the practice. The company was founded only 7 years ago, and already it has logged more than 5 million patient views in offices around the globe.
The concept of digital interaction with those in the waiting area is an interesting technological advancement. And, as Stoll explains, it's a superior alternative to regular television programming, both for the viewer and for the practice.
OP: How did the concept of MyProViewer evolve? What needs does it satisfy within the orthodontist office (or waiting room) today?
Patti-Jo Stoll: MyProViewer was conceived because of one very simple reason: to offer orthodontic and dental offices the ability to easily engage, educate, and entertain while being affordable. When we started the company 7 years ago, we worked closely with a select group of progressive orthodontists who provided their feedback and input to create a product that we are truly proud to offer.
OP: What sort of content is available via the MyProViewer platform, and why is it beneficial to orthodontic practices?
Stoll: MyProViewer has evolved greatly over the years. One of our primary goals is to provide an abundance of ready-to-use content to minimize the time commitment required to create a great presentation of information.
We offer features that allow offices to showcase before-and-after photos, display important office news and announcements, provide local weather and news feeds, share office and industry-related videos, and market services available to existing patients, which is often overlooked.
We add new content to our library on a regular basis in English, French, and Spanish. What's more, we have more than 10,000 high-definition images, and our video library consists of hundreds of industry-related videos from suppliers, such as Damon, Invisalign, Speed, and the American Association of Orthodontists.
OP: In what ways are education and communication conveyed via the MyProViewer product suite?
Stoll: The television is one of your best realized, or unrealized, marketing tools. Once you have a prospective client in your waiting room, why not showcase your smile transformations, promote the types of treatment and services available, and share patient testimonials? This marketing approach is often overlooked with offices putting more emphasis on external marketing, versus targeting those who have already walked through their front door.
OP: Specifically, what makes the company, and its services, unique compared to other web-based media delivery systems?
Stoll: MyProViewer is more than just a web-based media delivery system. We use the Web to help deliver content, but that's where the similarities end. From the beginning, we've understood that time is a premium, especially when it comes to office staff. Therefore, our objective has always been to ensure that the administration of MyProViewer was not a labor-intensive task.
MyProViewer has the ability to customize content with very little effort. This provides a very personal look and feel, which is important to our customers. Users can schedule all content, meaning they can literally set it and forget it. And, although MyProViewer is web-based, it's not necessarily dependent on the Internet. Our software is designed to continue running for up to 30 days, even if the Internet is down.
OP: MyProViewer has a global viewer presence of over 5 million patients. To what do you attribute the organization's quick success, and why has it taken hold?
Stoll: We listen to our customers and offer content that is industry specific, namely targeting orthodontic and dental offices. We are proud to have a very high retention record with many offices. Our clients are impressed with the changes we've made over the years, and they like the fact that new content is available on a regular basis. OP