Orthodontists continually look for ways to increase patient comfort, improve practice efficiency, and shorten treatment times. Incorporating cutting-edge technology, including digital scanners, can help orthodontists reach these goals.
One of the most anxiety-causing procedures we perform is before the actual orthodontic treatment begins. Many patients worry about the traditional impressions with huge trays and overfilled alginate or PVS material, which are uncomfortable, especially to those with a strong gag reflex. We find that patients who have previously had alginate or PVS impressions absolutely favor and even praise our use of the Lythos™ digital scanner, its small wand, and the comfortable experience it offers. Undoubtedly, these patients tell their friends and coworkers about the practice that doesn't use the old, bulky impression trays anymore.
Improving practice efficiency involves all aspects of the orthodontist's practice, including the initial consultation and acceptance of therapy, effective treatment systems, accurate bracket placement at the initial bonding, on-time debonds or conclusion of active treatment, and proper retainer choice and fit. Today's patients are quite aware of advancing technology, whether it be the latest updates for the cellphones in their hands or the easiest way to stream movies. These patients appreciate and get excited to see advanced technology incorporated into their orthodontic treatment. Insignia™ Advanced Smile Design™ and Lythos Digital Impression System—both from Ormco Corp—deliver on that expectation. They love to see their designed smiles displayed in the digital setup, and they especially like to hear that they will be making fewer visits and will be in treatment for a shorter time overall compared with the recent past.
Insignia's precise transfer and positioning of the customized brackets using the computer-generated placement trays combined with the custom-made archwires of your choice lead to quick, on-time treatments. At the last visit before the debonding appointment, we use Lythos to scan arches, with brackets still bonded, for Hawley retainer fabrication (Figure 1). Ormco's partnership with AOA Labs has introduced an accurate and streamlined way to scan and transfer patient data (STL file) to the lab. There are no worries about debonding the patient or wasting valuable chairtime because the retainers are produced with extreme accuracy on the printed model. In our office, acrylic rarely needs to be trimmed, labial bows need few adjustments, and clasps fit superbly. Compared with Hawley delivery at the debond visit when we were using alginate impressions, retainer delivery from scanned arches takes considerably less chairtime and we seldom need to rescan a patient or remake a retainer. Doctors who take retainer impressions at debonding, then have the patient come in for retainer delivery, incur an additional visit with more school or work missed and the uncertainty of a patient's return after the braces come off. Add this to poor use of valuable staff time with packing, sending, receiving, and tracking models with the conventional method and it becomes clear how quickly Lythos can pay for itself.
A particular advantage of the Insignia system is the variability of the wire sequence. The orthodontist can choose up to five wires per arch to be included with the treatment setup: TMA, stainless steel, NiTi, or copper NiTi (27°, 35°, or 40°) in nearly any standard dimension. Also, the arch form may be customized to fit individual patient goals. The Insignia arch form can closely follow the patient's initial arch form and be modified, if desired. A customized Damon™ Arch Form is available and provides a powerful way to broaden and develop smiles. For most cases, we use a customized Damon Arch Form with an archwire sequence—modified slightly from the recommended Damon sequence—that we have found to be effective. For both arches, we begin with .014″ or .016″ copper NiTi 35°, then proceed to .020″ x .020″ copper NiTi 35°, then to .019″ x .025″ NiTi, finishing in .019″ x .025″ stainless steel. If additional detail is needed, we finish with TMA wires: .019″ x .025″ in the maxilla; .017″ x .025″ in the mandible.
Here is a routine case where it is beneficial to use the digital scanning technology of Lythos to produce efficient, predicable treatment results with accurate Insignia- and AOA-fabricated appliances.
Case Review
Diagnosis. This female patient (16 years 2 months) presented with a Class I skeletal malocclusion, excessive spacing, and moderate overbite. Compared with the adjacent maxillary left lateral incisor, the maxillary left central incisor was noted as having a long clinical crown. The posterior teeth were lingually inclined; her smile arc was adequate (Figures 2 and 3).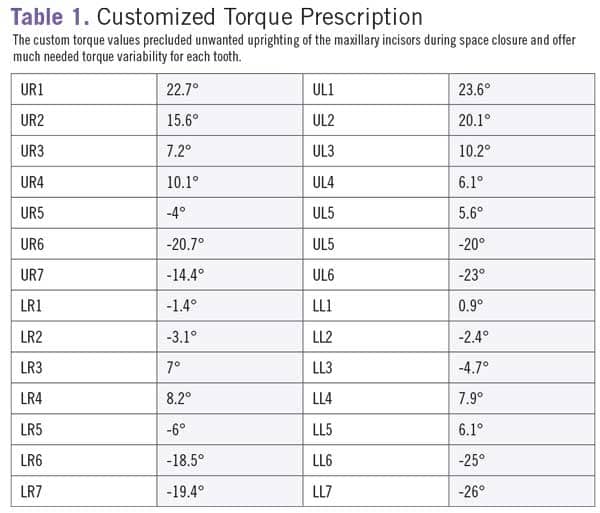 Treatment Plan. We decided to use Insignia to correct her malocclusion and provide the best smile possible. Lythos scans were made and the custom brackets and wires were manufactured. Incorporating passive self-ligation and the Damon™ System philosophy for mechanics, we used Insignia SL brackets in both arches. Because closing space could have led to unwanted uprighting of the maxillary incisors, the digital setup specified higher torque values for those teeth than off-the-shelf prescriptions offer (Table 1). We also planned small changes in the arch form and 1.5 mm overbite.
After bonding all teeth (7-7) at the initial bonding with brackets transferred from the customized trays, the case progressed through our standard archwire sequence as stated above, finishing in a .019″ x .025″ stainless steel archwire with visits scheduled every 6 weeks throughout treatment. Figure 4 demonstrates treatment progress at the pano visit 5 months into treatment. The pano visit is always scheduled after the third wire (.019″ x .025″ NiTi) has been in place for 6 weeks. A digital scan was made at 16 months with debonding and delivery of a maxillary wraparound Hawley and a mandibular bonded retainer at 17 months.
Discussion. This case achieved a great clinical outcome within 17 months, a reasonably short treatment time. It treated in only 13 appointments (including bonding and debonding) because of proper treatment planning made noticeably more accurate using Insignia's virtual treatment planning tools, patient-specific, per-tooth bracket prescription, and precise indirect bracket positioning system for straight-wire bonding. The case finished with an acceptable functional occlusion with excellent alignment, and greatly improved smile aesthetics (Figure 5).
It is always interesting to compare approved case setups with final outcomes (Figure 6A and 6B). Most of my patients finish close to their predictions. I specifically note the transverse changes and how the final arch forms compare with the custom digital setups. The Insignia setup for this case included modest transverse expansion with the final arch development being within 1 mm of the prediction for each tooth and quite close to the digital arch form prediction overall (Figure 7A and 7B). There were increases in the transverse dimension at the second molar and first molar and, because of the space closure, decreases in the transverse dimension at the canine and first premolar. Insignia versatility also lies in its ability to apply customized variable torque values to any bracket. This case incorporated significant positive torque to prevent unwanted retroclination of the maxillary incisors during moderate space closure.

Conclusion
I've been pleased with the quality and exceptional fit of our Hawley retainers delivered on debond day. Scanning with braces bonded to the teeth and sending the data electronically to AOA offers a huge payoff. There is no distortion like you see with retainers made from alginate impressions and poured-up models since the Lythos-fabricated retainers made directly from the printed model (STL file) are extremely accurate. Additionally, there are no concerns about debonding the patient and wasting valuable chairtime adjusting a retainer, sometimes just to end up with a marginal retainer, or worse, having to retake an impression for a new appliance. The Hawley retainers made on the digitally created models ensure that I have a well-adapted retainer with no lost chairtime.
Improved clinical results with shorter treatment times and fewer visits are the true measure of whether investing in any advanced technology is worthwhile. The digital innovations we've incorporated into our practice offer such benefits. Replacing impressions with a precise Lythos digital scan is the foundation for the fabrication and accurate placement of Insignia custom brackets and wires and beautifully fitting retainers using digital prints. As such technology improves, we will continue to be even more successful in garnering consistently predictable, high-quality outcomes with greater ease and efficiency. OP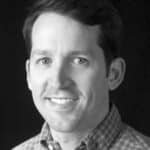 Luke Chapman, DDS, is a Diplomate of the American Board of Orthodontics, having earned his dental degree and certificate in orthodontics from Louisiana State University where he was inducted into Omicron Kappa Upsilon National Dental Society. In private practice in Ville Platte and Carencro, La, Chapman is an early adopter of advanced digital technologies. He is a member of the American Dental Association and the American Association of Orthodontists.