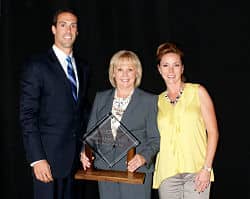 The American Association of Dental Office Managers (AADOM) has named Deanna Alexander, FAADOM, its 2012 Office Manager of the Year. Alexander is the office manager for Daniel R. Sadler, DDS, of East Lansing, Mich.
"Deanna is a tireless advocate for our practice and patients," wrote Sadler in his nomination letter. "She is dedicated to doing everything she can to ensure our patients receive the very best treatment and patient care. Deanna extends her commitment to serve outside the office as well. It doesn't matter if she is fund-raising in support of important nonprofit organizations, assisting with the Miles for Smiles program with our local Head Start, or presenting the Healthy Teeth program to elementary school children, Deanna exemplifies compassion and professionalism as she quietly changes lives of those around her for the better."
In its eighth year, the AADOM Office Manager of the Year Award recognizes dental professionals who provide exceptional patient care and are an inspiration and leader within their practice. A committee of industry leaders reviews nominations. CareCredit™ sponsors this year's award.
Alexander will receive a complimentary registration to the 2013 AADOM conference, a profile story in AADOM's newsletter The Observer, and $1,000 in prize money.