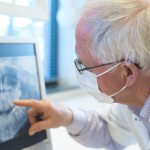 American Association of Orthodontists (AAO) members can now access a compilation of information about the use of cone-beam computed tomography (CBCT) in orthodontic treatment on the AAO website.
The resource center is an initiative of the AAO Council on Scientific Affairs (COSA). Ahmad Abdelkarim, DDS, who has dual specialty training in orthodontics and oral and maxillofacial radiology, serves a consultant to COSA for the resource center.
The center includes links to published, peer-reviewed articles on the use of CBCT in orthodontics as well as a position statement on CBCT and orthodontic treatment from the American Association of Oral and Maxillofacial Radiology. In addition, the center features a Debates and Perspectives section containing input from AAO members with expertise in the technology; and a list of books about CBCT that circulates from the AAO library.
AAO members can access the resource center at the organization's website.