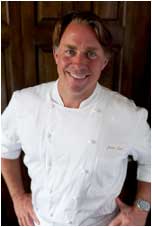 The American Association of Orthodontists (AAO) has teamed with renowned chef, restaurateur, TV personality, and author John Besh for National Orthodontic Health Month in October. Chef Besh (pictured) has personally selected orthodontic-friendly recipes from his collection that will be available online at mylifemysmile.org.
"Partnering with Chef Besh is wonderful opportunity for us to give patients in treatment some delectable recipes for dishes to help them enjoy the season," says Robert E. Varner, DMD, president of the American Association of Orthodontists. "Certain foods are tough on braces and other devices used to straighten teeth and align jaws. Chef Besh's recipes can help patients reach their treatment goal of a healthy and beautiful smile."
During the month of October, Chef Besh's "orthodontic-friendly" recipes will be available on mylifemysmile.org, compliments of the American Association of Orthodontists.
The selected recipes are Cauliflower Mac and Cheese, Yogurt Fruit Pops, and Drew's Cake. Visit the AAO website for the full recipes.