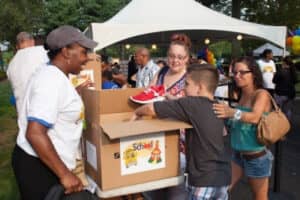 As schools reopen across the country, Henry Schein Inc, Melville, NY, will have helped more than 5,000 children through its "Back to School" program this year, the company says. The program, which was launched in 1998, is designed to build confidence for many underserved children who may return to the classroom without essential school supplies or new clothes.
Since the program's inception, it has helped more than 32,000 children return to school equipped for success, the company adds. In 2014, the program expanded beyond the United States and Canada to Spain, and this year includes Scotland.
Participating children are given school essentials, including backpacks filled with classroom supplies, books, and hygiene products donated by Henry Schein. At many "Back to School" locations, children also will receive new first-day school outfits, selected and paid for by Team Schein Members.
"Our 'Back to School' program has been one of Henry Schein's longest-running and largest community service events, during which enthusiastic Team Schein Members make a significant difference in the lives of underserved children, boosting their confidence from the first day they walk through the classroom doors," said Gerry Benjamin, executive vice president and chief administrative officer of Henry Schein.
"Giving back to society is a core value of Team Schein, and we are proud to host 'Back to School' every year, having grown the program from one event at our company's headquarters in Melville to now 29 events worldwide."
To help identify participating children and families for the program, Henry Schein partners annually with social service organizations, including Family Service League, MPowering Kids, Family and Children's Association, and the Hispanic Counseling Center.
The "Back to School" program is a flagship initiative of Henry Schein Cares, the global corporate social responsibility program of Henry Schein, and is supported by the Henry Schein Cares Foundation Inc, which works to help increase access to healthcare in underserved communities around the world.