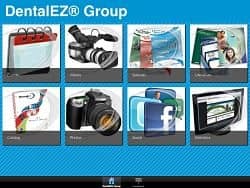 DentalEZ® Group, Malvern, Pa, recently introduced its Group Sales Tools app for the iPhone and iPad. The app is for orthodontic professionals who are interested in more information about DentalEZ products and services. It provides access to informational material, including product literature, images, and catalog pages for DentalEZ products and brands, including StarDental®, DentalEZ, CustomAir®, RAMVAC®, and NevinLabs™. Users can also share materials found on the app with others by emailing PDFs of the available product literature and images.
User can also access videos of product demonstrations and professional interviews on the app, as well as a calendar of upcoming DentalEZ events.
The DentalEZ Group Sales Tools app is available for free in the iTunes App Store. It will be periodically updated with additional content as it becomes available.
DentalEZ plans to release an Android version of the app soon.
For more information on this and other orthodontic companies, visit our Buyer's Guide.