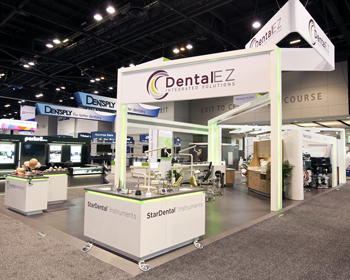 DentalEZ®, Malvern, Pa, recently updated its brand. With an official tagline of "Integrated Solutions," and now simply referred to as "DentalEZ," the company unveiled some of its recent rebranding efforts, including a new color palette, logo, and freshly designed exhibit booth that debuted at this year's Chicago Midwinter Dental Meeting.
With the acquisition of various new companies and products over the years, DentalEZ has rebranded in an effort ensure that its entire portfolio is streamlined.
Throughout 2015, the company will begin to slowly phase out the use of individual brand logos and introduce a single DentalEZ logo. All DentalEZ product categories will also be more consistent with the new name and tagline, including Columbia Dentoform® Teaching Solutions, DentalEZ® Equipment Solutions, NevinLabs™ Workstation Solutions, RAMVAC® Utility Solutions, and StarDental® Instrument Solutions.