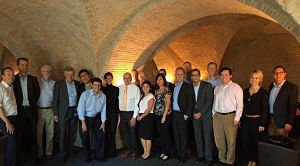 3Shape, Copenhagen, Denmark, has formed a Dental Advisory Board made up of 12 dental professionals from around the world, all of whom work with digital dental solutions and intraoral scanning.?? The board recently met for the first time (pictured) in Copenhagen at a meeting chaired by Jonathan Ferencz, DDS, from the United States.
"The way dentists care for patients has changed dramatically over the past few years with digital technology driving much of this change. Digital workflows enable dental professionals to work more efficiently and accurately, with digital case handling now in many cases, surpassing analogue treatment in quality," Ferencz said.
The board will provide insight and direction in digital technology and product development as well as help 3Shape accomplish its goal to improve dental patient care.
The 3Shape Dental Advisory Board created a four-point plan to achieve objectives:
Share best practices using digital technologies;
Define actual needs for better dentistry based on cases and experience;
Support research, development, and innovation of dental technologies; and
Promote education and awareness of digital dentistry.